Hundreds March In Boston To Demand Justice After Breonna Taylor Decision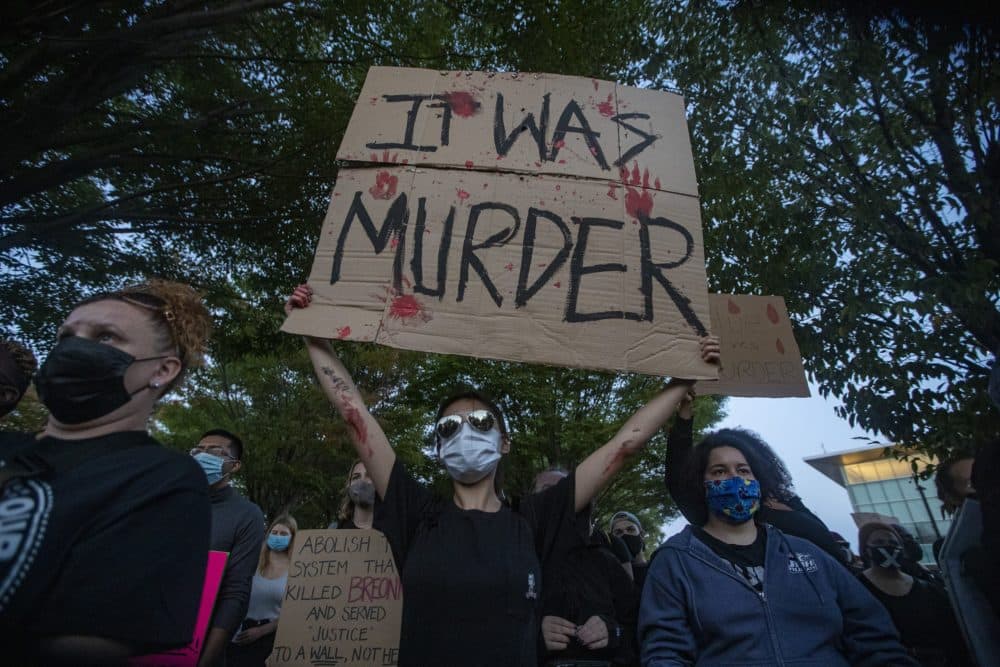 More than a thousand people turned out in Boston Friday night to decry police violence, the killing of Breonna Taylor, and the decision this week by a Kentucky grand jury not to charge the police officers who shot her with her killing.
The rally started outside Nubian Square with a shrine commemorating Taylor, who was killed in March by Louisville police officers after they entered her home on a warrant. One of the officers involved was charged with wanton endangerment for firing his weapon, but no charges were brought in relation to Taylor's death.
Following the indictment, two Louisville officers were shot, and a suspect is in custody.
Protestor Gabby Ballard of Roxbury said the absence of murder charges is a slap in the face to those who have been chanting "say her name" in honor of Taylor.
"It makes me sick to see my sisters gunned down, in the streets, in their homes, while their murders walk away free — free to continue to terrorize our neighborhoods," Ballard told the crowd at the start of the march, across from the Boston police department station outside Nubian Square.
The march paused at Boston police department headquarters, where organizers called on protestors to act peacefully and stay away from the barricades erected along the sidewalk of the station. The vast majority of protestors abided, though one or two of them approached to hurl insults at officers guarding the station.
As the crowd neared government center, protestors passed a large group of police officers in riot gear, several flashing the middle finger and shouting "pigs" and "murderers."
Ugo Ewulonu of Brookline stopped to call out the police for carrying batons, which he referred to as baseball bats. "The protestors have cardboard signs and water bottles and cameras, and these cops have baseball bats… They already have guns… what do they need baseball bats for?"
There was no sign of of the Massachusetts National Guard, whom Gov. Baker activated Thursday "to provide necessary assistance to State and local civilian authorities and/or special duty and emergency assistance for the preservation of life and property, preservation of order, and to afford protection to persons." Baker made a similar order in August ahead of demonstrations in Boston, all of which were peaceful.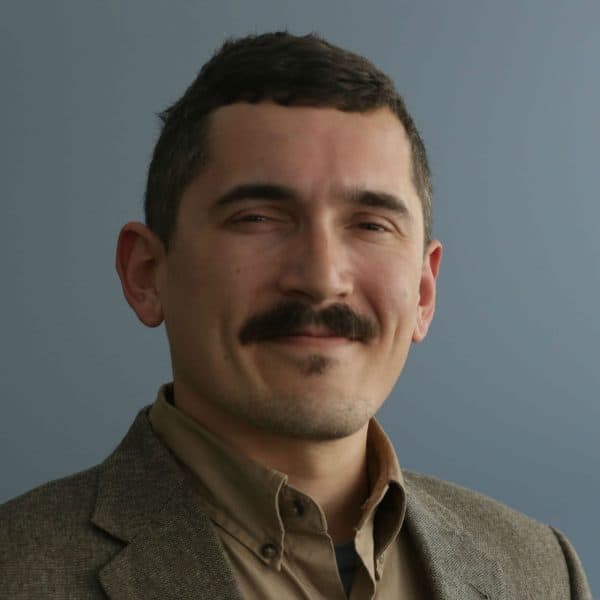 Simón Rios Reporter
Simón Ríos is an award-winning bilingual reporter in WBUR's newsroom.