Early Trial Results Show Promise For Johnson & Johnson And Beth Israel Vaccine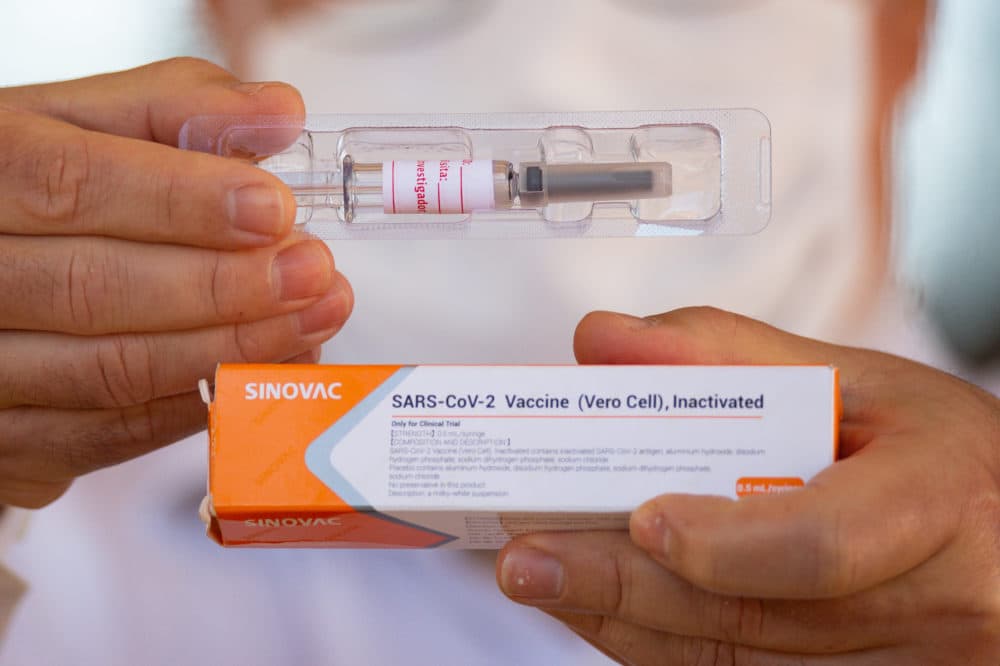 This article is more than 1 year old.
Researchers have reported hopeful results from an early clinical trial of a potential coronavirus vaccine developed by a team from from Beth Israel Deaconess Medical Center and Johnson & Johnson. The company announced earlier this week it has moved forward to field test what could be a the first single-shot vaccine for the virus in a third and final phase clinical trial.
The completion of the early phase clinical trial suggested the vaccine is safe and may provide protection against COVID-19, according to the researchers.
The early phase trial involved two groups of roughly 400 people each and was designed to test safety and probe the vaccine's potential. The researchers published the results online on Friday.
While the work has not yet been peer-reviewed, Boston University immunologist Dr. Chris Gill — who did not work on the vaccine — says the trial provided evidence the vaccine is safe but that further work is needed to show if one dose will be sufficient.
"[Safety] does not set off alarm bells for me," Gill says. "I can see why they are claiming a single dose is enough, but I think they are getting ahead of their skis a bit. These data give no insight if the [immune] responses will wane quickly over time. If they do, one would usually need a second dose to boost. They may be right, but I don't feel they have proven their argument yet."
Gill says the early results are promising and enough to warrant an advancement to the third phase of clinical trials. Johnson & Johnson will recruit 60,000 participants  to take part in the new trial, making it the largest clinical trial of a coronavirus vaccine to date.
If the vaccine is shown to be effective with simply one dose, Dr. Daniel Barouch, an immunologist at Beth Israel and Harvard Medical School who led much of the early research on the vaccine, says it will have an advantage over some of the other vaccines currently in development. Those from Moderna and Pfizer will be split into two injections roughly a month apart. Having just one shot would clear logistical hurdles in distribution, Barouch says.
"If a single-shot vaccine is safe and effective, then we think that would facilitate mass vaccination campaigns," he says.
Barouch says the Johnson & Johnson vaccine also does not need to be frozen and can remain stable at refrigerated temperatures for up to three months. Other vaccines currently in late stage clinical trials must remain frozen and will depend on a dwindling supply of dry ice for shipping and transportation.
"[Our vaccine] will be easier to transport to distribution sites, to hospitals, to clinics, to pharmacies, to doctor's offices, which we think is an added advantage," Barouch says.
The vaccine is based on a technology that Barouch helped pioneer. It uses a disabled virus called adenovirus 26 to deliver a modified genetic code for the coronavirus's distinctive spike protein, a feature the virus uses to infect cells. The body's immune system then, hopefully, recognizes the spike protein and builds defenses against it.
Adenoviruses typically cause the common cold, but in the vaccine the virus cannot replicate and therefore cannot cause illness.
"If a single-shot vaccine is safe and effective, then we think that would facilitate mass vaccination campaigns."

Dr. Daniel Barouch, immunologist at Beth Israel and Harvard Medical School
The technology has been used to develop vaccines for 26 other pathogens including Zika and Ebola. The Ebola vaccine is already on the market in Europe, although it is not available in the U.S.
Barouch says that means there's a wealth of data showing the method works and is safe to use.
"There have been more than 100,000 people vaccinated with different adenovirus 26 vaccines over the last several years," Barouch says.
Barouch began working on the coronavirus vaccine in early January after Chinese researchers published the full genome sequence for the virus that had, by then, started infecting people in Wuhan province. Then, he watched as the virus spread across the world and hit the Boston area last spring.
"To be working on a vaccine against the very virus that was literally right outside our doors was, I would say, a surreal experience," Barouch says.
Johnson & Johnson plans to have the vaccine ready for use in 2021, if the trial shows it is safe and effective. Participants for the trial will be recruited in Argentina, Brazil, Chile, Colombia, Mexico, Peru, South Africa and the United States.
"The hope is that this vaccine, together with all the other vaccines collectively, will help put an end to this pandemic," Barouch says.