Berkshire County DA Releases Prosecutorial Police Watch List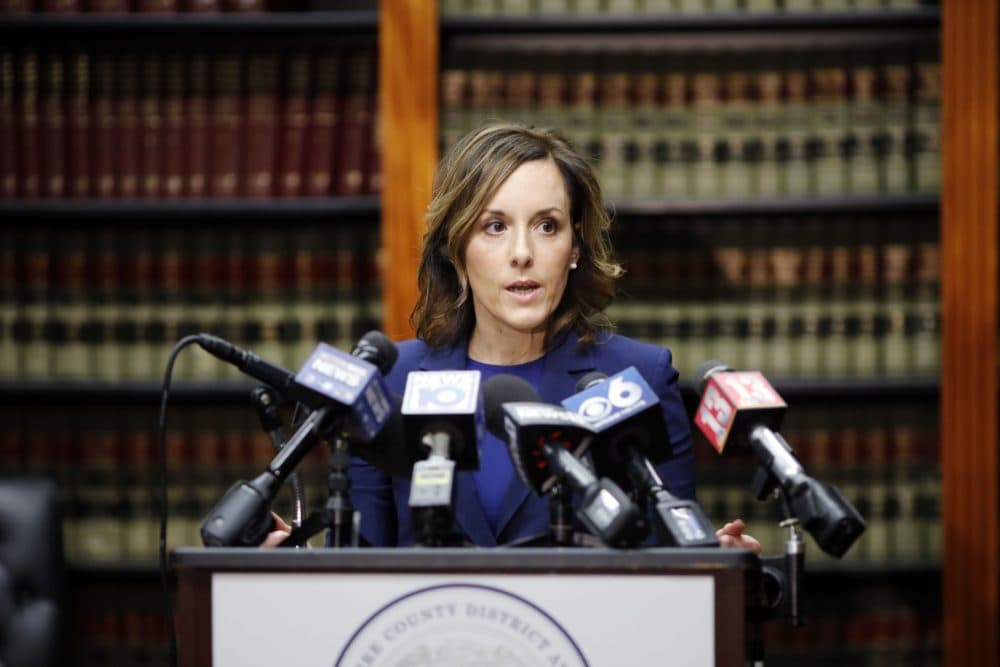 This article is more than 2 years old.
Berkshire County District Attorney Andrea Harrington earlier this week became the latest Massachusetts DA to publicly release a list of police officers her office tracks whose past conduct may raise questions about their credibility in court.
Harrington sent her office's newly compiled list to staff in a memo Friday evening, and provided it to WBUR in response to a public records request.
The list contained the names of eight officers, from four different departments.
Three other state district attorneys' offices keep similar lists. Also known as "Brady," "disclosure" or "do-not-call" lists, the documents name officers flagged by prosecutors as either having engaged in — or been accused of — misconduct that the DA's office might legally need to disclose to the defense under the landmark 1963 U.S. Supreme Court decision, Brady v. Maryland.
As WBUR previously reported, five DA offices said they do not keep any such officer disclosure lists. They are Bristol, Essex, Plymouth, Worcester and the Cape and Islands.
Harrington said her list was created by the office's "Brady review board," which consists of herself, the county's first assistant district attorney and deputy district attorney.
To determine which officers were included on the Brady list, Harrington said the team meets periodically to review criminal prosecutions of officers, press reports and referrals from the Department of Children and Families. She added that her office also asks police chiefs in her jurisdiction to notify her office of internal affairs investigations into their officers.
"This is really driven by the constitutional rights of defendants to exculpatory information," Harrington told WBUR. "And that's how I've presented it to the chiefs. I'm really not trying to use this to embarrass police officers or anything like that. This is really, you know, our obligation."
She did not immediately provide the reasons for why each officer named was placed on the list.
Two Pittsfield police officers were separately categorized on the list, and according to the document, "should not be called as a witness without prior approval."
Pittsfield officer Michael McHugh was sentenced to a year in jail after being convicted of assault and battery, filing a false police report and misleading police, according to the Berkshire Eagle. Officer Dale Eason was fired in 2016 for falsifying an arrest report — the city was later ordered to reinstate him, with back pay.
A spokesperson for the Pittsfield police said none of the officers on the Berkshire DA's list remain employed by the department.
Williamstown Police Chief Kyle Johnson said Officer Craig Eichhammer was still employed. Johnson declined to comment further on the Brady list.
Great Barrington Police Chief William R. Walsh Jr. said Daniel Bartini no longer works for the department. Officer John Finnerty does. Walsh said he had no further comment.
Dalton Police Officer John Marley was fired after he was accused of failing to properly respond to a suicide call. A spokesperson for the Dalton Police says he is "currently in arbitration regarding this termination."
Harrington is the fourth district attorney in Massachusetts to publicly release her office's Brady list. Suffolk County DA Rachael Rollins also released her list of 136 law enforcement officers Friday night.
As of August, Middlesex DA Marian Ryan had 124 officers from 37 different departments on her Brady list, and Norfolk DA Michael Morrissey maintained a disclosure list of 38 officers.
Harrington last month had promised to eventually release the office's list to the public. She said her office had no formal Brady policy when she took over in 2019.
"Most Brady violations come from prosecutors, and this office in particular has a really difficult history with Brady violations that have resulted in extreme miscarriages of justice. So I felt like that was weighing somewhat like a cloud over the office," Harrington said. "So ... I wanted to communicate to our law enforcement partners that the prosecutors in my office are being held to a high standard of professionalism and ethics."
This article was originally published on September 28, 2020.