From The Massachusetts Tiny Desk: Two Songs With Impressive Lyricism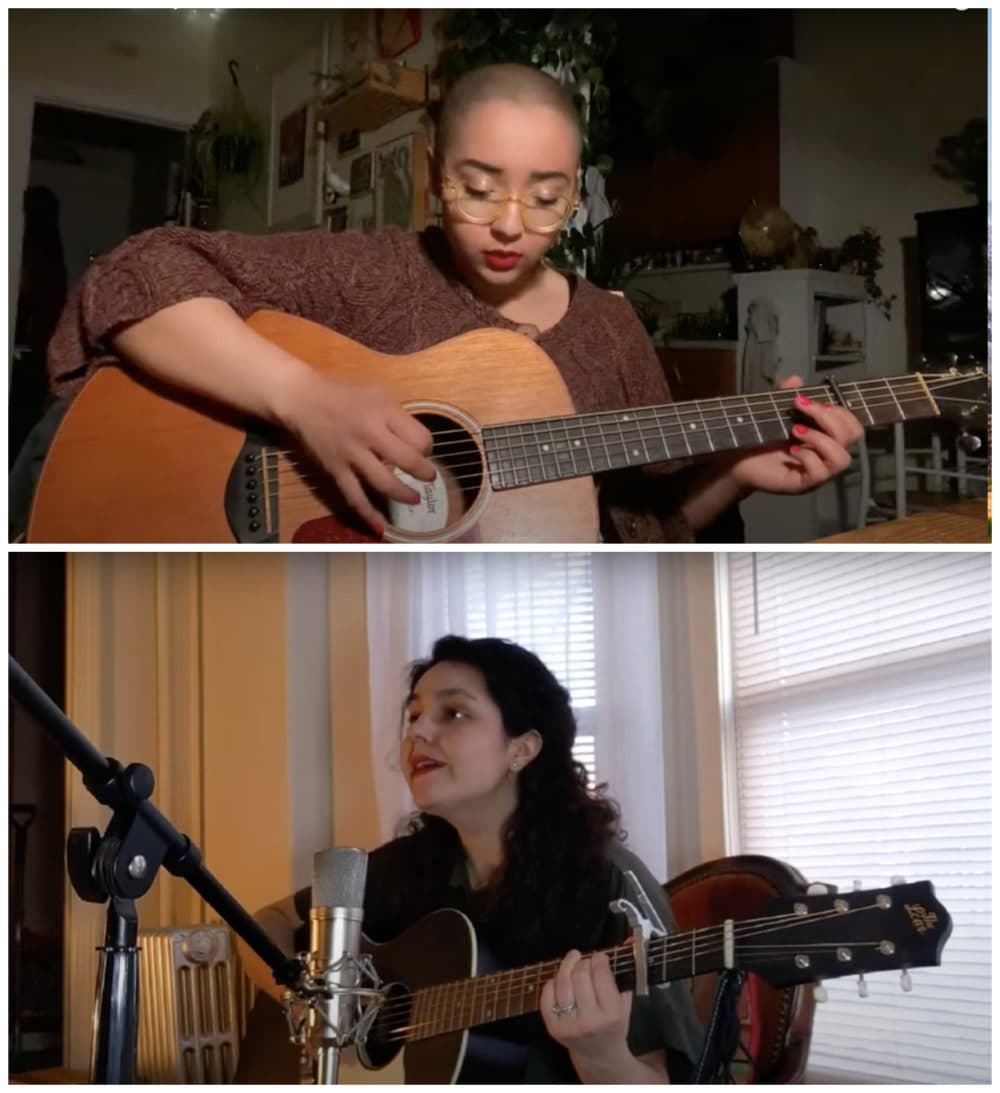 This article is more than 2 years old.
This year's Tiny Desk Contest was a bit different from those of years past. Though the "tiny desk" format usually leads to more intimate, stripped-back performances by nature, this spring, social distancing made group performances a real challenge for many. The result? A slew of solo acoustic entries, including many from Massachusetts. Not that we're complaining — all of us on this year's panel can confirm that all the talent in our own backyard made it tough to narrow down our favorites.
For me, in many cases it came down to the songwriting. Rachel Sumner and Grace Givertz's Tiny Desk entries both stood out based on their lyrics. Sumner's use of the classic murder ballad structure to tell a cautionary tale about corporate greed is detailed and chiling. Grace Givertz brings emotional clarity to the sense of loss that comes with a sudden change in perspective. In different ways, they both feel relevant to this moment.
Rachel Sumner, "Radium Girls"
"Radium Girls," the Tiny Desk Contest entry from Boston folk musician Rachel Sumner, unfolds as a modern murder ballad, telling the tragic true story of the women who contracted preventable mercury poisoning due to dishonest practices at the factories they worked for.
Back in the 1920s, painting wristwatch faces with glowing radium paint was a coveted job among young working-class women. It paid well, and the job took on a certain glamour as the girls left every shift flecked with the luminous paint, which they'd been told was harmless. But a few years later, they began suffering grotesque fates, bones and teeth crumbling inside their bodies, tumors swelling within joints, until they started to die one by one. By the time the other women had traced the cause of death back to their workplace, it was already too late. Many of the remaining workers had already ingested deadly amounts of radium, and as it began to take effect in their bodies, the factories they'd worked for set out to discredit their claims. With the time they had left, the women sued their former employers for labor abuse, ultimately transforming workers' rights and the world's understanding of radioactivity.
Sumner's soft voice adds suspense to her meticulous songwriting, rounded out by the foreboding tone of Devon Gardner's subtle fiddling and vocal harmonies. The song's two-word bridge, "Curie eleison," references a traditional Christian invocation meaning "Lord, have mercy," but it's also a nod to Marie Curie, the scientist who first discovered radium. Though the song is rooted in events that happened a century ago, the kicker calls attention to its modern-day relevance: "You may claim that women have been long-since elevated in this world/ But how can that be? Our ashes still speak louder than our words…"
---
Grace Givertz, "Bitter Lemons"
"Bitter Lemons" isn't necessarily a song about life in quarantine, but the cooped-up frustration it captures rings especially true right now. It's the work of Boston folk musician Grace Givertz, whose straightforward acoustic strumming makes way for a tangle of emotion. Though Givertz's voice is bright and the song's melody is sweet, the lyrics she sings are anything but: "Even in the warmth I am shivering cold/ I am growing old in the city I felt young in/ I outgrew my skin."
Her delivery is captivating, and there's a satisfying bluntness in the way she lays out her disillusionment. It's a song about an abrupt shift in perspective — the kind that might be brought on by the end of a relationship or a big change in life plans. The lyrics mourn a past version of self, conjuring a feeling as specific and bitter as the song's title promises.
"Where is my ending of happiness?/ This road is only yellow because it's covered in piss and caution lines," Givertz sings, voice soaring. It stands out as a cleverly ugly line, the kind of fed-up jab that gets whipped out in an overwhelmed moment. Though she later sings about trying to act sweet, the song inches toward self-compassion and conviction in her own point of view. It's refreshing. Forced optimism can feel stifling; this song is a salve. (And while it was the song and not Givertz's handmade "tiny desk" earrings that won us over, we can't deny that they're a great touch.)