N.H. Voters Try To Make Sense Of A COVID-Positive President Who Threw Caution To The Wind
03:59
Play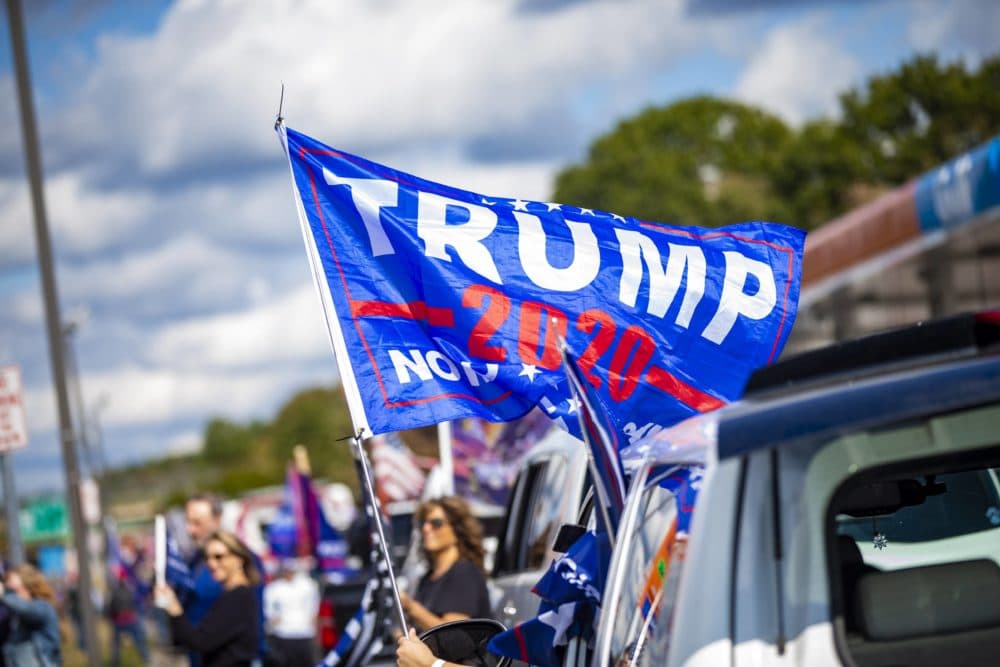 New Hampshire is home to the first-in-the-nation primary and is considered an election-year battleground, so voters there have grown accustomed to the attention and to talking politics. But in a turbulent year that has been full of unexpected drama, nobody expected to be talking about President Trump being stricken by the coronavirus — news that has shocked the world and shaken up the presidential campaign, just one month before Election Day.
"To be honest, I don't know what to think, and I'm sure a lot of people are just trying to figure out [what's going on]," said Molly Bolick, of Loudon, who was in Keene on Sunday, enjoying the sunshine and cool autumn air.
Bolick said she's not a Trump supporter, but she does hope the president recovers.
"I don't want to see anyone die from [the] coronavirus — whether it's a family member, a garbage man or the president," she said. "It's obviously strange, given the amount of safety and health care that he has access to. But also given how cavalier and obstinate he's been, it's not surprising [that he tested positive]."
Several people in Keene referred to the irony of a president who routinely underplayed the danger of the virus only to be infected by it. Trump has mocked Joe Biden for wearing a mask; he held rallies with big crowds of supporters who were mostly unmasked; and claimed falsely that the pandemic was ending — even as infections and deaths continued to climb.
"Hopefully, we are at the end of this awful China virus," Trump told supporters in Londonderry this past August, the day after he accepted the Republican presidential nomination.
On that summer day, the president argued for a resumption of professional football, and characterized the virus in a way that sounds particularly ironic today.
"These are young, strong guys. They're not going to be affected by the virus," he said. "If you look at it, it's generally older people; older people that have heart conditions, that have diabetes, that have problems..."
He could have added "older people like the president of the United States," who, fortunately, has access to some of the best health care in the world.
On the streets of Keene on Sunday, most people said they expect the president will recover, while some wondered if this experience might change his view of just how dangerous the virus is.
"Absolutely not," said Shane Bell, of Keene. "He's almost certainly going to go on about how it wasn't all that bad, and try to downplay the numbers again."
Trump campaign officials say the president has taken "tremendous precautions" during his campaign events, despite evidence to the contrary.
Jim Lyons, a Trump supporter and chairman of the Massachusetts Republican Party, said the President shouldn't be faulted for holding large, mask-free rallies.
"The president is telling us that we still have to live our lives," Lyons said. "We do have to be careful about it, but I think to make this into a story that because the president was reaching out to people during political rallies, somehow, we should say that was wrong — I'm not going to go down that road. I don't think he was wrong."
But lots of American do think he was wrong, or at least misguided, according to a new Reuters-Ipsos poll, which found that 65% of respondents agreed with the statement: "If Mr. Trump had taken coronavirus more seriously, he probably would not have been infected."
This article was originally published on October 05, 2020.
This segment aired on October 5, 2020.