Many Times Greater Than Any War Since 9/11: Economists Estimate The Pandemic's Cost At $16 Trillion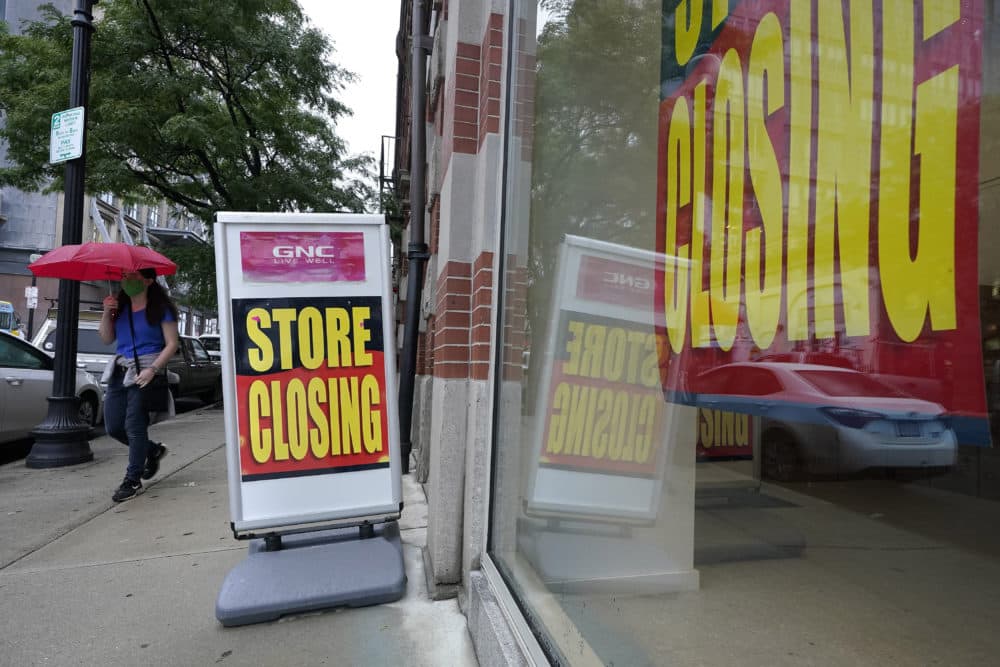 Unemployment claims are in the tens of millions. Data from the website Yelp indicates hundreds of thousands of businesses have closed and that roughly 60% of those closures are permanent. The 7.8 million coronavirus infections and 215,000 COVID-19 related deaths already reported in the U.S. also represent lost productivity and human suffering that hurts the economy.
It's difficult to quantify the entirety of the havoc that's been loosed on our economy in the last eight months and distill it into a single number, but that's what Harvard economists David Cutler and Lawrence Summers have done in a new paper, published in the journal JAMA. Their estimate: $16 trillion or 90% of one year's GDP — the total value of our annual economy.
"That's just such an immense number. It's sort of breathtaking," Cutler says. "You sort of know [the pandemic's economic cost] is a big deal because it's affecting a lot of people, and then you see the number and you're just sort of blown away by how big it is."
To put it in perspective, Cutler says that $16 trillion is multiple times greater than the amount of money the country has spent on any of the wars in the Middle East and North Africa since 9/11. It's a more significant loss than occurred during the Great Recession when housing prices tanked. It's a greater economic shock, Cutler says, than anything in recent memory.
To do the calculation, Cutler and Summers added two general categories of losses together. First is the plain economic losses — all the jobs, income, goods, and services that were interrupted by the months of shutdowns and COVID-19 restrictions. The economists looked what those losses will look like over the next 10 years and added that into their analysis.
Next, the researchers estimated the economic cost of lost and impaired health from COVID-19. This includes both everyone who died of the disease and, assuming death rates stay the same, everyone who will die in the next year. It also includes the lost healthy years of people who recovered from COVID-19 but suffer long-term disability due to its toll on the body, and the damaged mental health of people living with economic and health uncertainty.
The $16 trillion dollar estimate is the cost of the pandemic spread over several years, says Dr. Benjamin Linas, an infectious disease doctor at Boston Medical Center, who also does health economics analyses but did not work on this paper. If the entire cost of the pandemic was compressed to one year, he says, the loss would "put us into, like, the Thunderdome," a reference to the post-apocalyptic world of the "Mad Max" movie franchise.
"We wouldn't have social services or anything," he says. "We would be in full chaos."
"The reality is we can't sustain this. I'm all for lockdowns when we need to, but we can't afford it. And that's not a political statement, it's just a reality," Linas continues. "COVID is going to kill a lot of people if we ignore it, and this kind of GDP loss sustained over the long term is going to kill a lot of people if we ignore it. We have to be able to address both."
Linas says the only way to do that is to pour more research dollars into studying the coronavirus and understanding where and how transmission happens. At the moment, he says, there aren't good targeted approaches that can slow the coronavirus without shutting down whole states.
"Right now, we are in a seesaw where if we ease up on the economy, COVID comes back. If we lock down to stop COVID, the economy tanks," he says. "We need really good directed surgical approaches to try and prevent infection."
The new analysis should help put those interventions and research into perspective, Cutler says. When it comes to averting the loss of tens of trillions of dollars, he says, the government shouldn't bat an eye at useful interventions that run even into the billions.
"Congress should spend a very large [amount] on public health measures," Cutler says. "Otherwise, we're never going to get the virus under control. And if you don't do that, you're never going to get the economic situation back."
This article was originally published on October 12, 2020.