How Evictions Work In Mass.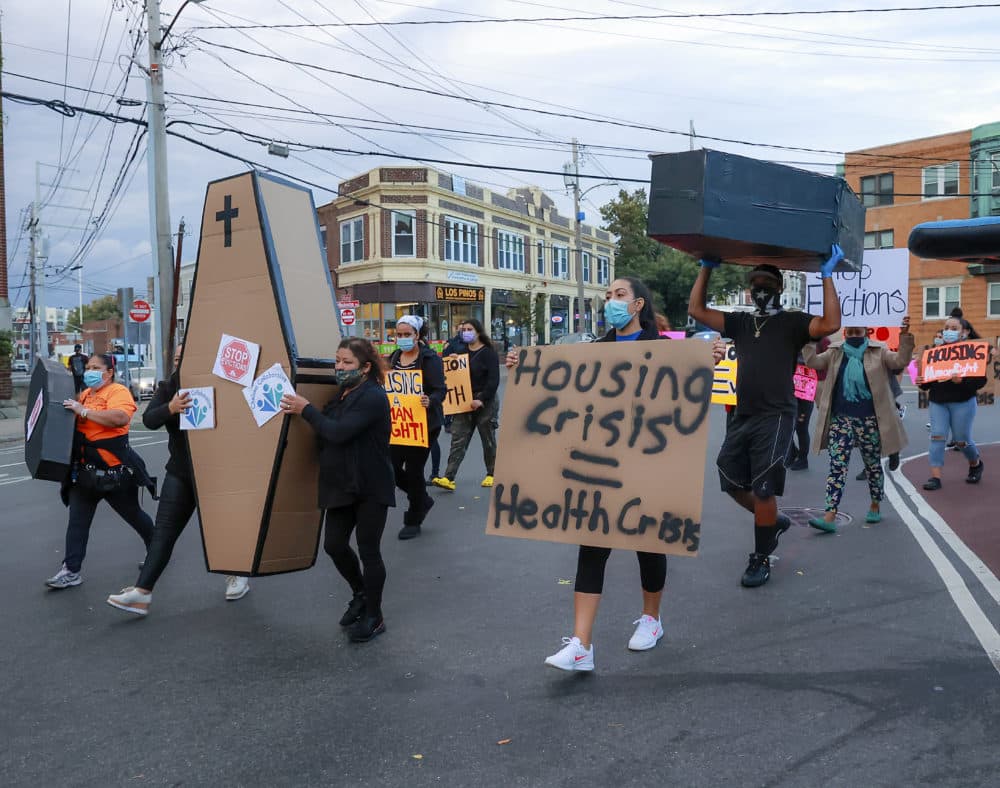 This article is more than 2 years old.
The state's moratorium on evictions is set to expire this Saturday, potentially leaving thousands of families in danger of losing housing.
But eviction in Massachusetts is a multi-step legal process and doesn't happen overnight. More importantly, tenants can't be evicted from their homes without a court order. Read on to learn what rights you have in Massachusetts if you're facing eviction.
Special Circumstances Under The Pandemic
Even though the state's eviction ban is expiring, there is a federal moratorium on evictions that lasts through the end of the year. However, the federal moratorium is not automatic — you need to fill out a form, sign it and give it to your landlord. There are also stricter criteria for the federal ban: You're only eligible if you've applied for all available rental assistance, if you promise to make at least partial rent payments, and if you make less than $99,000 annually.
One place to start with rental assistance is Residential Assistance for Families in Transition (RAFT), says Steve Farrell, chief operating officer of Metro Housing Boston, which helps local residents get help with housing issues. RAFT issues short-term funds to low-income families who are homeless or at risk of becoming homeless. Gov. Charlie Baker allocated $171 million in aid for both tenants and landlords earlier this week. This includes an increase from $4,000 to $10,000 that households can apply for via RAFT. (See our "How To Get Help" section below for more information on what funds may also be available.)
Evictions Basics
There are legitimate reasons for eviction, like not paying rent, violating the lease or using your home for something illegal, like selling drugs.
But you can't be evicted due to your race, color, religion, national origin, sex, gender identity, sexual orientation, age, genetic information, ancestry, marital status, disability, or status as a veteran.
You also can't be evicted because you get a rent subsidy or receive public assistance. And you can't be evicted in retaliation — for example, if you reported your landlord to the board of health for violations.
If you don't have a lease — that is, if you're a tenant-at-will — the landlord can evict you for any reason, except for being among the protected classes listed above.
The Eviction Process
If your landlord wants to evict you, they must issue a written "notice to quit" that details the reason for the eviction and when you must respond. You don't have to leave your home at this point, as the notice to quit is not a court order.
If the eviction is because you didn't pay the rent, you can stop the process by paying in full. If you're a tenant-at-will, and it's your first notice to quit for not paying rent in the last 12 months, you have 10 days to pay. If you have a lease, you may have a little longer, because your landlord first has to file an eviction summons, often called a summary process summons. That comes with a deadline for you to respond, and you can pay the back rent up until that date.
If you can't pay the rent, or the eviction is for other reasons, your landlord must go to court to file for a summary process summons and complaint. This will set the date of the trial and should be served to you by a constable or sheriff.
Once you receive the summons, you can respond to it and file with the court for free. This is your chance to explain your side. Massachusetts Defense for Eviction has a guide, with forms, to help you respond to your landlord correctly.
Even if you don't respond to your landlord, you should still attend the court date that's set in the summary process summons. If you don't, you could automatically lose.
If you go to court and a judge rules your eviction is valid, you have 10 days to appeal. If you lose the appeal, you have 48 hours to move.
Your landlord will pay for your belongings to be stored at a licensed storage facility, including moving expenses and three months of storage fees. After that, you're responsible for the fees and any other related charges.
How To Get Help
There are many legal aid programs available for free or a low cost if you are facing eviction, which you can find by using Mass. Legal Services' search engine.
If you need help paying rent, Residential Assistance for Families in Transition (RAFT) can help for those who are eligible.
State Attorney General Maura Healey's Office has guidance on the rules and regulations that are in effect due to the pandemic.
You should also check with your city or town's housing department to see what resources they can share with you. Here's Boston, Cambridge and Somerville.
This article uses some information from the state's guidance on eviction for tenants.