Gov. Baker Announces $171 Million Plan To Head Off Evictions — Less Than Advocates Wanted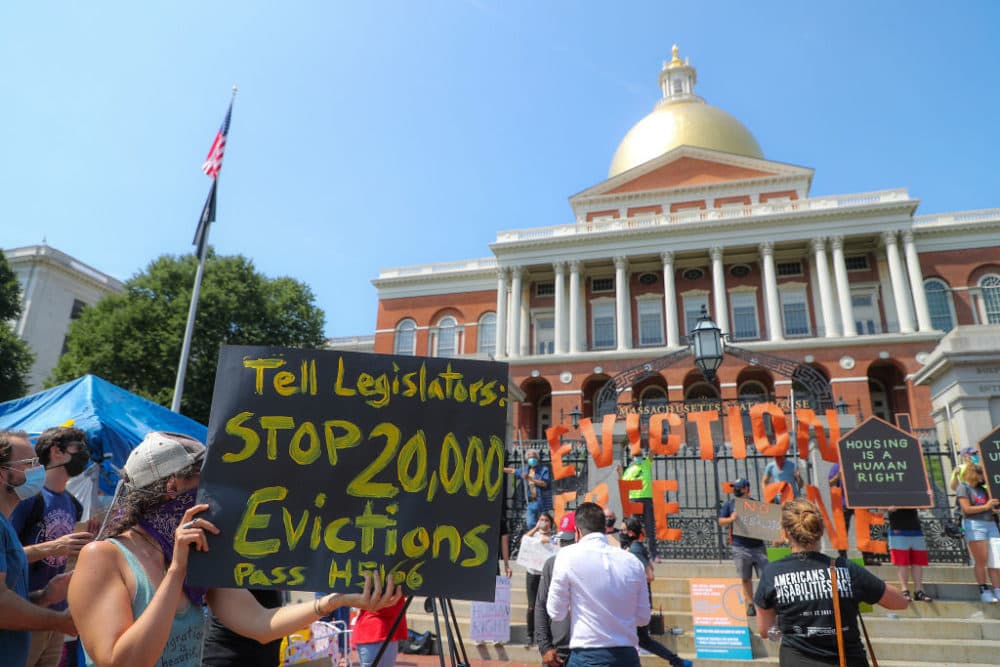 This article is more than 1 year old.
The Baker administration on Monday announced a plan to deploy $171 million in aid for tenants and landlords during the pandemic, just days before the eviction ban is set to expire.
The plan includes $112 million in newly available funding for programs to help tenants pay rent, and to provide legal help for renters who are facing eviction or searching for new housing.
But only $65 million of that is being added to a key program called Residential Assistance for Families in Transition, or RAFT, which allows renters to apply for money to be sent directly to their landlords. Households will now be able to apply for up to $10,000 in assistance, up from $4,000 previously.
Housing advocates had been seeking far more support for RAFT — in the range of $200 million.
"It's an important first step," said Stefanie Coxe, executive director of the
Regional Housing Network of Massachusetts, whose network administers RAFT funds. "We're certainly going to want to monitor and evaluate how quickly the money goes. We will continue to monitor and evaluate that and make recommendations."
The Baker administration's announcement comes after weeks of intense meetings and lobbying by housing advocates and landlord groups as the economic crisis caused by COVID-19 drags on and residents brace for a potential flood of evictions. The Metropolitan Area Planning Council, a Boston-based research group, reports that as many as 60,000 Massachusetts residents fear they may be evicted after Oct. 17, when the state moratorium ends. And landlords also are struggling to make ends meet.
In a statement Monday, Baker said the new plan "has been designed to be user-friendly and easily accessible for tenants and landlords in need, and is comprised of new or expanded programs to help people stay in their homes."
The initiative includes funds for consumer education, to help provide housing counseling and resources to tenants. It also would allow smaller landlords, defined as those who own fewer than 20 units, to apply directly for RAFT — with consent from their tenants — which could streamline the process.
Coxe urged tenants who are concerned about their ability to pay rent to apply for the program as soon as possible, rather than wait until they are in dire straits and in disputes with their landlords. She noted that it can take several weeks for the funds to come through.
The state said that when the Massachusetts moratorium expires on Monday, a federal ban established by the Center for Disease Prevention and Control (CDC) will become effective through December. However, the CDC ban requires qualified tenants to submit a written declaration to their landlord.
The chief justice for the state's Trial Court has said that more information on how to navigate the federal moratorium is forthcoming.