Early Voters Go To The Polls In Mass., Voice Concerns Over Getting Ballots Counted
Resume
Communities across Massachusetts have begun offering residents the chance to vote in-person, two weeks ahead of Election Day.
At Fenway Park on Saturday, a line of masked and socially-distanced voters wrapped almost the entire way around the park, waiting to enter through the Jersey Street entrance.
Among those early voters was South End resident Mary Anne Thadeu, who joined the crowd inside the park.
"Fenway means so much to me," said Thadeu, who was sporting a Red Sox hat and holding an 'I Voted' sticker. "It's my favorite place in all of Boston, and I missed the Red Sox all summer here — I go to a lot of games — so a combined voting... and the Red Sox? It's a win win."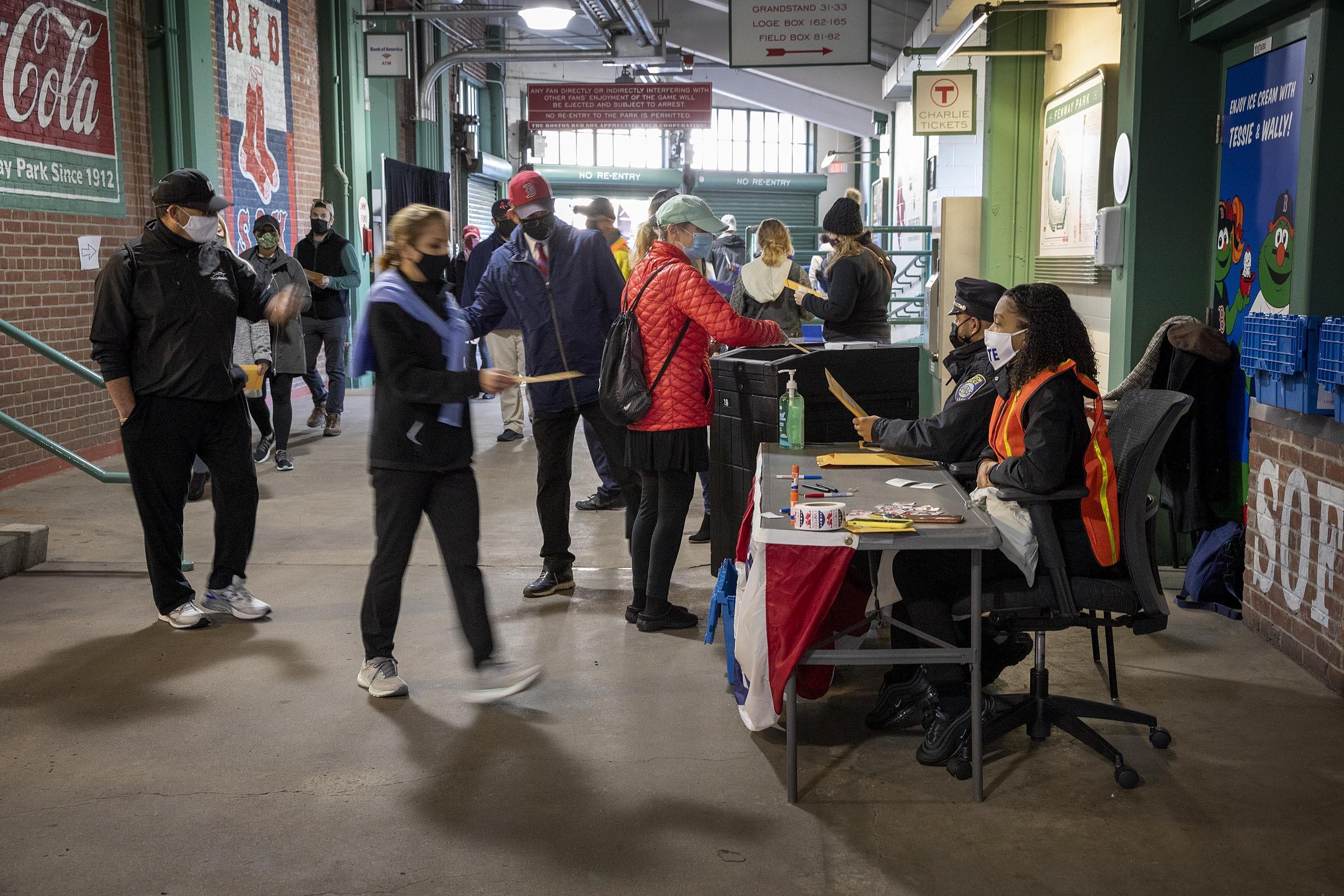 The Secretary of State's office says every city and town in Massachusetts must have at least one early voting location. Any registered voter who has not already voted is eligible to vote at these locations.
Judith Hurley, a West End resident and retired nurse, said that at 72 years old, this is the most important election of her lifetime — and she felt voting in person would be the best way to ensure that her vote is counted. She also wanted to vote early in case something happens to her between now and November 3.
"I just wanted to get out and vote as soon as possible," she said. "I mean, what if I get sick [with COVID-19] before the election and can't vote?"
Boston has 27 early-voting locations that will be open at different times over the coming two weeks. This weekend, Fenway was among 10 polling places spread around the city.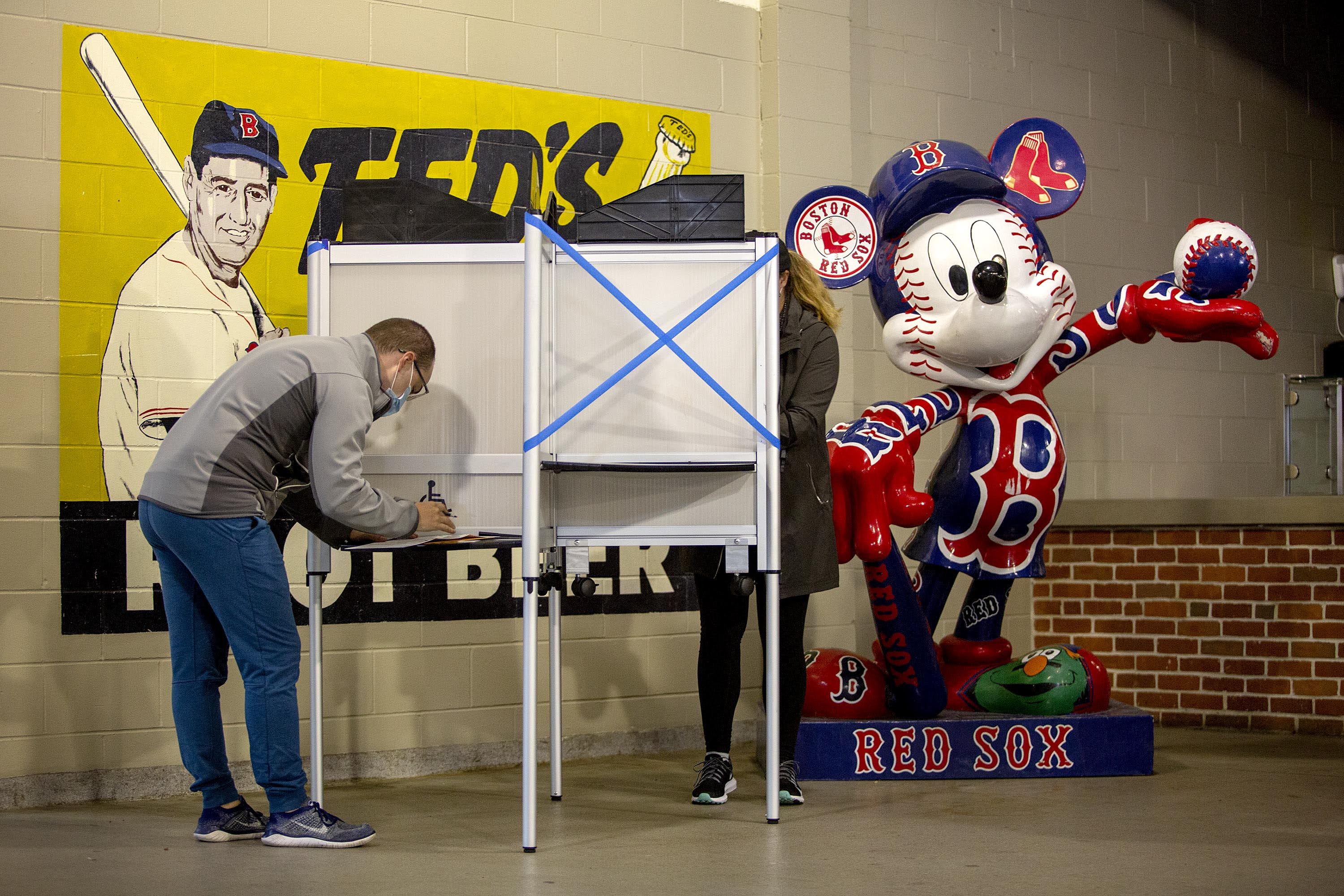 At the DeWitt Center in Roxbury, elections warden Marie Bowden-Lockhart said many voters are coming out early to make sure their votes are accounted for.
"Their fear, from what they've been seeing on the television and reading in the newspapers, I think has motivated them to come out," she said. "They want to make sure that... their vote is counted. That's that's the main thing for most people."
Ethel Duncan of Roxbury, a retired MBTA conductor who voted at the DeWitt Center, said she doesn't have confidence in voting by mail.
"I believe in voting in-person, because if there's something going on in the Post Office, we'll never know. You know, maybe [my vote] falls on the floor, gets swept up in trash. But now I know I put it in the [ballot] box."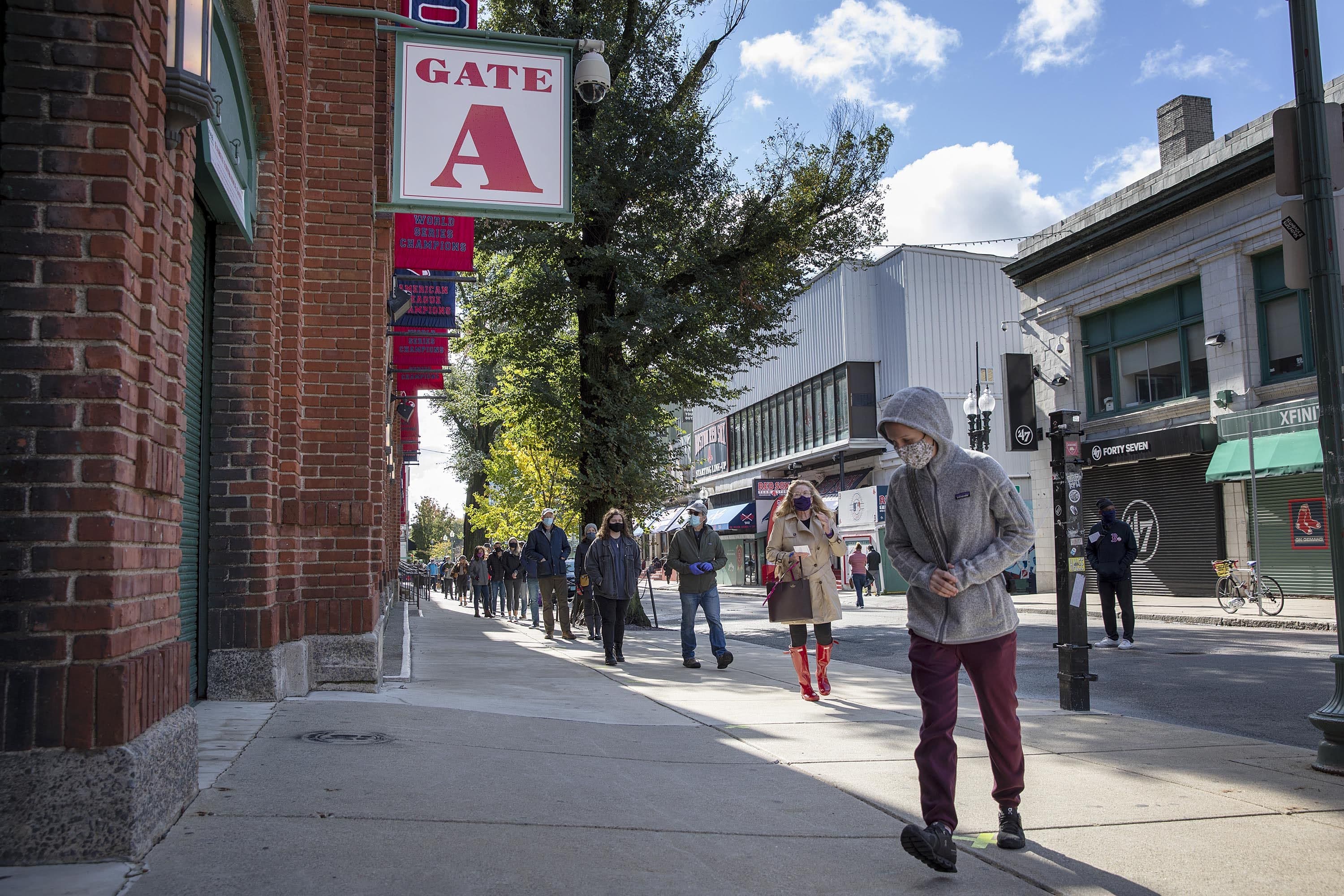 Elections officials are encouraging voters to visit polls early, and to drop off mail-in ballots at drop boxes. As of Saturday afternoon, 553,563 mail-in or early in-person ballots had been cast in Massachusetts, according to Secretary of State William Galvin's office. So far, 38% of Mass. voters have either applied to vote by mail or have already voted early in-person.
Voters have until 5 p.m. on October 30 to vote ahead of the November 3 elections.  October 24 is the last day you can register to vote.
This article was originally published on October 17, 2020.