Your Guide To Voting In The 2020 Election, From Mail-In Ballots To Hitting The Polls
This voting guide is similar to an email created for our "Mass. Election Prep: How To Become An Informed Voter In 7 Days" newsletter series. We've partnered with El Planeta on this project, which you can get in your inbox in English or Spanish. Sign up here. 
---
Presidential election years historically draw more people to the polls than all other statewide contests. In the 2016 election, about 75% of eligible voters – or more than 3.3 million people – cast their ballots in Massachusetts.
Yet even by presidential election standards, 2020 is exceptional.
As a result of the ongoing coronavirus crisis, Massachusetts is among dozens of states that have expanded voting options. Similar to the state's September primary, voters will be able to choose whether they want to head to the polls early or on Election Day, or if they would prefer to cast their ballot by mail.
Given record voter turnout in the Sept. 1 primary this year thanks to mail-in voting, the general election is expected to draw more voters than ever.
Registering To Vote
You can't cast a ballot unless you're a registered voter. The last day to register to vote in Massachusetts for the 2020 election is Saturday, Oct. 24, by 8 p.m.
Here's how to check your registration status and how to register to vote.
(Sept. 22 is National Voter Registration Day, a nationwide call for Americans to register to vote that falls on the fourth Tuesday of September each election year. Again, in Massachusetts you have a little more than a month after this date to register, but Sept. 22 provides a day to celebrate the occasion with others.)
How Voting By Mail Works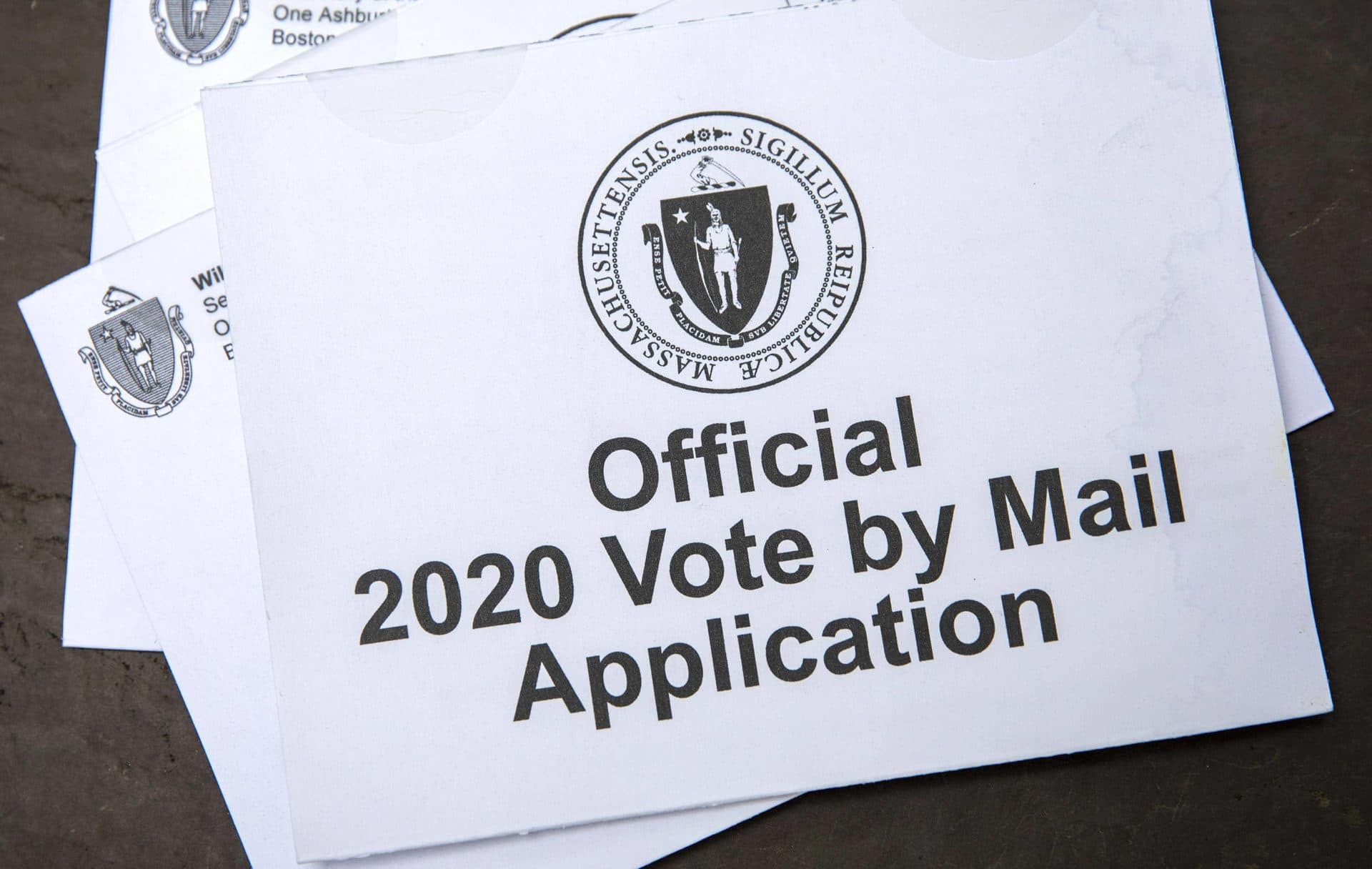 Voting by mail is not a new concept. Oregonians have been casting their presidential election ballots by mail since 2000. In 2011, the state of Washington passed a law requiring all counties to conduct vote-by-mail elections. Colorado, Hawaii and Utah soon followed suit.
There is essentially zero functional difference between a mail-in ballot and a traditional absentee ballot.
For Massachusetts voters this year, the big change is that all voters can now cast their ballot by mail due to the pandemic – no additional reason needed. Our commonwealth is far from the only one; a total of 46 states will offer some form of vote-by-mail this year.
Here's a quick summary of tasks related to voting by mail correctly, though we'll discuss details below:
print or request a vote-by-mail application
return that application by mail or in-person (or, you could complete steps 1 and 2 online)
receive by mail a ballot and fill it out
return your completed ballot to election officials, either by mail or drop off
The state and the post office recommend that, especially if you're submitting everything by mail, you should apply for a ballot and get it back to election officials as soon as possible to avoid potential problems related to postal delays.
Applying For A Vote-By-Mail Ballot
Massachusetts lawmakers in July mandated the state mail every registered voter a vote-by-mail application ahead of both the state primary and the general election. Key word: application. Many people don't realize you need to fill out a ballot application before the state mails you an actual ballot.
Voters who filled out the application back in August and asked for both their Sept. 1 primary and the Nov. 3 general election ballots should sit tight: your ballot is slated to arrive within the first couple weeks of October.
If you still need a vote-by-mail application:
Your election office must have your application for a mail-in ballot by no later than 5 p.m. on Wednesday, Oct. 28.
You could also submit your application for a mail-in ballot via an online portal, here.
Handling Your Mail-In Ballot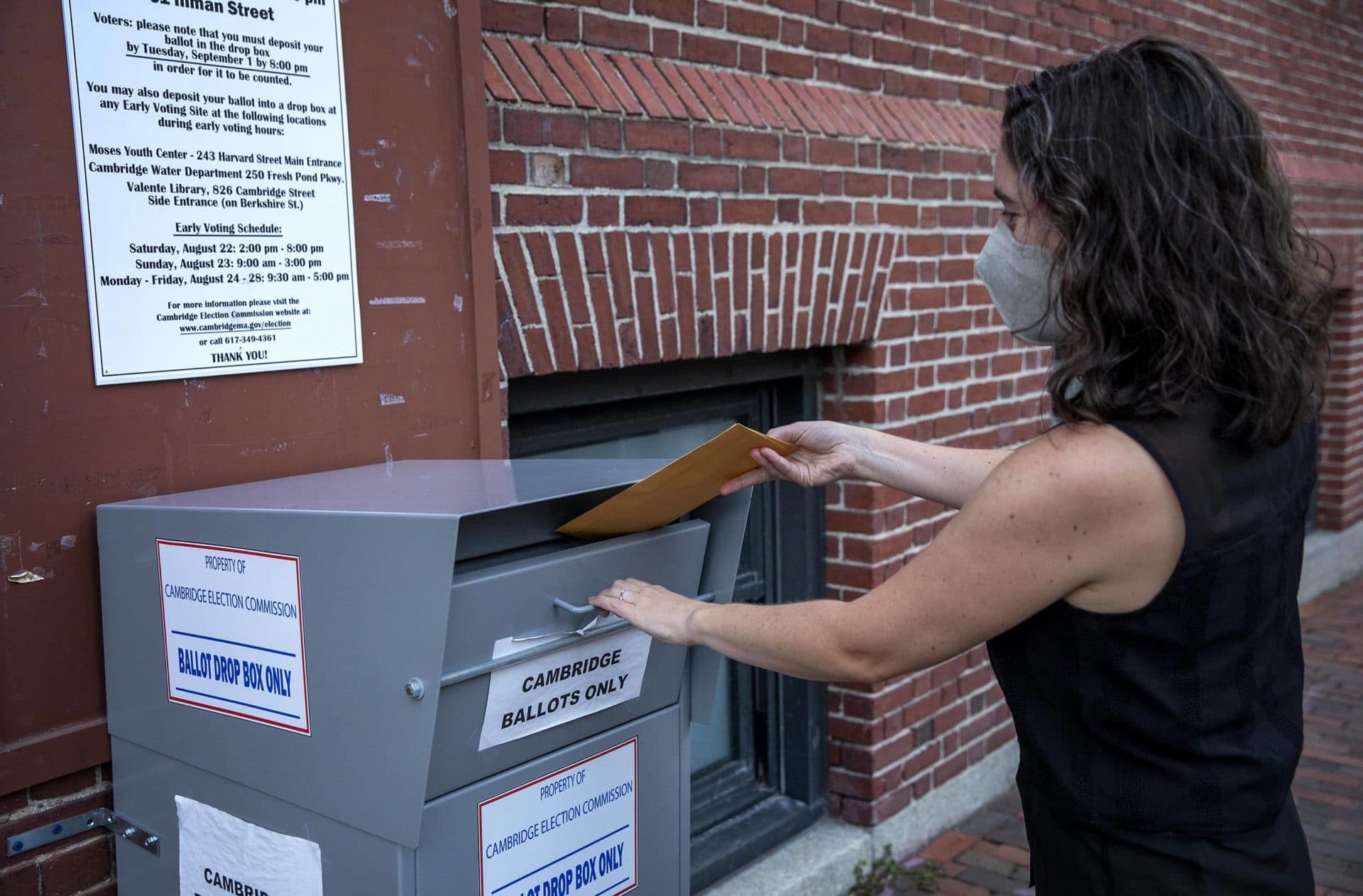 So you've applied for your ballot and received it in the mail. Now it's time to vote, of course.
Don't forget to follow the instructions included in the mailer. That includes stuffing your completed ballot into the so-called secrecy envelope provided in the mailer and signing the envelope. Election officials will look to verify your signature to count your vote.
Important: Any ballots returned without the signed secrecy envelope are known as "naked ballots" and they will not be counted. Sec. of State Bill Galvin says voters who submitted naked ballots will be given a second chance to vote ahead of the election, but with Election Day coming up fast we recommend getting it right the first time.
Once you've checked those requirements, it's time to mail it (postage is included).
As long as your ballot is postmarked for Election Day on Tuesday, Nov. 3 and received by Friday, Nov. 6, your ballot will be counted. This was not the case for the state primary.
You can also bring your completed ballot, before polls close on Election Day, to your local election office, to your town or city's dropbox location, or to your town or city's early voting locations.
Here's a look at where the dropbox and local election office locations are in Massachusetts, or see the list here. (Note: City and town early voting locations are not included on the map. You could find out which days which early voting locations are open in the next section.)
How To Vote Early, In Person
Early voting runs from Saturday, Oct. 17 to Friday, Oct. 30. You could vote at any early voting location in your city or town, you don't have to go to the one in your neighborhood. You can find more information from the state on early voting here.
Details around early voting times and locations will be released by each town or city by Oct. 9 at the latest, the state said.
How To Vote On Election Day
As always, the polls will be open on Nov. 3, from 7 a.m. to 8 p.m. There may be some changes to where exactly you can vote. Here's how to find your polling location. And when it comes to safety, voters and election workers will be encouraged to wear masks and practice social distancing at the polls.
Decision Time: How Should You Vote?
If you requested a mail-in ballot, but ultimately decide you would rather vote in person, that's OK.
In fact, even if you mail your ballot, as long as it doesn't reach your local election office, you can still vote on Election Day. (Mail-in ballots are checked against voter lists at the polls to ensure no one votes more than once. Any mail-in ballot received after a voter casts a ballot in person will be rejected.)
However, if you vote early – either at the polls or by mail – and your ballot is received by election officials, that's it. You cannot vote again, nor can you change your vote.
You can track your ballot here, or you can call your local election office for the most up-to-date info on where your ballot is.
How The Vote Count Works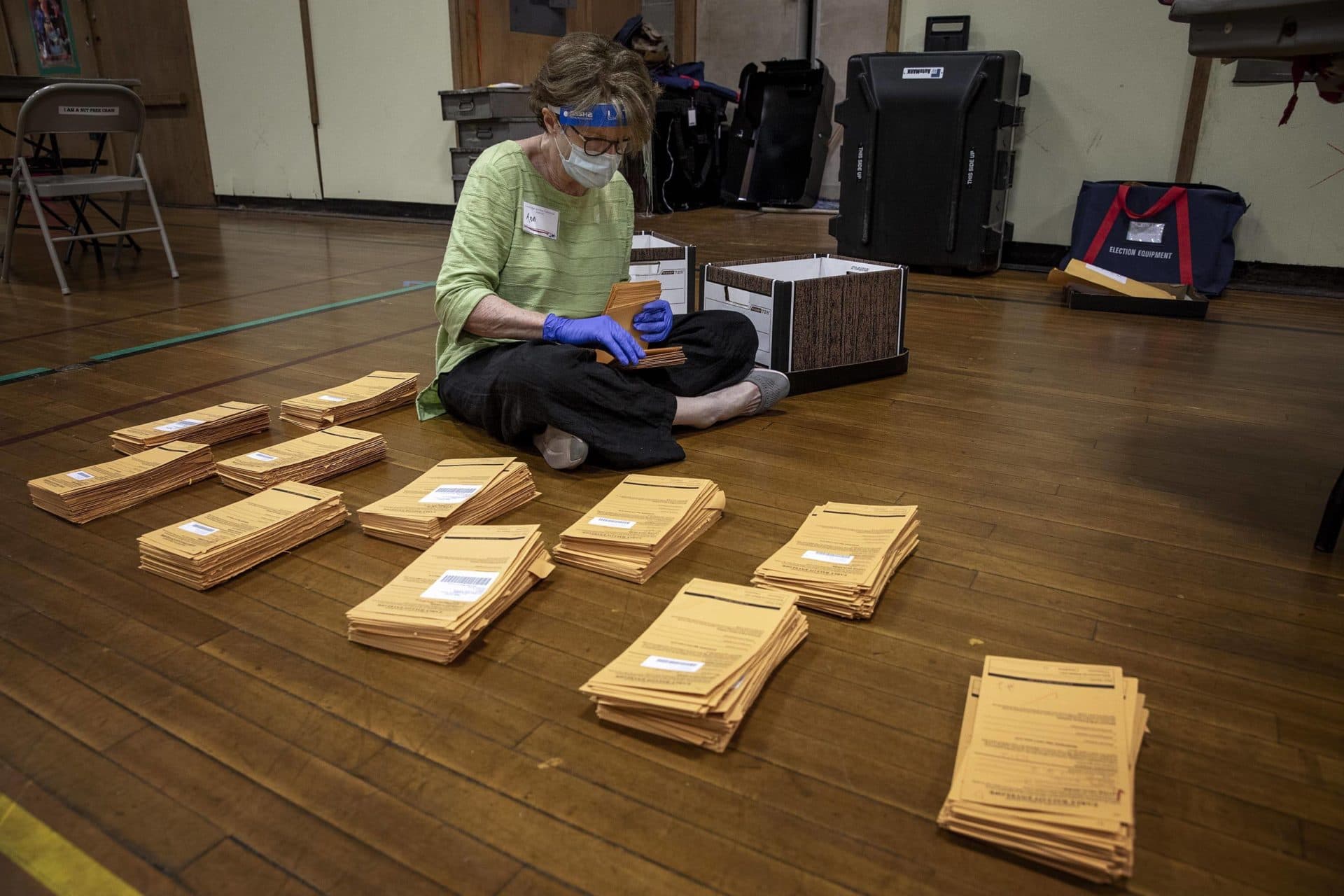 All town or city election offices have to be open in some capacity until 8 p.m. on Election Day so that people with mail-in ballots can return them. (In some very small cities or towns, the election official may post a notice at the office if they must work at a polling location that day. In these cases, people can return their ballots to whichever polling location the official, usually a town clerk, directs them.)
As was the case for the state primary, towns and cities are allowed to partially process — up to nine days before Election Day — vote-by-mail ballots received in advance of Nov. 3. They cannot, however, officially tally the votes until Election Day. They also may not do any advance processing of ballots without first giving the public three days notice about when and where they'll do this; any advanced processing involving opening of the ballot envelopes must take place in a publicly viewable setting.
With advance processing, election workers may open mail-in voting ballots, check them against voter rolls, place them into tabulation machines, remove them from the machines and subsequently store them in tamper-proof boxes. Again, election workers may not count any results before Election Day. This is a somewhat imperfect analogy, but think of it like returning arcade tickets to be counted by a machine. The advance processing for ballots ahead of Election Day stops right before the point when an election worker would, in the arcade analogy, print the receipt that details how many tickets were received. In this way, they are prepared in advance to be counted, but knowing the results cannot happen until Election Day.
While the majority of Massachusetts towns and cities opted not to do any early processing of vote-by-mail ballots during the primary, some did — and state election officials said they expect more municipalities may decide to do some early processing for the general. The scope of that early processing can also vary by community.
"You were allowed to take the ballots out of the envelopes and just put them aside to be inserted on Election Day, because a lot of the manual labor is crossing the names off the list and taking them out of the envelopes and shuffling them together," Debra O'Malley, a spokeswoman for the secretary of state's office said in an interview on election night of the September primary. "And some of them also took the extra step of running them through the tabulators, but some didn't."
In the general election, state election officials say municipalities will handle three official rounds of vote counting.
In the first round, all in-person ballots and all mail-in ballots received up through Nov. 2, the eve of Election Day, will be counted on election night.
Communities will hold a second round of counting on a date to be announced by local officials. All mail-in ballots postmarked for Nov. 3 and received from Election Day to Friday, Nov. 6 will be counted then.
The third and final round of vote counting will occur for ballots sent from overseas. Those ballots are allowed 10 additional days to arrive after Election Day.
---
Questions? If you have questions about voting in the state primary, please email WBUR's Lisa Creamer at acreamer@bu.edu, or WBUR's Wilder Fleming at wilderf@bu.edu.