VIDEO | Mass. Ballot Question 2, Explained: What You Need To Know About Ranked-Choice Voting
In November, Massachusetts voters will take up a ballot question that would fundamentally reshape the way they vote. Under a system called "ranked-choice voting," races that involve more than two candidates give voters the option to numerically rank their choices.
Proponents of ranked-choice voting (RCV) say it would help to ensure that no candidate is elected by a minority of voters. Supporters include former Govs. Deval Patrick and Bill Weld, as well as former Harvard president Lawrence Summers, who calls it "the single most important change we can make to improve American democracy."
But the voter system is controversial. Those against the proposal say it violates the "one-citizen, one-vote" principle and could create a bureaucratic nightmare.
How Does It Work?
Ranked-choice voting only applies to races with three or more candidates, and only when one candidate does not reach greater than 50% in the initial vote tally.
Until that point, votes are tabulated at the precinct level, the same way they are under the current system. If no candidate gets more than half the votes, the ballots go to a central location where the non-first choices are redistributed in successive rounds until someone crosses the 50% threshold.
In each round of the counting, the last place candidate is eliminated, and the second-choice of that candidate's voters are added to the tallies of those who remain. That process continues until a candidate tops 50%.
If the ballot initiative passes, it wouldn't be the first time voters in the state get to rank candidates. In Cambridge, voters have a system known as "proportional representation," which ensures that "any group of voters that number more than one-tenth of the votes cast can be sure of electing at least one member of a nine-member Council."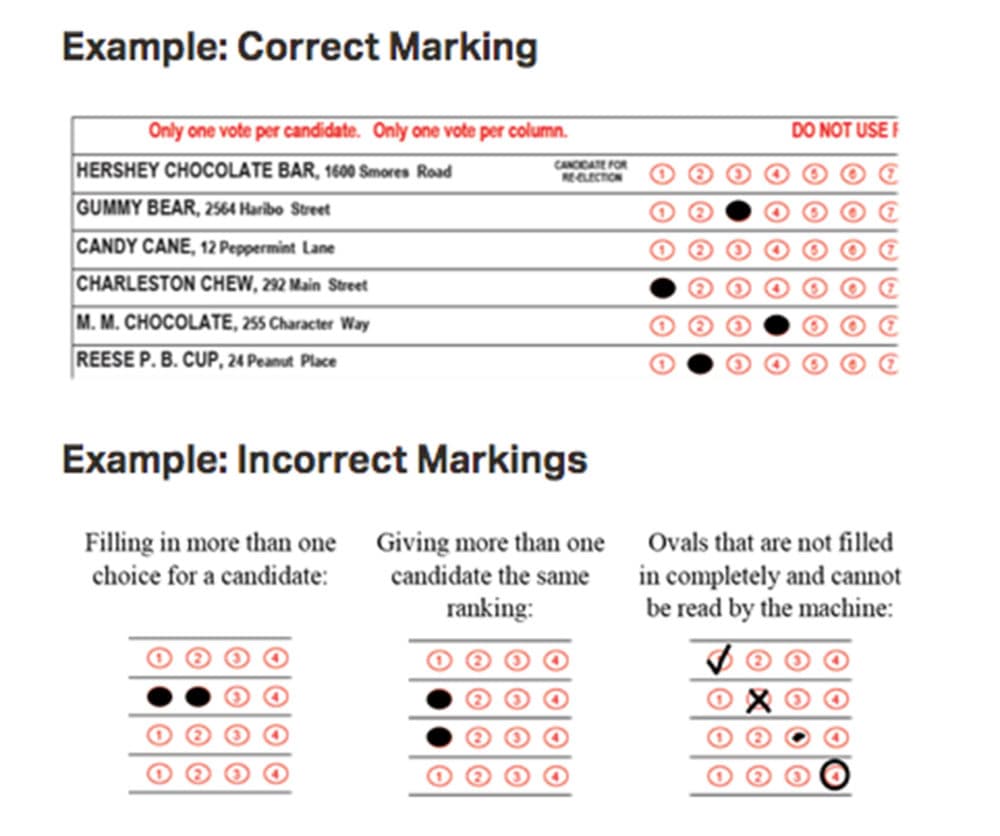 Why Proponents Want Elections Changed
Those behind the ballot initiative say elections are broken. They point to candidates who win elections without majority support. One case is Massachusetts Congresswoman Lori Trahan, who among 10 Democratic candidates ran for the 3rd District House seat in 2018. She won the primary election with less than 22% of the vote.
Proponents of ranked-choice voting are now also citing Jake Auchincloss' 4th District Democratic primary win. In a packed race, he won with less than a quarter of the vote.
"It has now become the exception, not the norm, for winning candidates to achieve majority support in highly-competitive, widely-contested races," according to a press release from the non-partisan group MassVOTE. "Ranked-choice voting, however, can fix that."
Voter Choice Massachusetts, the advocacy group behind the ballot initiative, estimates that 40% of races involving three or more candidates result in a winner who does not get a simple majority.
Those who champion the system say ranked-choice voting will spur greater participation in elections and encourage campaigns to reach out to a broader base of support, and thus lead to more civilized politics.
Let's Look At Maine, The First State To Adopt RCV
Maine voters opted in a 2016 ballot initiative to become the first state to adopt ranked-choice voting for statewide elections. Proponents pushed for RCV after conservative Paul LePage won the governorship with a minority (or a plurality) of the vote — first in 2010 with 37.6%, then in 2014 with 48.2%.
Proponents characterize the effort as a non-partisan way to expand participation and allow more diverse candidates to get elected. But some conservative opponents, like the Maine congressman who lost his seat to RCV, argue progressives are more likely to run multiple candidates in an election, drawing more voters to the polls who favor a Democrat over a Republican as a second choice.
The first major test of RCV happened in 2018 in Maine, over a House seat then-held by Republican Bruce Poliquin. Poliquin got 46.3% of votes in the first round — slightly better than his Democratic opponent Jared Golden — with about 8% split between two independent candidates. Because Poliquin didn't cross the 50% threshold, a second round of counting was triggered, and Golden pulled ahead with 50.6% to win the race. Poliquin tried to fight RCV in court but was unsuccessful.
In August 2020, the law survived the latest of several legal battles questioning its constitutionality. Maine's Supreme Judicial Court recently blocked a ruling that would allow a ballot question to repeal RCV — the third time in four years that voters there would have had the chance to vote on the election system. Maine is now set to become the first state to use RCV in a presidential contest, though legal challenges remain ahead of the election that could change that.
Who's Backing This, And Who's Opposing It?  
The group formed to push RCV here is Voter Choice Massachusetts. Supporters include the state Democratic Party, the League of Women Voters and the Massachusetts Immigrants and Refugees Advocacy Coalition. Financial supporters include prominent CEOs in Massachusetts, as well as advocacy groups Action Now Initiative and Unite America.
Voter Choice Massachusetts says it has raised $5.5 million as of mid-September, with roughly half of those funds raised in the two weeks after the Sept. 1 primaries.
The Massachusetts Fiscal Alliance has railed against ranked-choice, claiming the state would be better off with runoff elections. In runoffs, a field of candidates is narrowed to the two top vote-getters, and a second election is held to determine the winner.
The ballot committee against RCV in Massachusetts is called No Ranked Choice Voting Committee, which organized late in the summer. Patricia Chessa, chair of the Westford Republican Town Committee, is listed as the group's only official, according to the Office of Campaign and Political Finance. Chessa did not immediately respond to a request for comment, and no data is available on the OCPF website.
More broadly, critics of the election system often say it is too confusing for voters.
Anthony Amore, a Republican activist and volunteer with the no-on-2 campaign, said voters shouldn't be expected to know every candidate in races involving, for example, seven contenders.
"To think that a person could go into the ballot booth and choose up to seven of those people and be able to truly differentiate them, it's hard to believe," Amore said. "I don't think anybody would believe that the majority of voters would be able to go in and know the difference between all of those candidates."
Which Races Would Ranked-Choice Voting Apply To?
Beginning in 2022, the system would be used in primary and general elections for statewide offices in Massachusetts, as well as certain state and federal legislative positions. Ranked-choice voting would not be used in presidential elections, county commissioner races, or district school committee races.
If approved by voters, advocates say the new system would be limited to these offices at first but could expand to other races, including the presidential election.
Should voters approve the ballot measure, the secretary of state would issue regulations as to the mechanics of RCV in Massachusetts and carry out a campaign to educate voters on the new process.
---
Editor's Note: Hat-tip to Minnesota Public Radio for originating the idea behind the ranked-choice voting post-it notes visualization.