Bill Murray Is At His Best In Sofia Coppola's 'On The Rocks'
This article is more than 2 years old.
Maybe Sofia Coppola's greatest achievement (so far) was figuring out that Bill Murray is Generation X's Marcello Mastroianni. Like Federico Fellini's sad clown who gets lonely in crowds, Murray's the life of the party but there's always been a faraway yearning in his eyes. The former ghostbuster has found a formidable second act as a deadpan counterculture totem in the films of Wes Anderson and Jim Jarmusch, but it's his collaborations with Coppola that make the most of his wry insouciance and unexpected depths. "On the Rocks" is Murray's best performance since "Lost in Translation" and his loosest work in ages, irresistibly gallivanting through her latest gossamer comedy with a melancholy heart.
Coppola makes movies about princesses who live in hotels instead of castles, or in this case a luxury SoHo condominium in a fairy tale of New York. Rashida Jones stars as Laura, a stay-at-home mom we sometimes see from the street, framed by her floor-to-ceiling windows like Rapunzel in the tower. The visual storytelling comes swiftly in this picture — its opening credit sequence skips from a sensual tracking shot over discarded clothes during Laura's wedding night to an identical camera movement as she cleans a cluttered floor full of dirty laundry and children's toys. From romance to a rut in the space of a few edits.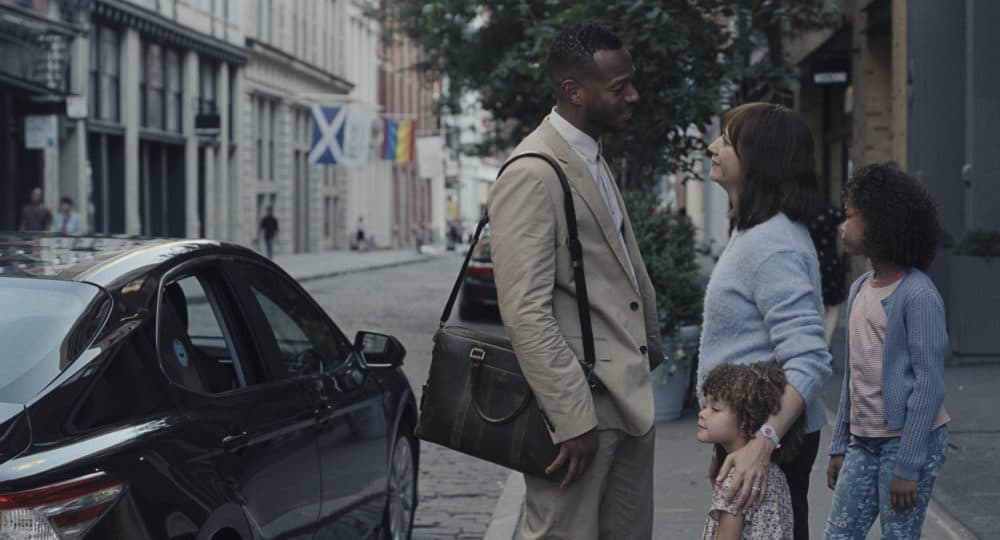 With her husband Dean (Marlon Wayans) traveling all the time for work, life with Laura and her two daughters seems to be one big endless montage of bath times and ballet classes, constantly cornered at school by a fellow mom (the very funny Jenny Slate) droning on about her relationship woes despite zero encouragement from the pokerfaced Jones, coming and going before returning time and again to that same shot of picking up more toys and more laundry. It's a sense of constant motion and never getting anywhere. Even when Laura finally gets the chance for a nap we watch her Roomba scouring the bedroom carpet in circles, thumping itself against the furniture.
Dean's been acting strange lately, and Laura finds the worst imaginable sounding board for her suspicions in her father, Felix — a retired art gallery owner played by Murray with a mischievous twinkle in his eye. An expert on the subject of extramarital affairs, Felix is an irrepressible scamp, reflexively dispensing compliments to women on the street and making all the waitresses blush. He's not creepy or leering about it, just genuinely appreciative of beautiful women in a way his daughter finds endlessly embarrassing. Uncharacteristically dapper in seersucker suits and scarves, Murray walks into every room like he owns the building and knows the name of every doorman in town. The conspiratorial relationship he inspires in an audience has seldom been so expertly deployed.
Laura's soon swept along in her dad's harebrained scheme to spy on her husband, and what follows is a farce played at half-speed in an impossibly elegant fantasy of New York. It's a return to the dream Manhattan Carlyle Hotel of Murray and Coppola's 2015 Netflix special "A Very Murray Christmas," a place where the martinis are always flowing and you can still get a seat at Bogie and Bacall's old table at 21. Was there ever really a New York City like this? Of course not, except in the airy 1930s champagne comedies Coppola's attempting to emulate here. (The last movie I can think of that tried the same trick was 1981's "Arthur," and I'm half-convinced the title "On the Rocks" might be a nod to that picture's misbegotten sequel.) At the center of it all is Murray's easygoing aplomb, talking his way out of traffic tickets and all sorts of other trouble. Felix brings caviar on their stakeout, but the whole world is his oyster.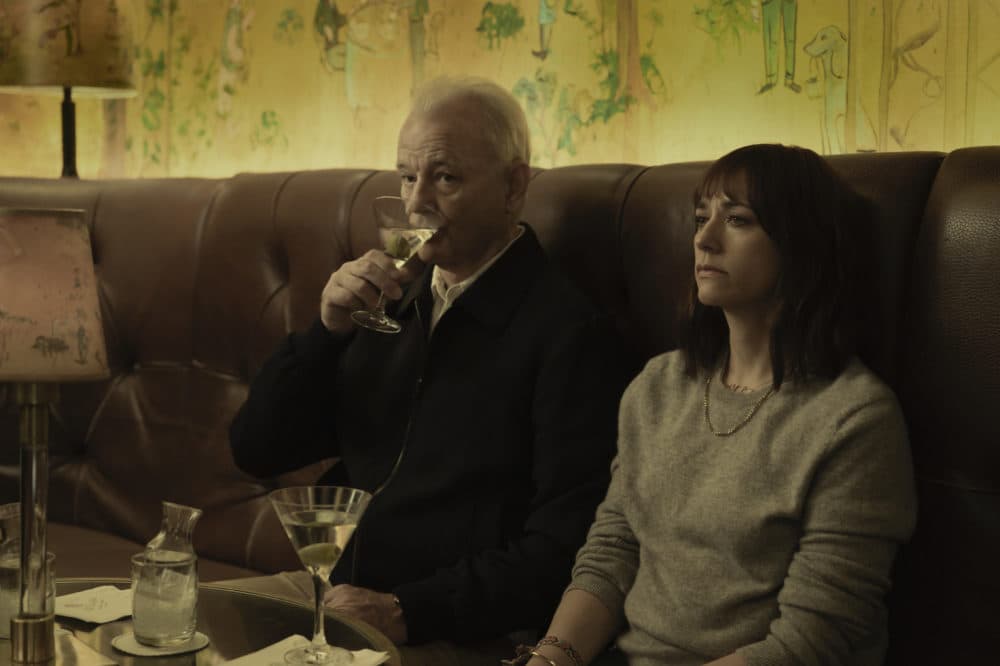 Coppola has perhaps too dreamy a disposition for the snap of screwball comedy, as a filmmaker she's always been more interested in mood than plot mechanics. "On the Rocks" has some formidable slapstick but also allows space to study the ripples a teardrop makes in a half-empty martini glass. It's a beguilingly personal picture, with the First Daughter of American cinema making a movie about a woman trying to find her own light in the shadow of a larger-than-life dad. It can't be a coincidence that she cast Quincy Jones' kid as her on-screen surrogate, who even dresses like her director in the cool-mom Beastie Boys and Run-DMC T-shirts. (I could swear I saw Coppola wearing one of these sweaters last time she appeared at the Harvard Film Archive.)
In some ways it's a sequel to her 2010 film "Somewhere," in which Stephen Dorff played a skirt-chasing movie star dad palling around with his 11-year-old daughter (Elle Fanning) at the kid-unfriendly Chateau Marmont, slowly figuring out he has no idea how to be a father. There's a stunner of a scene here in which Laura confronts Felix about the price their family paid for his behavior, and Coppola stages it boldly in opposition to every established rule of filmmaking. The actors are sitting across from each other but disorientingly photographed in the same direction — as if looking past one another at the long-ago transgressions they're finally facing. So much of "On the Rocks" is designed to be fizzy and play in a minor key, yet in these sneaky little moments it feels like something major.
---
"On the Rocks" starts streaming on Apple TV+ on Friday, Oct. 23.