FBI Investigates Fire In Boston Ballot Drop Box; Election Chief Decries It As A 'Deliberate Criminal Act'
The state's top election official says the FBI is investigating an attempt by a currently unidentified person to set fire to the contents of a ballot collection box in front of the Boston Public Library's central branch in Copley Square.
According to Massachusetts Secretary of the Commonwealth Bill Galvin, the fire occurred around 4 a.m. Sunday, and his office was notified after the fire department was called to the scene.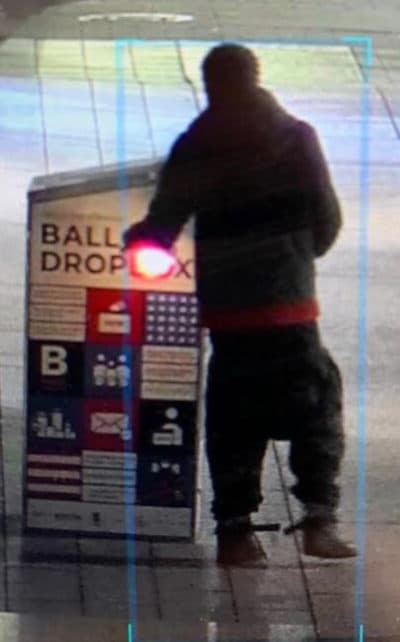 The fire was caused by an "incendiary device" inserted into the ballot box, Galvin said. Although he did not know exactly what kind of device was used, "it did significant damage inside the box," he said.
Galvin told WBUR that the attempt was caught on video, and that the FBI has been notified and is currently investigating.
"This is a deliberate criminal act," Galvin said. "No question about it."
Ballots taken to drop boxes are collected on a daily basis. Prior to the fire, the last collection at the Copley Square box took place around 2:30 p.m. on Saturday, Galvin said.
After the fire, about 122 ballots were found in the drop box. The majority were intact enough to be processed, Galvin said, but all of the individuals whose ballots could be identified will be contacted and will have the option to submit a new ballot. If those voters do not cast a new ballot, the original ballots will be hand counted to the extent possible, he said.
According to Galvin, five to 10 ballots were too damaged to allow for identification of the voter. Because of that, he urged any voter who used the Copley Square drop box between 2:30 p.m. on Saturday and 4:00 a.m. on Sunday to check the status of their mail-in ballot by using the state's Track My Ballot webpage, and contact the Boston Election Department immediately if they believe their ballot has been affected.
In a joint statement, Galvin and Boston Mayor Marty Walsh called the act "a disgrace to democracy, a disrespect to the voters fulfilling their civic duty, and a crime."
"Our first and foremost priority is maintaining the integrity of our elections process and ensuring transparency and trust with our voters, and any effort to undermine or tamper with that process must be prosecuted to the fullest extent of the law," the statement said. "We ask voters not to be intimidated by this bad act, and remain committed to making their voices heard in this and every election."
So far, the state has received more than a million mail-in ballots, Galvin said. In addition to drop boxes, voters can submit their completed ballots at local elections offices, early voting sites and by mail. Ballots that are postmarked by Nov. 3 and received by Nov. 6 will be counted.
In response to the fire, Galvin is directing local elections official to step up security around drop boxes, either by installing security personnel or moving the boxes indoors overnight.
"Protect the ballots at all costs. That's the message," he said.