New East Boston Murals Intertwine Beauty And Environmental Concerns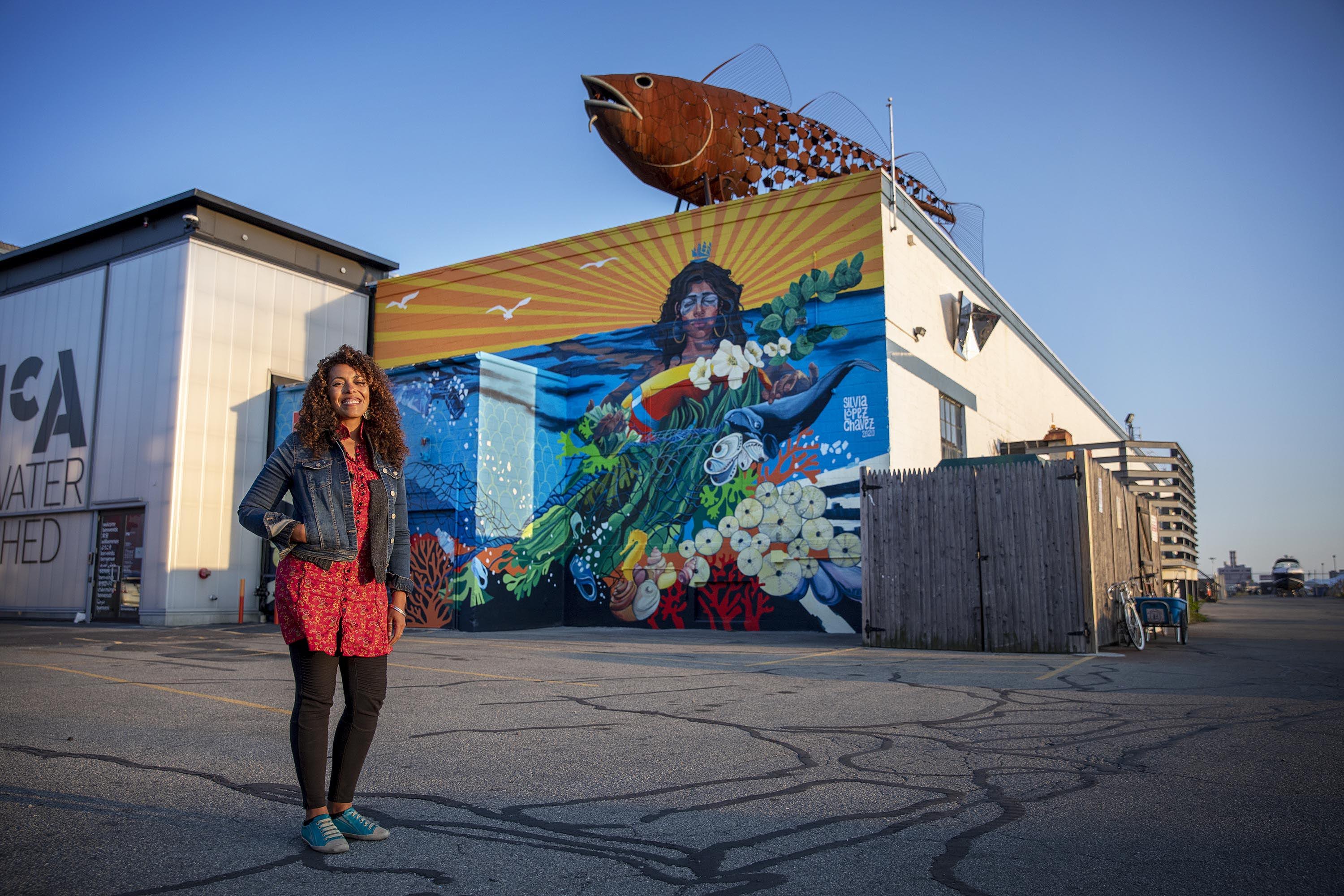 In East Boston, a series of seven new large-scale murals emphasize the natural world and the need to preserve the environment at all costs.
Artist Silvia Lopez Chavez has created a visual guardian near the entrance of Boston Harbor Shipyard and Marina. Her mural depicts a massive figure of a woman with ocean waters rising to her nose. Still, she looks composed, serene almost, a woman of mixed ancestry meant to represent the diverse community that lives in East Boston.
The figure's head is crowned by a clipper ship, a type of vessel that used to be built in East Boston. The ships carried cargo, but also enslaved people, across the oceans. The vessel nods to this nation's history of colonization, a solemn acknowledgment of how some people arrived on these shores.
"[The woman] represents the past, present, and future," Lopez Chavez said. "I wanted her to be able to connect to the histories of this place, to connect to that native and indigenous heritage, the history of immigration and all the different peoples and groups that have come through here."
Presented by Linda Cabot, and in a collaboration with HarborArts and the international nonprofit PangeaSeed Foundation, the initiative is known as Sea Walls Boston and combines activism with art. A seventh piece exploring warming oceans by Colombian-American artist Felipe Ortiz is underway.
"It's not front of mind for a lot of us, but the Gulf of Maine is the fastest warming body of water in the United States, which is causing many of the cold water marine species in the US to migrate to colder waters," project director Matthew Pollock said. "The same issues that are destroying coral reefs and causing biodiversity to disappear all over the world also affect us right here at home. This mural represents how our oceans are all connected."
The seven murals join more than 400 ocean-themed environmental public murals and art installations across the globe. Opposite Lopez Chavez's guardian figure is a mantra by the artist Sneha Shrestha, who's also known as IMAGINE. Spanning the wall in Nepali are the words "Protect What You Love" in all different directions. Further inland, under a bridge on the Mary Ellen Welch Greenway, students from Artists for Humanity painted a Boston cityscape and added sea creatures between buildings.
A student from East Boston took the photograph of downtown Boston that inspired the mural. Brennan Commisso, a junior at Cambridge Rindge and Latin School, helped paint.
"We came up with a sketch during our remote work time when we were back working at home," Commisso said. "Every animal in here is endangered and near extinction, I believe. And I worked on the cityscape for the background. We're trying to draw attention to the way we coexist with these animals. This view of the financial district is what most people in Eastie see when they're looking at the city."
Lopez Chavez calls her mural "Rise" since the woman looks like she's rising from the depths. One arm reaches in a protective stance over a North Atlantic whale. The other hand is pulling this net filled with seaweed and plastic debris. Her image takes up most of the wall beside the ICA's Watershed, a place where Lopez Chavez watched the sunset over the Boston skyline and the water as she painted atop a lift.
"Pollution, fires and climate change is something that is exacerbated and is actually highlighted in immigrant communities and communities that are poor, communities that are more fragile, that already have vulnerabilities through health and respiratory conditions because it's not just the oceans, it's the pollution in the air," she said. "I want to make sure that my art can actually be a tool for fighting back."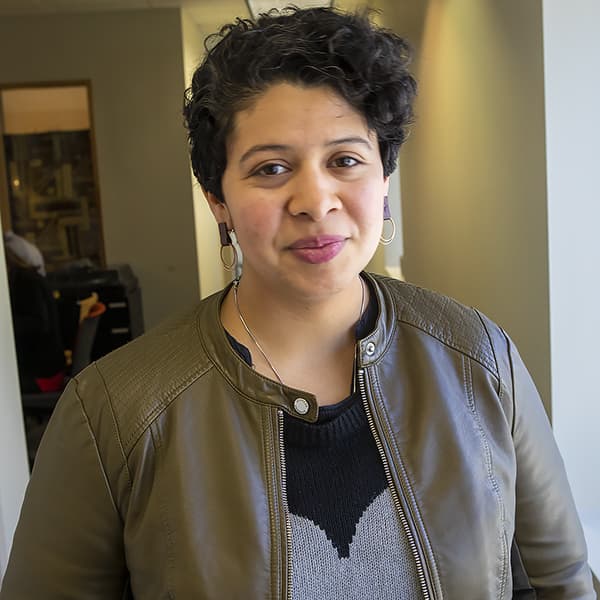 Cristela Guerra Reporter
Cristela Guerra is an arts and culture reporter for WBUR.