Abilities Dance Boston Takes The Stage In Celebrity Series Debut
In every realm, Ellice Patterson considers how to amplify her work. Patterson is the founding director of Abilities Dance, an organization that uses dance as a tool for intersectional disability rights.
Founded in 2017, her company brings together dancers with and without disabilities and aspires to disrupt antiquated ablest beliefs and spread the value of inclusion through dance. On Thursday, Oct. 29, Abilities Dance will take to the stage at the Boston Center for the Arts' (BCA) Calderwood Pavilion. The free performance will be livestreamed as part of Celebrity Series of Boston at Home programming. Audio descriptions will be available.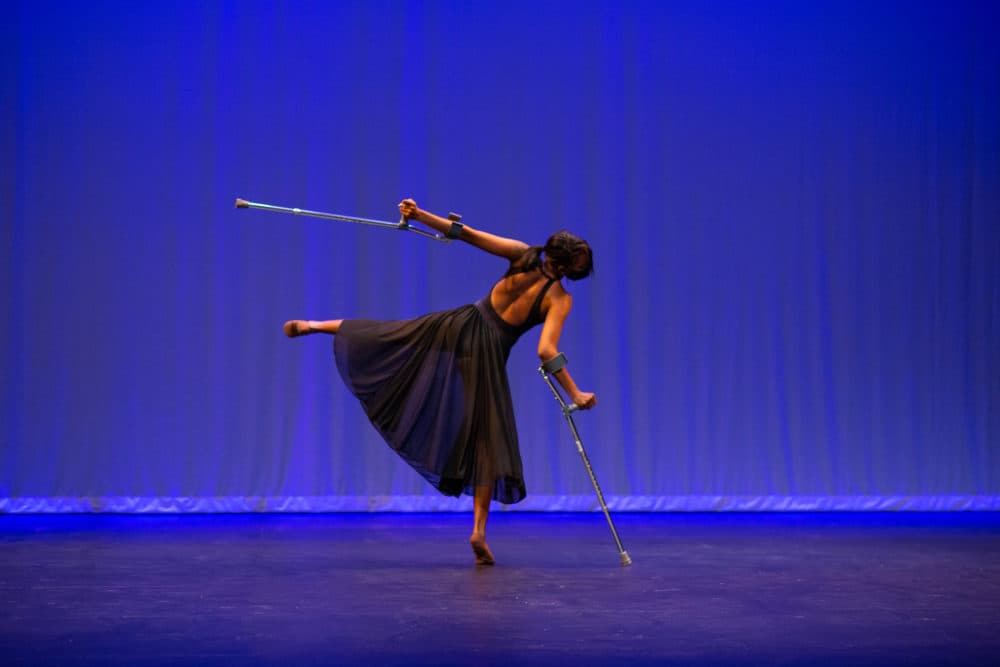 Patterson choreographed all of the pieces for the upcoming show. She wanted "each piece to be its own world," she says. One celebrates Black girl joy; another is "a duet about duality and reflections"; and another encompasses "isolation and wanting to connect that was actually created before COVID-19, which is timely now," Patterson shares.
After continuously getting questioned about her use of different mobility aids, Patterson developed "Bimodal." "I wanted to have a piece that would normalize different modalities of movement," she says, "because it's something that a lot of us have but might not be as highlighted in work." So, she "wanted to have that space that people could see that and internalize that a little more, that there is no single way of movement for some of us in the community."
For Patterson, disability culture plays out through her work in a variety of ways. "It mixes with my Black culture and my womanhood and a variety of my identities, for sure," she says. "I try to think of the aesthetic of movement and how a wheelchair can go out across the stage in a way that running can't, or how we have our costume designer [Laura Brody] who makes costumes for our dancers and their mobility aids if they use them."
All eight of the choreographic works for Thursday's show will be performed to original music by composers Andrew Choe and Erin Rogers. Choe is the lead composer and music director for Abilities Dance. Currently residing in Atlanta, Choe met Patterson several years ago while he was in school in Boston. At the time, Choe shares, Patterson was just starting her company and was looking for composers for the company's debut concert. In addition to his work with Abilities Dance, Choe — a 2017 ASCAP Foundation Film Scoring Scholarship winner — makes music for film, video games and other visual media.
When working on music for Abilities Dance, the Berklee College of Music grad says, "usually Ellice or the choreographer sends me concepts of what their dance is and just a general sense of what they're looking for in the music." Sometimes they "send me a playlist of music, art and pictures that inspire them." After looking through the materials, Choe will start working and send roughly two minutes of musical content to them to start. "Then, they work it out in rehearsal and tell me if they like it or not. If they do, we just keep building off the exchange of ideas until we finish the piece together," Choe explains. "It's a constant collaboration for the whole process. It's conversational."
Patterson's award-winning organization is part of a powerful group of companies across the country pushing to make dance more inclusive such as Axis Dance in California, which collaborates with disabled and non-disabled artists to create performances that challenge perceptions of dance and disability, Infinite Flow Dance — also in California, which works to dismantle the disability stereotype and showcase the beauty of inclusion, and Kinetic Light in Ohio, which creates, performs and teaches at the intersections of disability, dance and race.
To further engage the community here in the state, Abilities Dance works with partners to host dance workshops such as the Girl Scouts of Eastern Massachusetts and Gateway Arts, a nonprofit studio for adult artists with disabilities. As an official dance partner of Our Space Our Place, an after-school program for blind/low vision elementary and high school students, Abilities Dance facilitates conversations about the spectrum of disability and more in addition to movement workshops. Beyond dance, Patterson — one of The ARTery 25 — also works as an accessibility consultant ensuring venues or productions anticipate and meet the needs of audiences with different abilities. She recently consulted on New Repertory Theatre's "Watertown Historical Moving Plays: The Charles W. Lenox Experience."
So, what does Patterson hope the audience comes away feeling or knowing after seeing Thursday's performance? "I hope that this small representation as disability culture inspires them to think about how they can be more inclusive in their own spaces," she says, "and encourages them to look up other types of companies like ours, or read about some of the advocacy work that some of us do or just think more broadly of who is and isn't in their space."
---
Abilities Dance Boston's performance livestreams Oct. 29 at 8 p.m. Open captions in English will be embedded in spoken portions and audio descriptions are available.