Cape Cod Water Quality In Decline, Report Says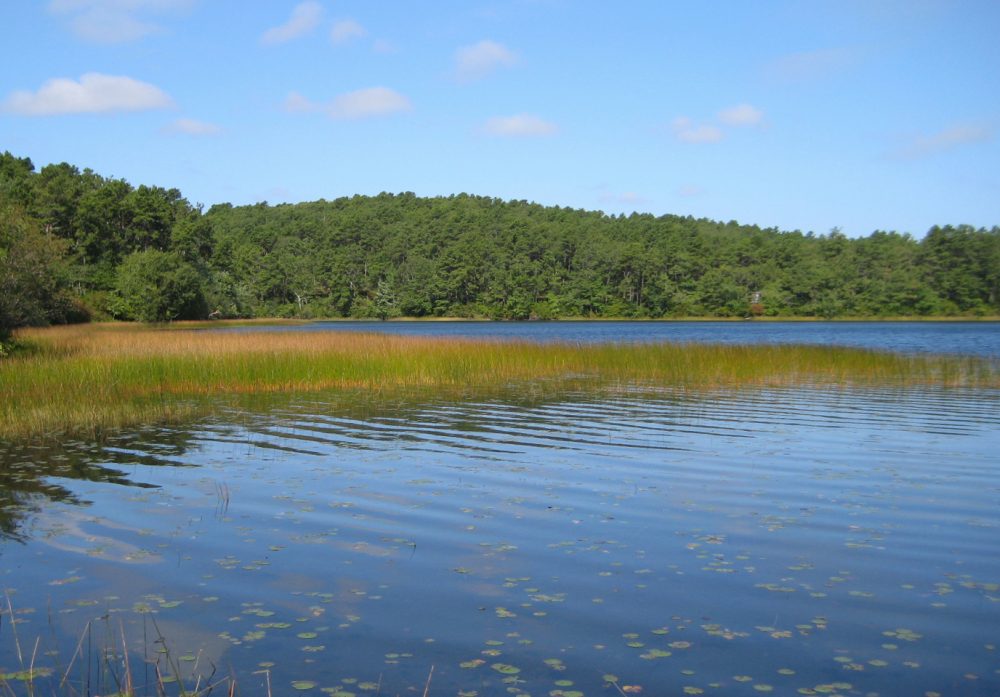 This article is more than 2 years old.
The water quality on Cape Cod's ponds and bays is bad and getting worse, according to the second annual State of the Waters report from the Association to Preserve Cape Cod (AAPC), a regional environmental advocacy and education organization.
While the report says that public drinking water is "excellent" overall, the percentage of surface water with "unacceptable" quality increased from last year.
"The estuaries and bays of Cape Cod are largely in terrible shape," said AAPC executive director Andrew Gottlieb. "The Cape has experienced fairly wide scale decline in the quality of its surface waters, and yet there's a real lack of public understanding about both the scope of the problem and the causes of it."
The report blames the poor water quality on nutrient pollution from stormwater runoff, fertilizers, and septic systems. Septic systems are a widely-acknowledged source of water pollution on Cape Cod, where a majority of homes use them.
"What you put down the drain ends up in a body of water somewhere," Gottlieb said. "As owners of septic systems and manicured yards, we all have some share of the burden and some share the responsibility."
"These problems have been emerging for years," said Christopher Killian, vice president for Strategic Litigation at Conservation Law Foundation (CLF), which has sued a number Cape Cod towns, as well as individual beach clubs and resorts, in an effort to stem the nutrient pollution. Killian, who was not involved with the APCC report, said he's seen public concern increase in recent years as property values decline, fish disappear, and favorite ponds become unsafe for swimming.
"People understand how fundamental clean water is to the whole Cape," Killian said. "All aspects of the Cape: public use and enjoyment, fish and wildlife, and the Cape's economy."
Cape Cod has over 500 miles of coastline, and clean water is critical for both the Cape's natural ecosystems and its economy. The report notes that coastal tourism, fishing and shellfishing bring in more than $1 billion to the local economy. According to the Cape Cod Chamber of Commerce, tourists visiting Cape Cod in 2018 spent $1.32 billion that supported almost 11,000 jobs.
Poor water quality threatens the Cape's tourist attractions. For instance, authorities had to close a number of swimming ponds over the summer due to dangerous cyanobacteria blooms. Gottlieb calls cyanobacteria, also known as toxic algae, an "increasingly concerning" problem.
"It's more widely distributed across the Cape than we expected," Gottlieb said. "It starts earlier than we expected and goes later into the season than we expected. And it's in greater concentrations than we expected."
Gottlieb said the AAPC was only able to find full water quality data on 29 of the Cape's 996 freshwater ponds, though they collected cyanobacteria data on 45-50 more. The report calls this a "huge data gap" and calls for an increase in data collection and monitoring.
Killian agreed.
"We're seeing very severe pollution impacts in the ponds," he said, but "there are no comprehensive cleanup studies or plans, and really we just need a dramatic increase in monitoring."
The report also calls for improved wastewater treatment, either by constructing municipal sewers and wastewater treatment facilities or by alternate means, like converting abandoned cranberry bogs into nutrient-absorbing wetlands.
"We need to reduce the nutrient load from poorly and inadequately treated wastewater to the groundwater," Gottlieb said. "The towns have to step up and do their fair share to solve the problem."