'We've Been Holding Our Breath For 4 Years': Celebrations, Protests In Mass. After Biden Victory
Play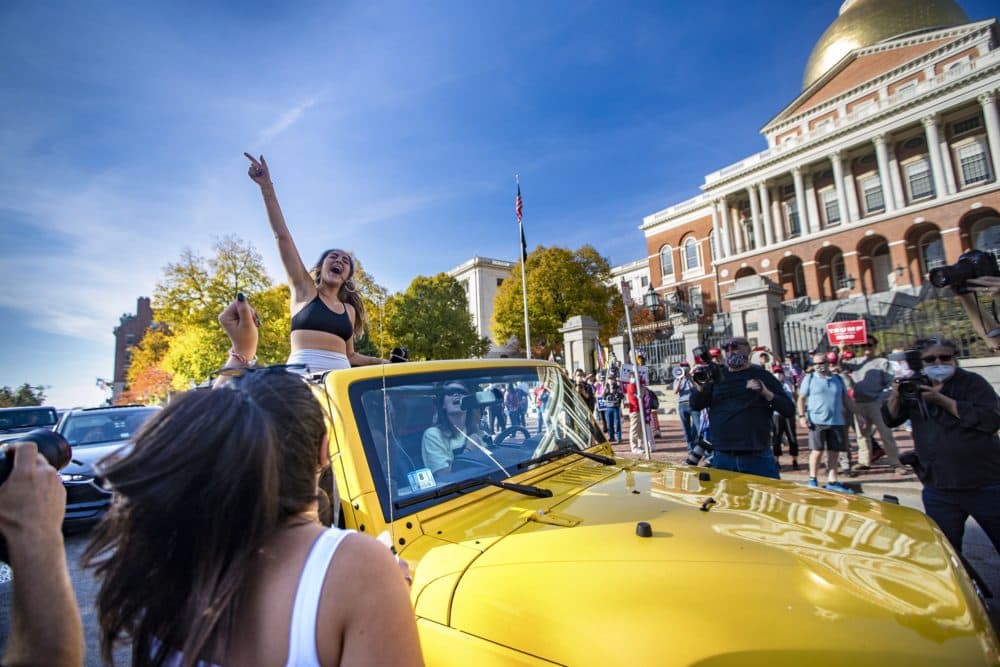 This article is more than 2 years old.
A range of emotions came from both sides of the Charles River Saturday after The Associated Press called the presidential election in favor of Joe Biden and Kamala Harris. Some people seemed unfazed, resolute that the work toward justice wouldn't end with an administration that seemed to squash that endeavor. And other folks were at peace, hoping for less chaotic times ahead.
A rally was already underway in front of the Trinity Church in Copley Square when the announcement was made. The news wasn't spread by designated speakers but instead quietly shared among people.
Prema Bangera said she was "feeling good" about Biden becoming the president-elect, but said it won't affect her activism.
"Biden winning means nothing in terms of the work that we need to do," she said. "There are a lot of systems to bring down to get racial equity and immigrants' rights."
She said her fear is that people will get complacent.
Demonstrations in Boston this week seemed smaller and less energized than the protests and rallies that happened over the summer.  At Copley, Princess-Angel Williams sat on a bench with her mom, taking in the rally and the abnormally warm November weather, satisfied with the idea of a Biden presidency.
"He's not Trump, and Kamala Harris is his running mate and that's a history-maker right there," she said. "I'm glad we have a result. I'm slightly fearful of the civil unrest that may take place. Other than that, I just hope we stick together and realize that we need to be a country moving forward."
And as Williams pondered the vision for America's next chapter, Trump supporters gathered in protest outside the Massachusetts State House. Some called for a recount of ballots, chanted "law and order" and said there was fraudulent voting during the election.
In a microcosm of the country's division over the election, counterprotesters celebrated Biden and Harris' win across the street from the Trump partisans, sometimes coming close to physical altercations in the crosswalk. Cars passed, honking in solidarity with those celebrating the results.
"Biden, Harris!" the group chanted while clapping in unison, "Biden, Harris!"
Bill Peyton, a Trump supporter outside the State House, said he believes there were a lot of "irregularities" with how the vote was handled in this presidential election.
"I think [Trump's] done very good things for the country, and I see a lot of irregularities relative to voting," Peyton said. "I see the media dismissing it — essentially erasing the story gradually — and I think that shouldn't happen. I think we need to have a good accounting of, not every place, but places where obvious irregularities have popped up."
And while many Bostonians rallied and marched for the future they hope awaits America, about 50 activists gathered in the shade of Faneuil Hall to make sure people don't forget the wrongs they believe governments must atone for. The group called on Boston to change the name of the building named after Peter Faneuil, who was a slaver.
Kevin Peterson, who's been leading the effort, said he hopes the incoming administration will address reparations for descendants of Black people who were enslaved in America.
"President-elect Biden has indicated that he's interested in talking about reparations," he said. "The racial dialogue that needs to take place in the wake of the Donald Trump presidency is so critical, so we look forward to there being opportunities to talk about how we can become more united on a racial front."
Across the Charles, more celebrations broke out across Harvard Square in Cambridge. Cars drove through, with drivers honking and passengers hanging out windows. People danced, cheered and held signs praising both the future administration and the Black Lives Matter movement.
Thirteen-year-old Ezra Kleinbaum rollerbladed from his home in Brookline to Harvard Square to celebrate. He said Trump "failed as a president," and that he's "thrilled" about what a Biden-Harris administration will do for the country.
"At a young age, even if you don't understand the full depth of what people are doing or saying, you can still understand — at least — the difference between good and bad," Kleinbaum said. "And we could understand that what Trump was doing was bad."
And for Bushra Dabbagh, also jubilant in Harvard Square, Trump's policies had a tangibly negative impact on her life.
"I came here during the travel ban for Syrians and it was so hard for me to reach here. I was apart from my family, so the last four years were really terrible for me," she said. "Hopefully, I'll hope again to see my family."
Hundreds of people gathered to show their support of the election results in downtown Boston as well, crowding Boylston and Charles streets.
Away from all the crowds was Tracie Taylor, a Black woman with grey hair, walking by herself along Tremont Street, basking in the sunset.
"Change has come today. This is our Christmas. This is our Christmas," she said, wearing a Black Lives Matter t-shirt. "Just celebrate. Don't complicate everything. Everything's been too complicated. Take a breath. Breathe. We've been holding our breath for four years."