Survey Of Mass. Residents Ties Viral Surge To Increased Indoor Gatherings
Resume
As the rate of new confirmed COVID-19 cases surges in Massachusetts, a recent survey of state residents suggests that an increasing number of Bay Staters have been engaging in activities that public health experts say are feeding the viral outbreak.
For the past several months, a team of researchers from Northeastern University, Harvard, Rutgers and Northwestern University have been conducting a 50-state survey aimed at gauging how people's behaviors have changed during the pandemic.
In October, survey respondents were asked whether they had, in the past 24 hours, gathered indoors with people who did not live in the same household. About 45% of survey respondents from Massachusetts said that they had.
According to many health experts, including those interviewed by WBUR and NPR, the risk of coronavirus transmission increases when people who do not live together gather indoors.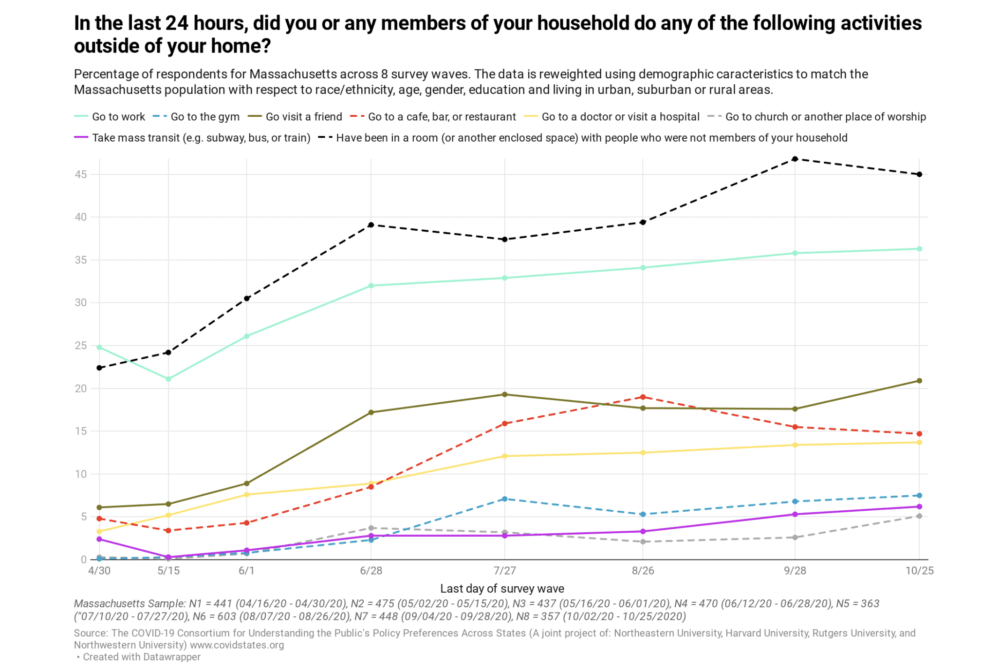 For comparison, when Mass. residents were asked the same question during the months of June, July and August, just under 40% of respondents reported gathering indoors with non-household members — a similar response rate with an important difference: during that period, the number of new daily COVID cases hovered around 250 cases per day, far lower than the rate has been in more recent days. During October, that rate increased from about 900 to 1,500 cases per day. And since the start of November, the rate has bounced between 2,000 and 3,000 cases per day.
"We've sort of let down our vigilance over the last few months in terms of our behaviors to limit the spread of COVID-19," said David Lazer, a professor at Northeastern who was the lead author of a report summarizing the results of the most recent survey. "And unfortunately, COVID has come roaring back."
The news isn't all bad. About 80% of Bay Staters said that they "very closely" adhere to the health recommendation of wearing a mask when outside the home, which researchers say is among the highest rate of reported mask compliance found among respondents.
A recent CDC briefing emphasized that widespread mask-wearing not only reduces the chance of infected people spreading the coronavirus to others, but may also benefit non-infected people by reducing the amount of viral particles they could inhale.
And yet, there is an overall contradiction in the way many people are behaving, said Roy Perlis, a professor of psychiatry at Harvard Medical School and a co-author of the report. "We say we want to stop the spread of infection, but we're not consistently acting that way," he wrote in an email to WBUR.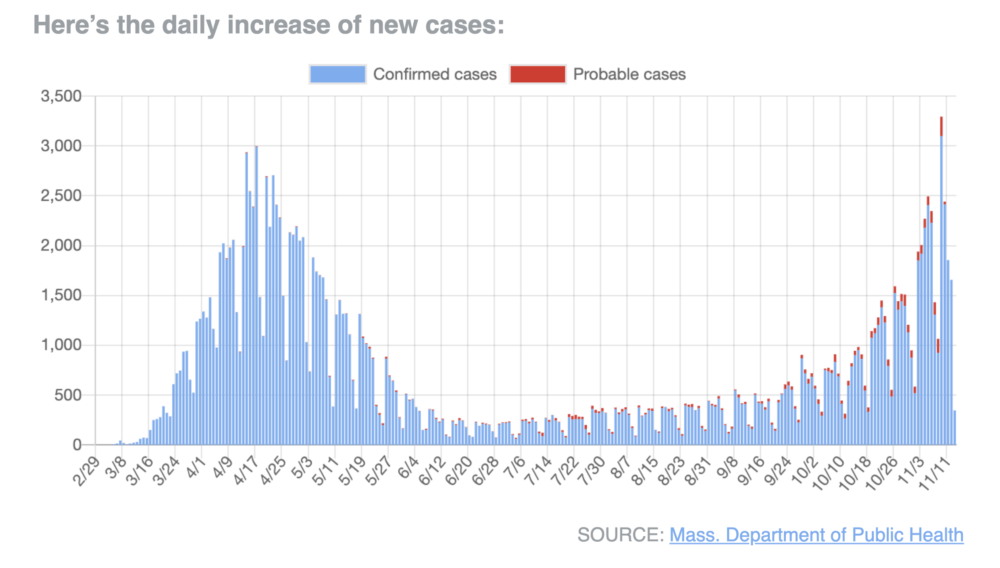 And that's because people are tired, he said. Tired of being careful, tired of Zoom calls, and the uncertainty around homeschooling. "There's a strong urge to get back to normal — to see friends, to go to restaurants, to go to the gym," Perlis wrote. "Ordinarily those are exactly the things I'd encourage people to do. But right now, they're exactly the wrong thing to do. We need to find alternative ways to take care of ourselves."
In addition to gathering in public, researchers also noted a substantial increase over the past several months in the number of people who said they went to the office, the gymF or a restaurant in the past 24 hours — partly a result of the state's phased reopening of such businesses.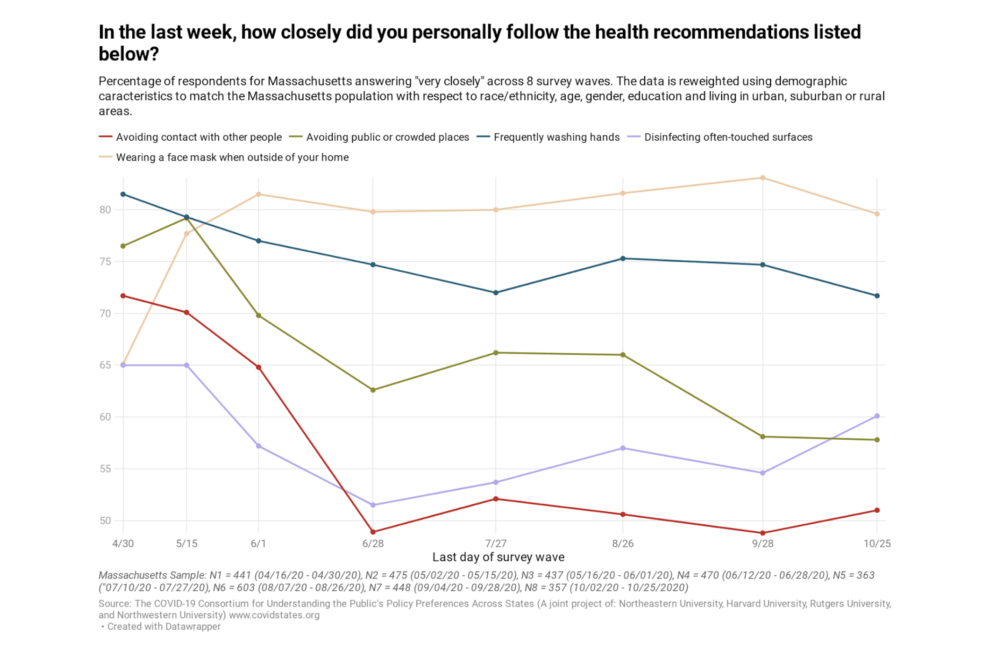 "It is unlikely that the current measures of the Massachusetts government will substantially bend the growth curve of the disease," the report concludes. "Indeed, it is possible that some measures, such as limiting the hours restaurants are open, might actually make matters worse, because it may result in more people being in a restaurant at any given hour."
Last week, Gov. Charlie Baker announced new mandatory closing hours, which included an order that restaurants cease on-premises dining by 9:30 p.m. The Massachusetts Restaurant Association pushed back on the measure, saying that such restrictions were hurting an industry that is already under immense pressure.
For his part, Lazer hopes the state government will take more aggressive action to curb the spread of the virus. "There's a tough balancing act there," he said. "We're at the point now that things are going to a bad place very quickly and we need to take some hard steps at slowing that down."
"More aggressive action now," the report concluded, "might avoid more draconian measures later."