A Boston Park Rises With The Tide
Resume
The North End's Langone Park and Puopolo Playground sit beside Boston Harbor, just down the hill from Old North Church. There, two lanterns hung more than two centuries ago, warning Paul Revere that the British were approaching by sea.
"There's so much history here," says Cathy Baker-Eclipse, a project manager for the Boston Parks and Recreation Department, surveying the scene. Today a different threat comes from the sea — rising waters caused by climate change — and Baker-Eclipse is overseeing a reconstruction of the park that will make it resilient to future floods.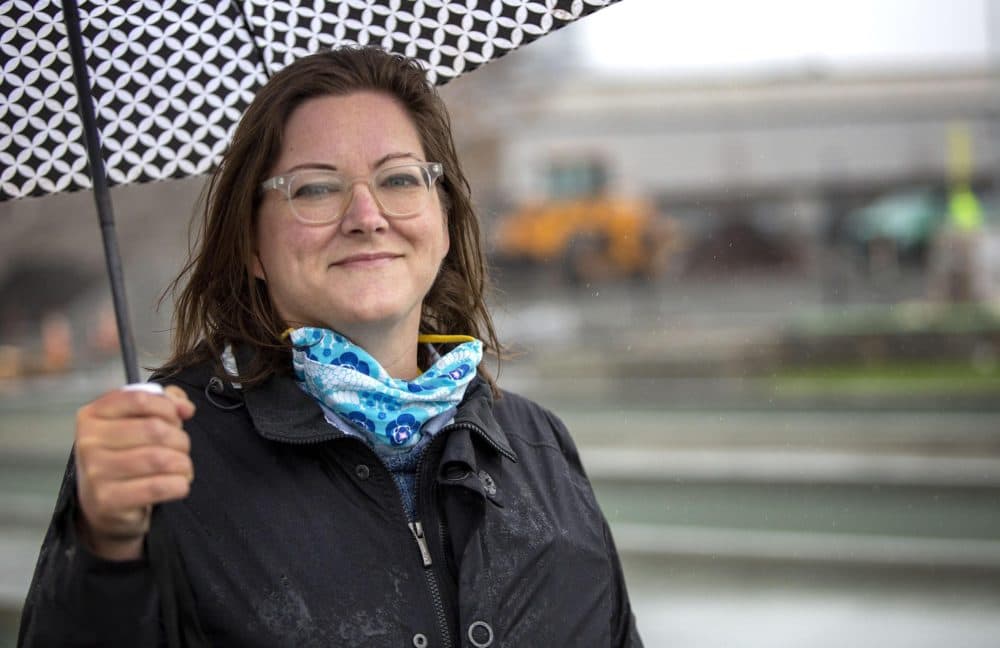 Over the past century, the waters of Boston Harbor have risen about six inches, and sea levels along New England's coastline are rising faster than the global average. Scientists now expect Boston to see 9 inches of sea level rise over 2013 levels by the 2030s; and 40 inches by the 2070s.
The rapidly accelerating pace caught city planners unaware as they were drawing up plans to update the 4.5-acre park, says Baker-Eclipse. Then in 2018, winter and early spring storms left swaths of Boston underwater.
"When we started the project in 2017, we thought we'd be looking at renovating the playground and improving the lighting, which was really antiquated," Baker-Eclipse says. "Then those storms in 2018 hit and we realized this was an urgent problem that needed to be addressed."

The North End project is the first to incorporate Boston's new climate resiliency construction standards. The standards incorporate community needs and social justice values, Baker-Eclipse says, and are specific to the site.
"This is the only recreational field facility in the North End and Downtown so we studied how we could better protect the site," Baker-Eclipse says.
The Boston Harborwalk, which follows the contour of the harbor along the edge of the park, has been re-built and raised 4 feet. A second seawall was built behind it, adding protection to playing fields that have also been elevated. The three new bocce courts will also be elevated. The low-lying basketball court has been designed to flood during storms but drain quickly.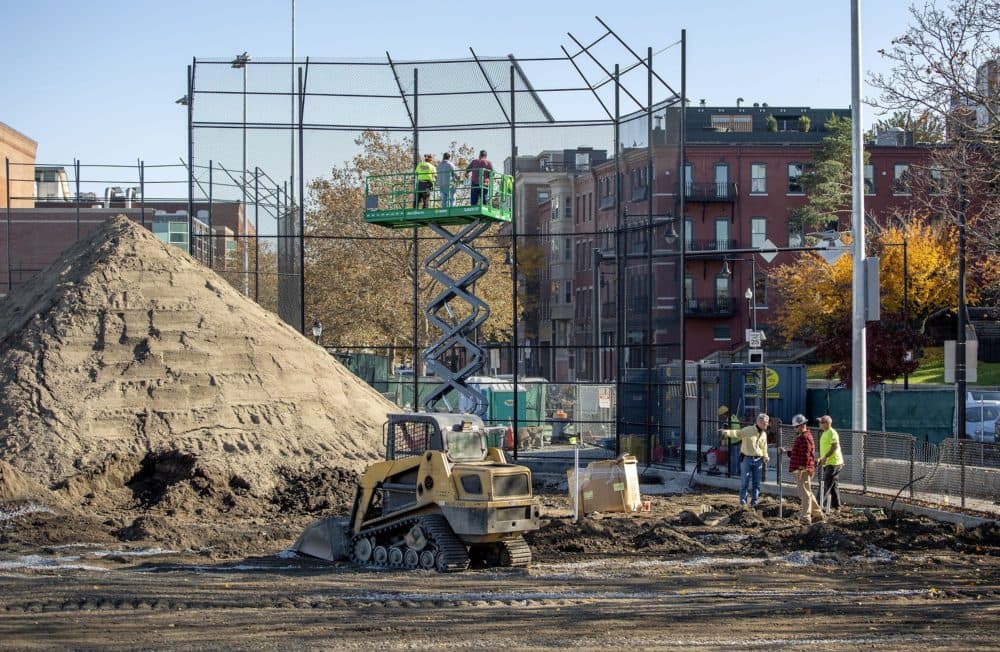 Construction worker Donald Hollins was building the concrete forms for the new bocce courts. He was wearing a T-shirt and working up a sweat in the unseasonably balmy 70-degree November weather.
"Climate change! That's why it's so warm here. It's usually 12 degrees outside," Hollins says. "I think it's something that we need to worry about and adjust to. Because, you know, this is Boston, surrounded by water."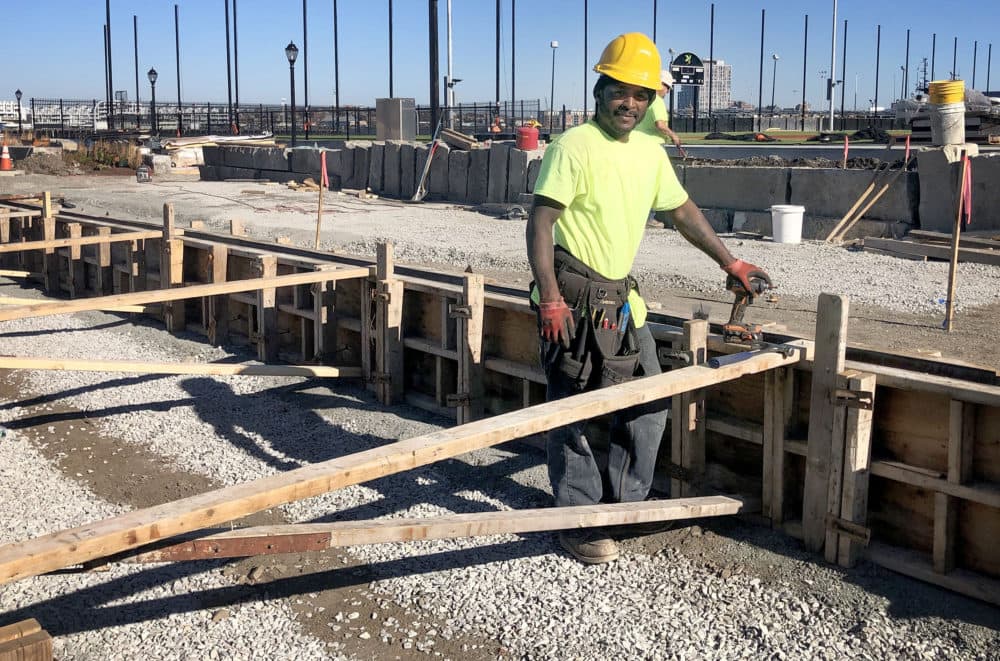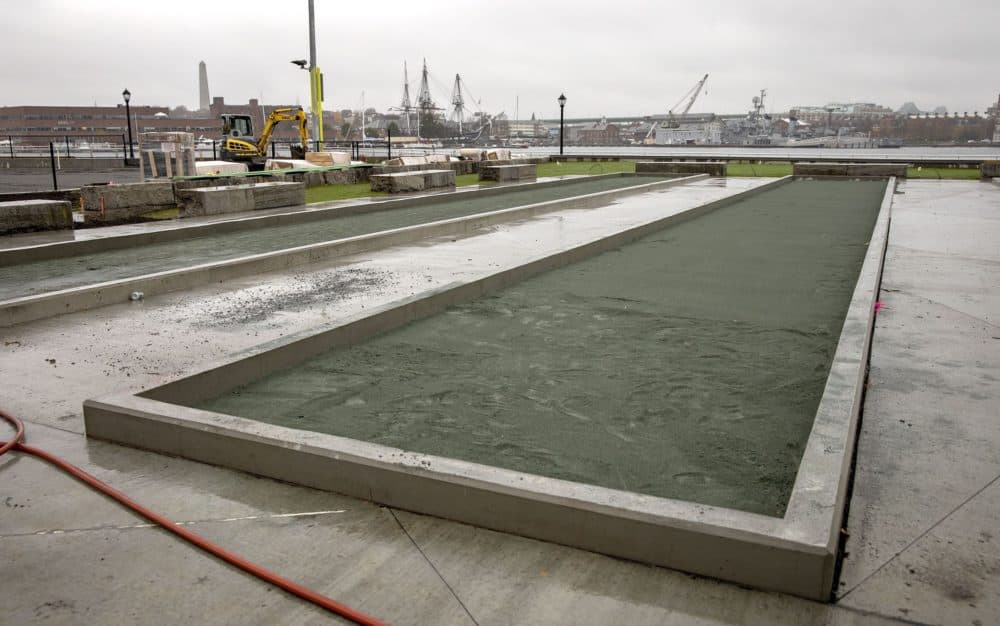 Nearby, construction foreman Jason Santos was scanning the two raised fields, seawalls, harbor walk and playground he's been building since January. He expects to finish at the end of the month.
"It's a nice project. ... It's come a long way," he says. "They invested a lot money in it. Looks great."
Chris Cook, Boston's chief of energy, environment and open space, says the new resiliency standards can be adapted if needed.
"As you look out to the future, if we keep continuing to the issue that got us into this mess in the first place some of those projections out past 70 to 100 years are dire indeed," he says.
Boston is dedicating 10% of its annual capital budget for climate change efforts. Beefing up Langone Park and Puopolo Playground cost about $15 million in public and private funds — more than twice the amount originally budgeted before the resiliency measures were incorporated.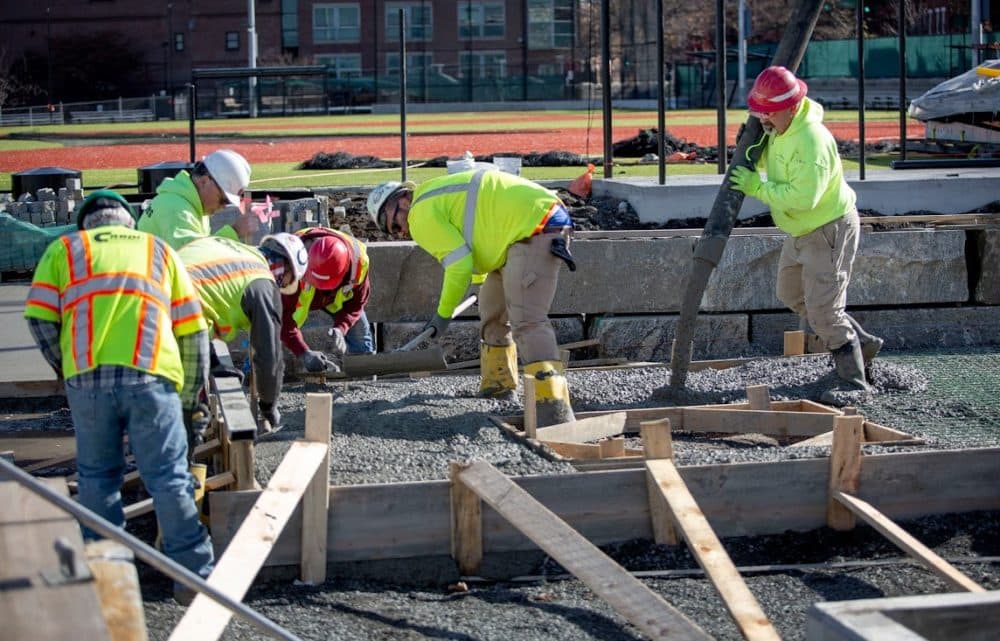 But despite all the money and planning, construction foreman Jason Santos says, something is missing.
"The only down side — no parking! Why would you build a place like this and no parking? I don't understand that," he says.
The more some things change in Boston — even when it comes to adapting to climate change — the more they stay the same.
This segment aired on November 20, 2020.