Eviction Filings Are On The Rise, Weeks After State Moratorium Ended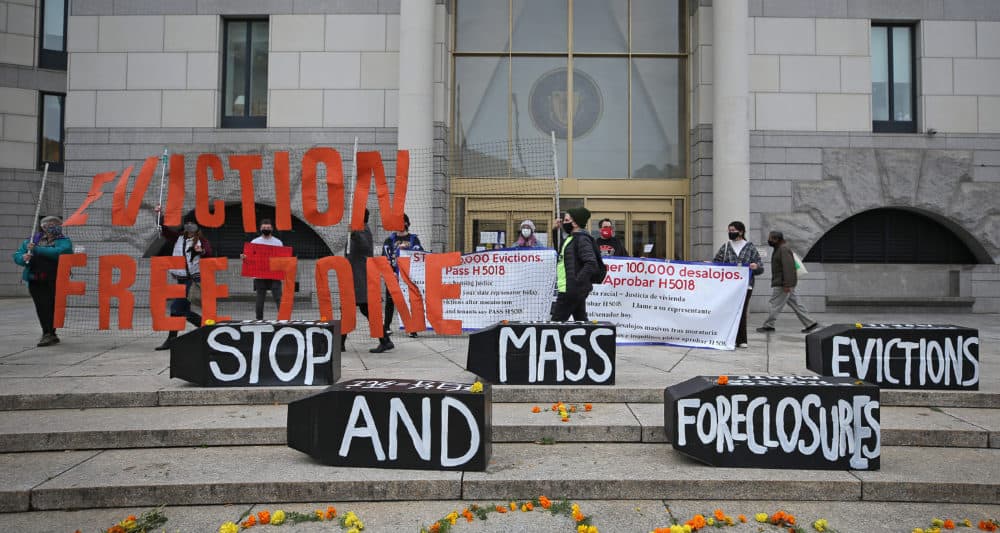 This article is more than 2 years old.
Eviction filings by landlords are on the rise, a new report shows, five weeks after the state's moratorium came to an end.
Landlords in Massachusetts filed 689 new eviction cases last week for nonpayment of rent, according to a report by the Massachusetts Housing Partnership, a nonprofit housing advocacy group. That represents a jump from normal times — an average of 608 filings per week before the pandemic.
"We're facing a public health crisis," said Tom Hopper, director of research and analytics at MHP's Center for Housing Data. "So the idea that people are facing potential eviction right now is not just troubling from a household perspective, a community perspective, but also from a public health perspective."
A state moratorium on evictions had protected tenants during the COVID-19 economic crisis. But that ban ended Oct. 17. A federal moratorium ends Dec. 31. And Congress so far has failed to pass a new aid package for renters who've lost jobs and are struggling financially.
The MHP report comes as policymakers and community advocates have been warning of a wave of evictions, and as courts have been gearing up for a flood of filings. Even before the moratorium ended, some tenants were experiencing illegal pressure from landlords to leave if they couldn't pay.
Roughly 14% of renters in the state are behind on their payments — or 161,000 households — according to the Census Bureau's latest Pulse Survey. The rate of impact has been highest among Black and Latino households.