Somerville's ONCE Lounge And Ballroom Announces Permanent Closure
This article is more than 2 years old.
It was sad, but not shocking, news: On Tuesday, JJ Gonson announced that ONCE Lounge and Ballroom, the 411-capacity Somerville music club she ran for six years, has been permanently closed, yet another COVID-19-related music venue casualty.
"The owner allowed us to do a lot and he's been pretty lenient in a lot of ways," said Gonson, the self-described "proprietrix" of the club, which went dark March 13. "I don't want to paint him as a bad guy. He's not putting the screws to us. It's reality. We can't afford to stay. We can't pay our essential bills — the rent, electric, telephone."

The funky facility on Highland Avenue — with its parquet dance floor, faded carpet, gold ceiling and chandeliers — was leased by owner Richard DiGirolamo to Cuisine en Locale, Gonson's now "winding down" catering company, which operated ONCE. As sad as she was to lose the space, Gonson admitted that "living in limbo has been very stressful and burdensome."
Since shuttered, ONCE has produced more than 100 online video performances as part of its Virtual Venue and talks and catered locavore food from its Cuisine en Locale kitchen. They didn't have to lay off staff immediately when the club closed because of a GoFundMe campaign and they also received some COVID-relief funding, including a Paycheck Protection Program (PPP) loan. But the club was essentially on life support.
"We used all of it carefully and wisely," Gonson said of the money, "but those funds have run out, and there is no additional aid in sight. We have pivoted and created and hung on to our space as long as possible, but without the ability to gather in-person for events and without government aid programs substantial enough to sustain our physical operations, we are left with no choice. We can't hold on until we are able to reopen."

Chris Porter, owner of Porter Productions, and his assistant Bridget Duggan served as ONCE's primary booker and rental agent to outside promoters. Porter said he's seen permanent venue closings happening every week across the country. "I've been hoping and praying that ONCE would not be among the statistics, but here we are," he said. "Under the circumstances, it's not really surprising, but I'm hit hard by the news nevertheless. I have been incredibly proud to have been involved with ONCE Somerville since it was launched under that name in 2016 — proud of JJ and so many past and present staff for what was accomplished."
The gigs at ONCE were about an equal mix of local and national talent and it showcased virtually every genre, from punk to metal to roots rock to electronica and hip-hop.
As word began to spread in the music community, artists lamented the loss of the space.
"There are so few venues run with the kind of heart and community-first attitude that ONCE took," said singer-pianist Amanda Palmer, reached in New Zealand. "It's so depressing that the venues, stores and restaurants with the deep-pocketed corporate overlords are going to be the ones that weather these COVID-19 storms. Once you've played thousands of clubs and theaters, you come to appreciate the rare venues like ONCE, where a human being who's invested in the night feeling wonderful makes you food, greets you warmly, and makes you feel like you're in a little hometown away from home."
The building that housed ONCE was built by the Knights of Columbus in 1917. It has had many and various incarnations over the decades, including a bowling alley, a theater and a wedding hall.
"It's heartbreaking to see it come to an end," said singer-guitarist Hilken Mancini, who'd played the club with her on-and-off-again band Fuzzy, and orchestrated a Ladies Rock Camp Showcase at the club twice a year. "I've known JJ as a peer for such a long time. The woman has always had her ear to the ground and brought in some amazing artists. I feel like this loss represents a whole bigger thing. It's hard for any business to survive and for a woman-owned venue to survive, it'd be a miracle."
The veteran rock band the Dream Syndicate played ONCE three years ago, and it was an important — and scintillating — show, their first area gig since 1988. "We were pretty excited since Boston was one of the cities that really put us on the map when we started out," said singer-guitarist Steve Wynn. "Sure enough, we had a great crowd and it was the perfect setting for the evening. I saw so many old friends from, as they say, back in the day and it felt like a class reunion. I'm sure we would have been back there this year but, sadly, now that won't happen."
The show's promoter Sean O'Brien handled the pre-gig sustenance. Wynn recalled how the club took "great care of us that night" and "made one of the best promoter-cooked meals I've ever had."

Palmer, too, recalled the victuals and the vibe, terming the former "some of the most delicious food of her life. I'll never forget playing ONCE when I was about-to-pop pregnant and seeing the glittery craft projects in the dressing room that someone's kid was working on, feeling safe and happy, and being sad that I didn't live in Somerville anymore, because I would have made a point of hanging out at this bar every single night."
Electronic world music artist and "gender liberation activist" Kiran Gandhi, who plays under the moniker Madame Gandhi, called ONCE "an extremely artist-friendly place, a place to create your own vibe, while still feeling taken care of. A place where you felt you had your own oasis and a special, more intimate connection with the audience you were performing for. This rarely exists in other venues, no matter which city you go to. I think we as a society have to remember that live music is mental health. Live music is therapy. Live music is a medical emergency."
Singer-songwriter Sophia Belle viewed the club as a rare haven. "Not only does ONCE provide a home for so many creative communities — it also incubates them, and it gives them refuge," she said. "It is consistently regarded as one of the safer spots for LGBTQ+ people in this city. I feel at home there and I really can't say the same about a lot of places. There's this tangible presence of horizontal leadership and participation that inherently fosters a sense of belonging."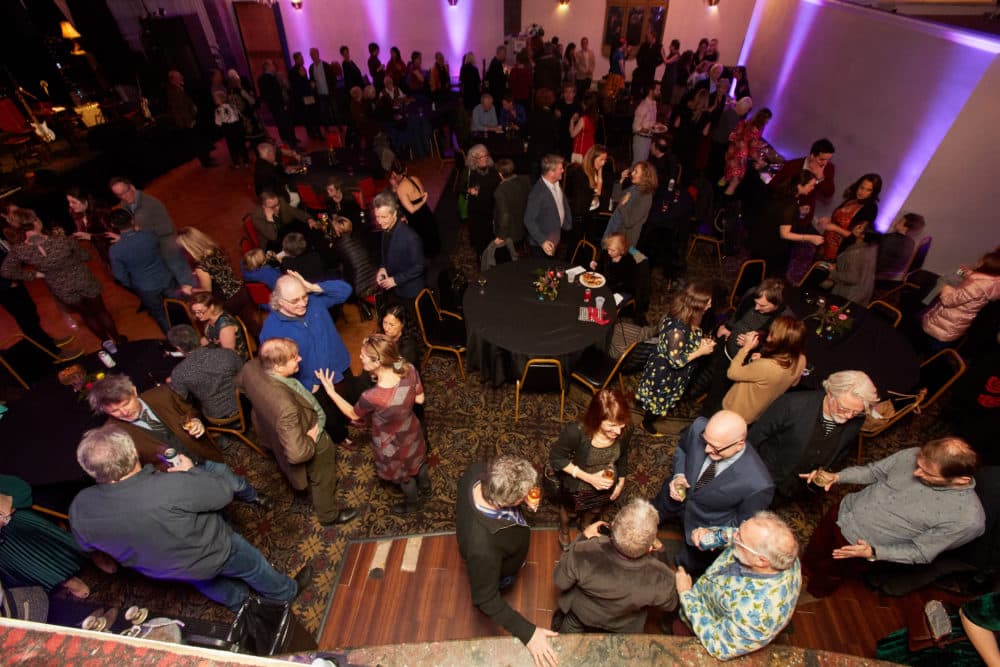 And then there were the special events. Tom Dubé, production manager at Berklee College of Music and a veteran soundman, married Tanya Munroe last year and decided to have their delayed reception at ONCE. Dubé had worked there, mixing sound.
"A half-year after the wedding, we thought we'd have a big bash somewhere," Dubé said, "and it became clear for the number of people we'd invite and the requisite space, sound and stage we needed, ONCE was the ideal place. And it turned out to be. They're incredible people, JJ and the crew, and this is devastating news." Dubé's pals in Session Americana played the party.

When the Allston club Great Scott was forced to close earlier this year, owner Carl Lavin hooked up with the Mainvest company to crowdfund with small investors. They did well and when all is clear, Lavin is looking to re-open Great Scott not far from the old spot at Commonwealth and Harvard avenues at the former Regina Pizzeria location.
Gonson is hoping to do something similar via the crowdfunding site Patreon. (The club's second-hand sound system will be housed at the Springdale Beer Company at Jack's Abby brewery in Framingham.)
"ONCE is going to enter a new chapter now," Gonson said. "Cuisine en Locale, the catering company, will be going out of business, and our goal is to ultimately find a home for ONCE where we can welcome you back with open arms for in-person shows, flea markets, benefits and community-building events."