New Repertory Theatre's 'Showstopper' Series Lives Up To Its Name With Two New Online Plays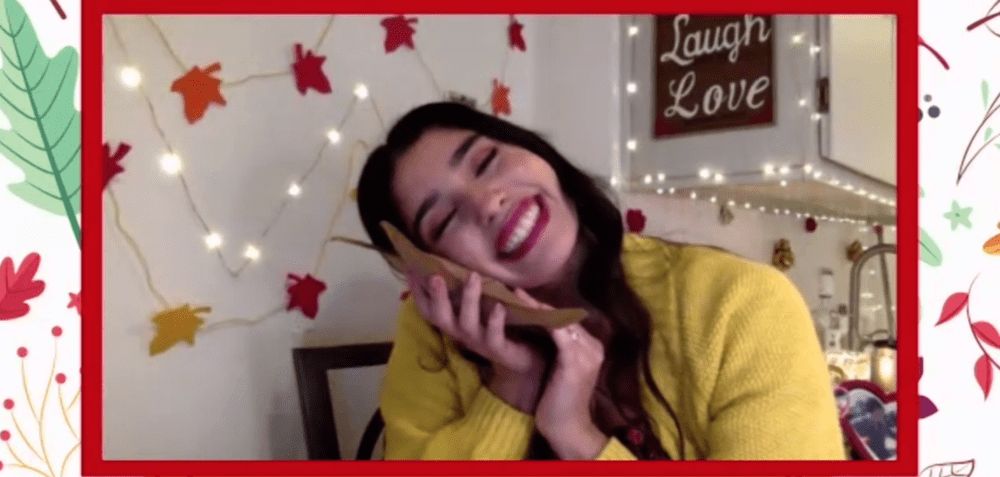 This article is more than 2 years old.
Two new short but poignant plays leave audiences grappling with very different kinds of darkness. Both pieces,  "A Very Herrera Holiday" and "[keyp-ing]," are part of New Repertory Theatre's "Showstopper Virtual Play Series" (through Dec. 13) which offers live performances of a two-play-in-one-night package that audiences can view from the safety and comfort of their homes — even if the effect is far from comforting.
Throughout the pandemic, New Rep has been working to keep theatergoers engaged through talks, readings, virtual work and historical walking plays. This first "Showstopper" venture featuring work written, directed and performed by women of color, lives up to its name. There's expert acting by Amanda Figueroa (from "The Marvelous Mrs. Maisel" and Boston Playwrights' Theatre's "Dead House") and stage, television and film actress Jasmine M. Rush in the one-woman plays.
Up first is Alexis Scheer's "A Very Herrera Holiday," artfully directed by Sarah Shin. In a bright white kitchen, lifestyle blogger and influencer Emma Herrera (Figueroa) shares a holiday drink recipe, tips for wrapping gifts and other festive fun in a live workshop. But it quickly becomes apparent that there's more than holiday cheer behind her saccharine veneer when she starts casually chatting about her personal life.
She shows her fans how to make a leafy garland with paint chips, tape and string, after relating how she catfished her husband Kevin (or is it Brian?) while posing as a "blonde chick named Molly in finance who thinks drinking rosé is a personality." To connect with him in real life she stalks him. She heads to the neighborhood where he works and inserts herself in his path for weeks until the fateful meet-cute.
As she recounts her whirlwind relationship, which is full of deception, Herrera suffers a few Freudian slips. References to her husband's travel are in the past tense, then present and then past again. At one point, Herrera says she likes when Kevin travels for work because she puts her best self forward when he's home. When he's away though, she can just unbutton her jeans. Her declaration, "maybe I should just get jeans that fit me," feels like a metaphor. The simple yet cutting statement by Herrera, who is constantly flipping her hair and changing positions for the best camera angles, feels like a deep yearning for authenticity for the too-friendly-to-be-real influencer whose husband is missing. Or is he?
Figueroa's Herrera dazzles with her affable nature and understated delivery. The young thespian is unflappable as she talks about her love of crafting while Alexa blurts out her ominous-sounding shopping list. Initially, Herrera comes across as the kind of girl you brunch with and then spend an inordinate amount of time perfecting an IG-worthy pose to commemorate the outing.
In "A Very Herrera Holiday," Scheer's clear, engaging writing style coupled with the surrealism of the camerawork allows us to get to know the bubbly Herrera. And, Shin's careful direction helps pull audiences right into Herrera's warm kitchen. Shin, who most recently directed Central Square Theater's "The First Pineapple and Other Folktales," wants it to feel that way. In her work, she creates space for "characters and (collaborators) to exist in their boldest and most honest form," she writes on her website. She aspires for showgoers to feel like they're coming over for a home-cooked meal.

Written by Miranda Austen ADEkoje and directed by Front Porch Arts Collective's Dawn M. Simmons, "[keyp-ing]" follows Monica Jenae (Rush), a freelance producer who signs a contract to do a commercial shoot with a tight turnaround. In lieu of the pandemic, both Jenae and the client agree to get their teams tested for COVID-19 five days prior to shooting and share the results. Seems simple enough.
Jenae registers her young, all-Black production crew for free tests but later finds out there's a bottleneck at the city's testing sites. To deliver on the contract, the crew must get tested at a suburban testing site and shoulder the expensive price tag. She reaches out to the client to ask for help with next steps, but the client won't step in. She takes to Instagram Live to share her frustration.
In both plays, New Rep audiences are encouraged to participate using the Zoom chat function. There, lighthearted liberal-leaning conversation prevailed. People offered up their favorite holiday drink and moments of intrigue for "A Very Herrera Holiday" and statements of solidarity for Jenae in "[keyp-ing]." It's worth noting the juxtaposition of that friendly Zoom banter to Jenae's own personal IG Live watchers whose comments — all part of the script — ranged from mundane to murderous. Coming face to face with the more aggressive comments could be ADEkoje's way of making us see ourselves.
Some of Jenae's listeners understand the socioeconomic challenges that make testing outside of the city difficult. Others don't. One commenter replies that "A car and $160 isn't that much to require of a working adult." Maybe not, but Jenae points out that three years ago, African Americans in Boston had a net worth of just $8. The data point she mentions actually comes from 2015's "The Color of Wealth Study," and was cited in 2017 in a Spotlight series from The Boston Globe.
Though a lot of the dialogue is dedicated to Jenae's frustration over the testing and the client's refusal to help, the real root of her rage is planted in systemic racism and oppression and how it "trickles all the way down to testing bottlenecks and delayed results." Her crew can't afford to pay for the tests, and she doesn't want to refuse the gig.
To get it settled she asks her husband, who will direct the shoot, to pick up the guys and take them to the testing center in Norwell with him. She tells the audience that Norwell is a town that's 97.58% white. The implied danger is obvious, but just in case anyone doesn't understand, Jenae explains: "I have a toddler in the next room whose father is in a suburban town after dark where the swing of a ponytail in the wrong direction could result in him losing his ... his life."
Throughout Jenae's IG Live, her toddler sleeps and her phone buzzes incessantly. While Rush is convincing as the frustrated Jenae, I can't understand why she won't answer the phone. Does she sense something is amiss and therefore chooses to put it off? Either way, ADEkoje's insightful and researched writing along with Rush's bright presence make the piece, which is part history lesson, part venting session, more engaging.
Later, when her toddler wakes up crying, Jenae steps away to tend to her. It's been hours since her husband left to pick up the crew for testing. In Jenae's absence, the chat erupts with activity. "This ain't the climate to be driving amongst the whites at night," and "Black women get killed too," are a couple of the things shared. Every few seconds there's the name of another black woman who died at the hands of police in the past and present. Breonna Taylor, Kathryn Johnston, Eleanor Bumpurs, Korryn Gaines, Sandra Bland, Atatiana "Tay" Jefferson and Tanisha Anderson are just a few. Intermittently, the thread is punctuated with responses like: "BLUE LIVES MATTER," "Trump 2020" and a shout out to the Proud Boys. One person simply writes "die."
Soon, someone bangs on her door. Jenae turns the camera off and the screen goes black while the baby moans inconsolably. Is she registering another all-too-familiar American tragedy?
---
"Showstopper Virtual Play Series" runs now through Dec. 13. Captions and pre-show audio descriptions will be available for all performances.