Mass. Adding 1,300 Emergency Homeless Shelter Beds For Winter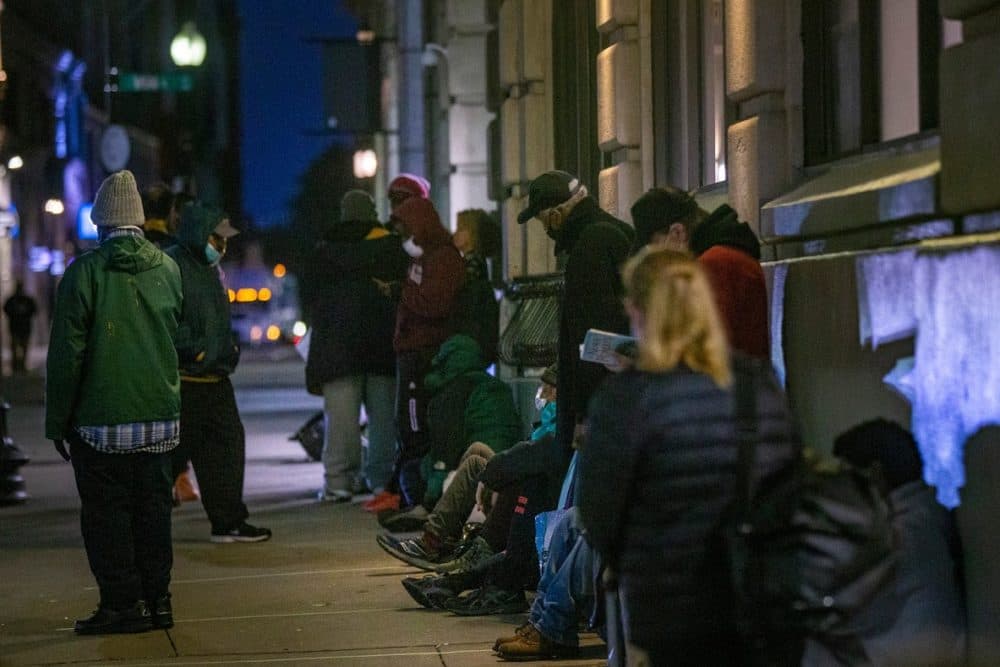 The state is adding more than 1,300 temporary shelter beds to help individuals experiencing homelessness stay warm and distanced this winter.
According to the Executive Office of Health and Human Services (EOHHS), the Department of Housing and Community Development will provide $37 million in additional funding to help homeless service agencies create the shelter spaces or lease rooms in hotels and motels.
Capacity at existing shelters was reduced last spring to keep guests distanced and comply with safety guidelines from the Centers for Disease Control. Homelessness prevention advocates say as a result of that, and because of people's concerns about contracting the coronavirus in shelters, more people who are homeless started staying on the streets.
Joyce Tavon, senior director of policy and programs for the advocacy group Massachusetts Housing and Shelter Alliance, welcomes the additional beds but says she's still concerned about emergency shelter capacity for the winter.
"Is this going to meet all of the need? We really don't know," Tavon said. "There are a lot of moving parts here as we all make sense of how many beds across the state we really have lost and how many we now need."
Almost 400 of the temporary beds the state will fund will be in Boston, according to an EOHHS spokesperson, who said Lowell and Lawrence will see a total of about 120 additional state-funded beds; the South Shore will get 157. Greater Boston (outside of the city) is slated to get 145 extra winter shelter beds, while the North Shore can expect to see 60, according to the state. As of now Worcester County will get state funding for just 12 additional beds for the winter, according to EOHHS (the City of Worcester said in October it had already secured space for an additional 50 to 75 shelter beds for the winter). More beds are also coming online on the South Coast and Cape and Islands, as well as in the western part of the state.
"Is this going to meet all of the need? We really don't know. There are a lot of moving parts here as we all make sense of how many beds across the state we really have lost and how many we now need."

Joyce Tavon
State officials did not provide an explanation for how those numbers were determined, other than to say they're in regular communication with municipal leaders and homeless service providers to assess needs. The state is seeking reimbursement for the temporary shelter beds from the Federal Emergency Management Agency.
In addition to those beds for adults, the state said it's adding more than 140 winter beds for youth and young adults between the ages of 18 and 25 who are experiencing homelessness.
City officials in Boston had already announced the addition of about 200 beds. According to the state, one of the additional sites in Boston will be a partnership with a community college, a nonprofit service provider and the state Department of Mental Health to provide shelter and services to 50 women over the winter and early spring. The Massachusetts Emergency Management Agency is providing some of the funding for that effort.
John Yazwinski, president and CEO of South Shore shelter provider Father Bill's & MainSpring, said his organization is adding up to 86 additional beds for the winter with the additional state funding — at multiple hotels it's leasing. He echoes the worry that there could still be a shortfall.
"Our concern is because the eviction moratorium has been lifted, will we see another increase, as we are getting dozens of calls every day from people that are concerned that they're going to end up being homeless," Yazwinski said.
The moratorium on evictions in Massachusetts that was implemented in the pandemic ended in October. A federal ban on evictions is set to expire at the end of the year.
State officials say to avoid a shortfall, they're working with advocates to bring on an additional 200 adult winter shelter beds — on top of the 1,336 already outlined — but are still formalizing those plans and the associated funding.
The director of homelessness initiatives for the City of Lowell, Mary Shannon Thomas, says she hopes a variety of shelter and housing options will be available to people who are concerned about being in spaces with lots of other people due to the risk of the coronavirus. The city has one permanent emergency shelter, the Lowell Transitional Living Center, which is run by South Middlesex Opportunity Council.
"We are coordinating with one of our nonprofit partners in the city who has not historically been a shelter provider and bringing them online as a provider of temporary shelter in a congregate capacity," Thomas said. "We're also coordinating with some of our other area nonprofits to look at rapidly bringing housing options online to try to get folks taking a real 'Housing First' approach and getting folks right off the streets into available housing where that's possible."
The city is also working with the state and local service agencies to set up some new non-congregate shelter options for the winter and spring, she added.
Recent rounds of coronavirus testing at shelters in Quincy, Brockton and Boston have revealed positive test rates from less than 1% to a high of 2%, according to shelter providers and public health officials. Large shelters in those cities saw 30% to 36% of their guests test positive before they depopulated in the spring.