Poll: Most Mass. Residents Willing To Take Vaccine, But Trust Is Lower Among Black, Latino Communities
A new poll finds that an overwhelming majority of Massachusetts residents are willing to take a COVID-19 vaccine, though when they might feel comfortable doing so varies across racial and socioeconomic demographics, raising further concerns about unequal immunization.
The MassINC survey of over 1,100 residents found that just 7% of participants said they will never take a COVID-19 vaccine. However, questions about individuals' preferences for when they get vaccinated revealed that Black and Latino respondents were less willing to do so right away.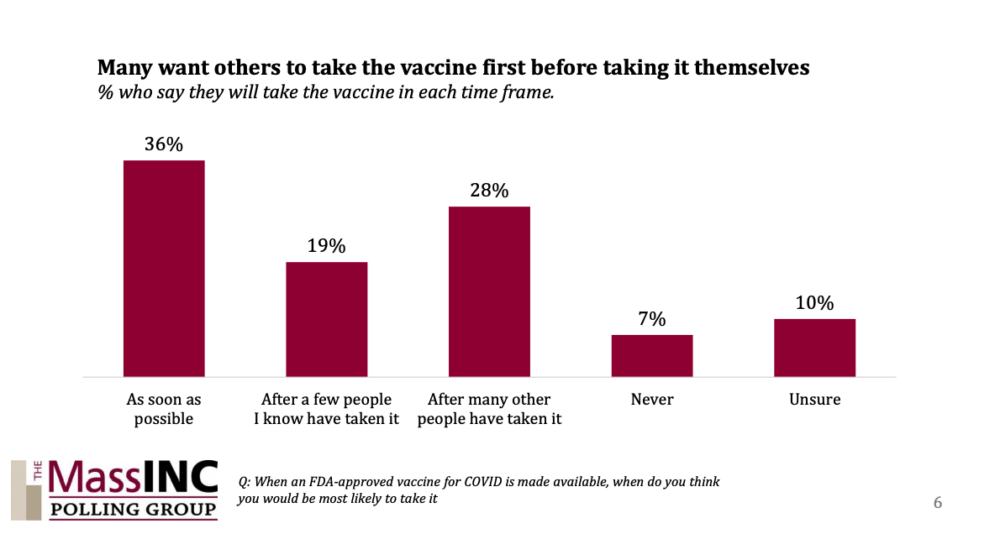 Overall, 36% of Massachusetts residents said they will take it "as soon as possible," and 47% plan to wait until either a few or many people have taken it. The results provide some confidence that Massachusetts could reach herd immunity, with a large majority of the population saying they would get vaccinated.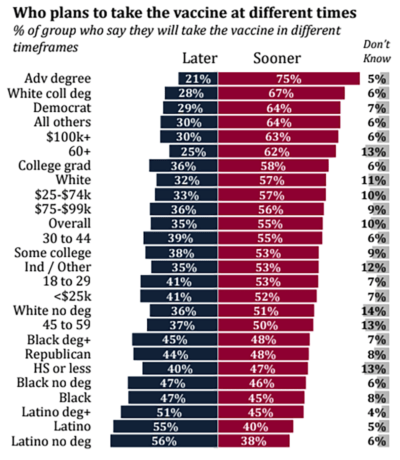 Among white Massachusetts residents, 38% said they planned to take a vaccine right away, compared to 28% of Black respondents and 22% of Latino respondents. The survey included an oversample of Black and Latino residents to reach more people among those demographics.
The responses varied slightly by gender, too. The rates of who said they would want to take a vaccine as quickly as possible were lowest among women of color:
White men: 44%
White women: 31%
Black men: 36%
Black women: 19%
Latino men: 23%
Latina women: 21%
The survey also asked people about what institutions and leaders they trust when it comes to vaccine information. Across demographics, people most trust their doctors to tell them when a vaccine works and is safe, at 80% overall.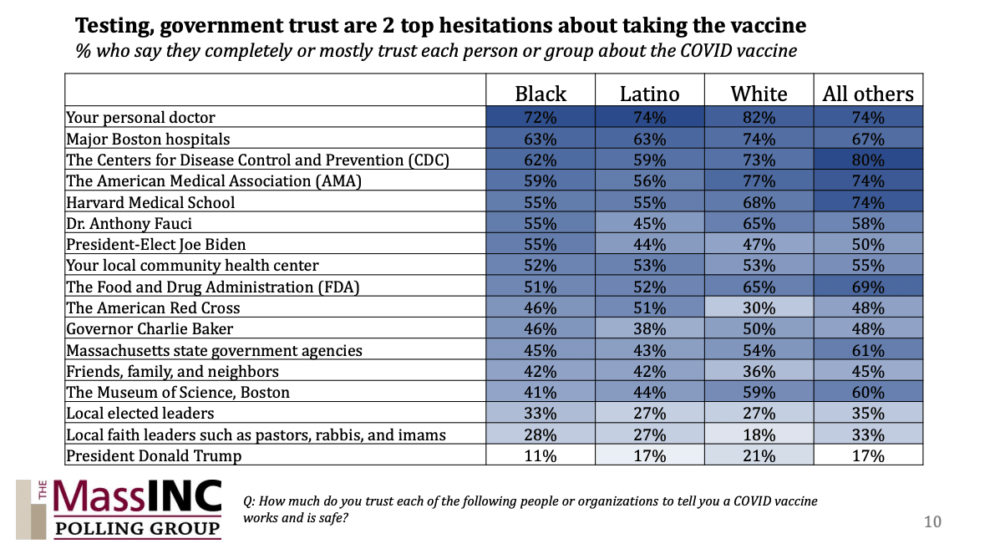 At the same time, 61% are reluctant to trust the government when it comes to their health care. That concern ranked second among respondents, after worries that potential vaccines had not been thoroughly tested, which 65% of respondents said was at least somewhat a reservation for them.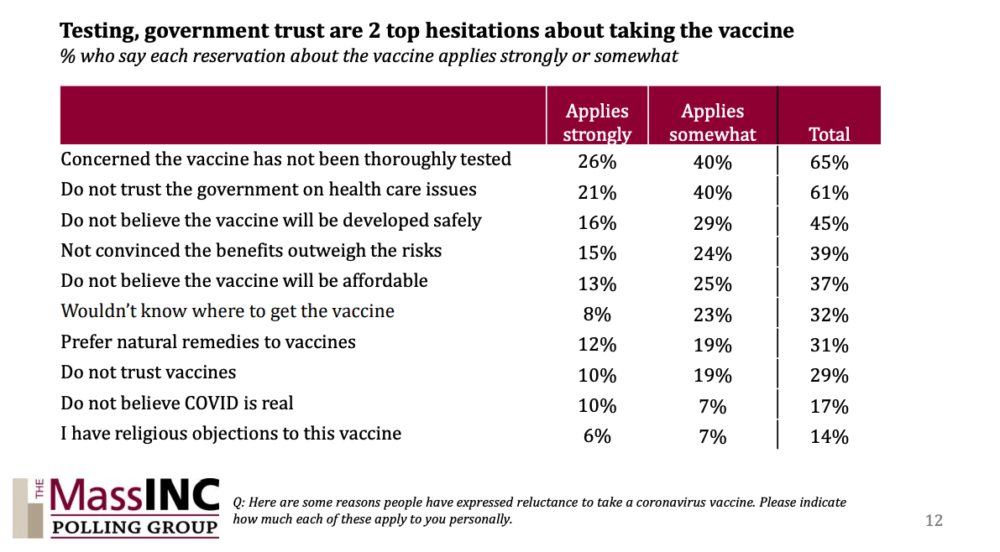 Additionally, the survey quizzed residents on their vaccine knowledge by asking factual questions. It found varying degrees of understanding across demographics, but knowledge was highest among white respondents, Democrats and higher income levels, implying that those groups have the highest access to accurate information.
Trust in the health care system was also strongest among those with the highest education levels and incomes, according to the poll.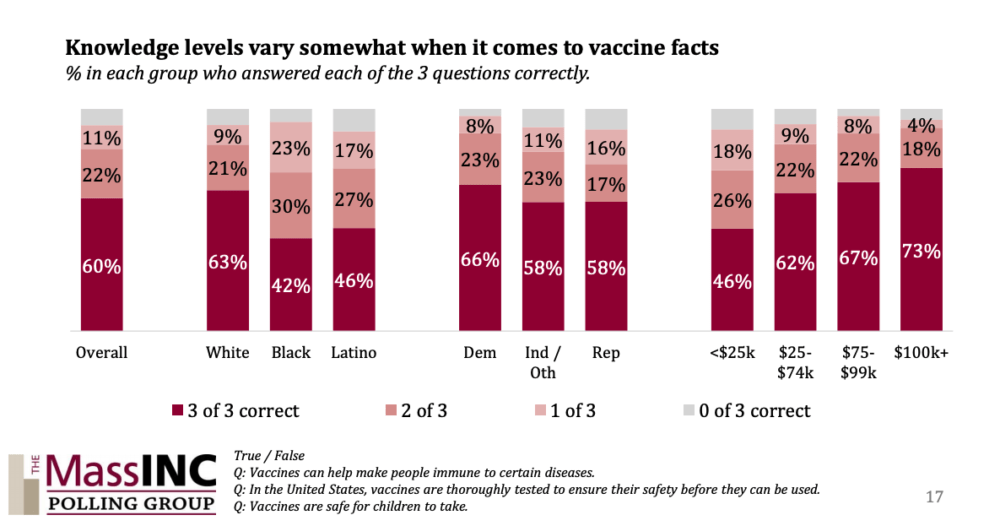 The poll was initiated and sponsored by the Museum of Science Boston and The Massachusetts League of Community Health Centers partnered with MassINC to conduct it.
The league said the results show a need to demonstrate transparency and safety early in the distribution process, with a focus on groups that are more at risk of the virus, including Black and Latino communities.
"From being denied access to quality, affordable health care under Jim Crow to being enrolled in medical experiments without their consent, Black Americans, in particular, do not trust that our health care system has their best interests at heart," said Michael Curry, incoming CEO of the Massachusetts League of Community Health Center, in a statement. "Community health centers look forward to leveraging our unique knowledge and understanding of these communities to help them feel more confident in making decisions during this unprecedented public health emergency."
In an interview with Radio Boston, Curry said that with the finding that people trust their doctors the most, they need to be on the front lines of communication about the vaccine.
"There needs to be a cascade of messaging starting with the primary care providers, messaging down what the data says, what the science says and the urgency of taking this vaccine," Curry said.
The survey did not name any specific vaccine among the ones that could be distributed this month or in 2021 in the U.S. The polling was conducted from Nov. 18-25.
This article was originally published on December 08, 2020.