Boston Reverend Enlists Dr. Fauci To Help Black Community Get Behind COVID-19 Vaccine
Play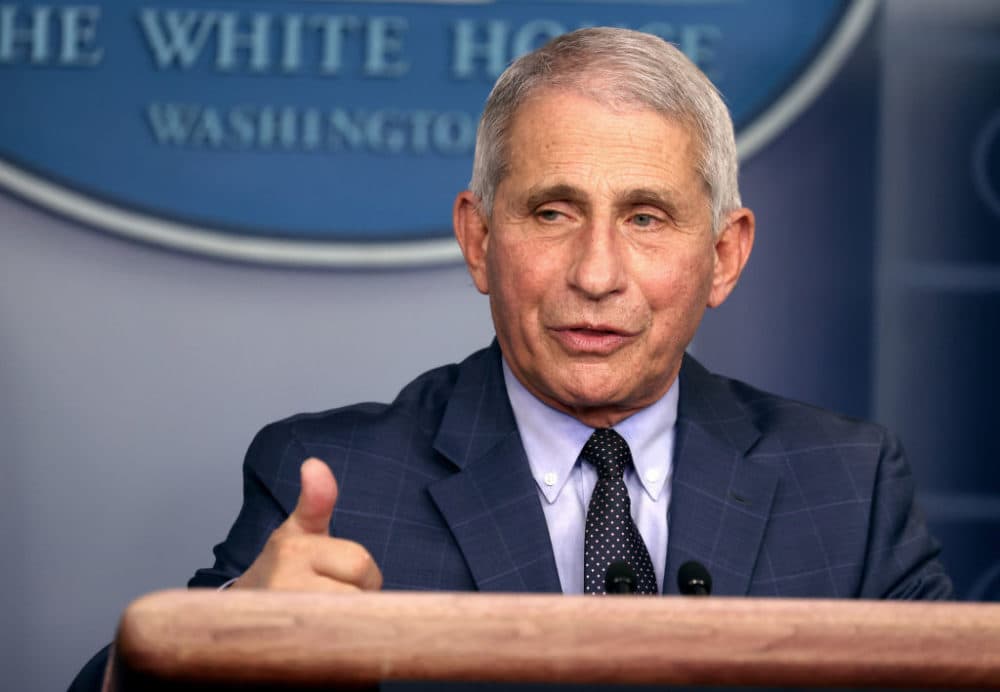 This article is more than 2 years old.
A Boston pastor recently invited Dr. Anthony Fauci for a Zoom meeting with her congregation to help build confidence in coronavirus vaccines.
Anti-vaccination activists have been spreading false fears about vaccinations since the pandemic began, but health officials are worried about doubters with a well-founded distrust of the medical community, which experimented first on enslaved people and into the last century on Black Americans.
A survey by the COVID Collaborative found only 14% of Black Americans said they thought a coronavirus vaccine would be safe. Rev. Liz Walker of Roxbury Presbyterian Church said she asked Fauci to speak to her parishioners because she was shocked by the level of distrust within her own community.
"I was really surprised at how many parishioners, how many people, not just in the church, but in the community, said they weren't going to take the vaccine," she says. "So I wanted to do something about that because I sincerely believe we need to take it."
Studies show Black and Latino communities face disproportionate exposure to the virus, living largely in urban areas, and the Centers for Disease Control and Prevention says they're more likely to get infected, sick or die.
In a public service announcement, health professionals in the Black Coalition Against COVID-19 are telling vaccine makers they must earn the trust of Black Americans. Much of that reticence stems from a historical distrust of the medical community that launched the decades-long Tuskegee Study and profited from Henrietta Lacks' cervical cancer.
It goes as far as Black people's experiences with the health care system today, Walker says.
"It's ironic, but the very reason that we feel we're getting sicker [with COVID-19] is because we feel we haven't been properly dealt with in the health care arena," Walker says. "Now, you add to that the political situation, so you have a perfect storm of problems in my community of wanting to take this vaccine."
In urging the people of Roxbury Presbyterian to get vaccinated, Fauci told churchgoers that he understands the "disproportionate suffering" the Black community has gone through, and that's one of the key reasons why they need to take the vaccine.
"It is something that is really extraordinarily unfortunate, and the reasons for that, I do hope when this is all over, we address, mainly the social determinants of health and the inequities that you've been faced with essentially forever," Fauci said. "Don't deprive yourself of the advantage of an extraordinarily important advance in science by not getting vaccinated. Protect yourselves, your family and your community."

Walker says some people were swayed by Fauci's words and many others said they would reconsider their plans not to take a vaccine. What struck her the most was the level of transparency Fauci brought to the conversation, she says.
"There is a growing distrust about everything in this country," she says. "I don't think it's limited to African Americans or people of color. I think it's across culture, across race. And that has to be fixed."
Fauci told the parishioners that for him as well as the other doctors and researchers involved, providing life-saving vaccines has nothing to do with politics — it is his purpose.
Walker says she felt connected to that calling. If rolling up her sleeves and getting a shot publicly will convince more people to get vaccinated, she says she will do it.
"I think it's going to take that kind of leadership, and after all, that's what I'm supposed to be as a preacher. So I think I will do it," she says. "A lot of other people are stepping up to this plate and that gives me inspiration. So I think the more of us that do it, the more it'll continue and then change may come. I say that with hope, great hope."
---
Karyn Miller-Medzon produced and edited this interview for broadcast with Robin Young and Tinku Ray. Samantha Raphelson adapted it for the web.
This segment aired on November 30, 2020.