Native American Leaders Act To Take COVID-19 Seriously As Cases Surge In The Great Plains
Play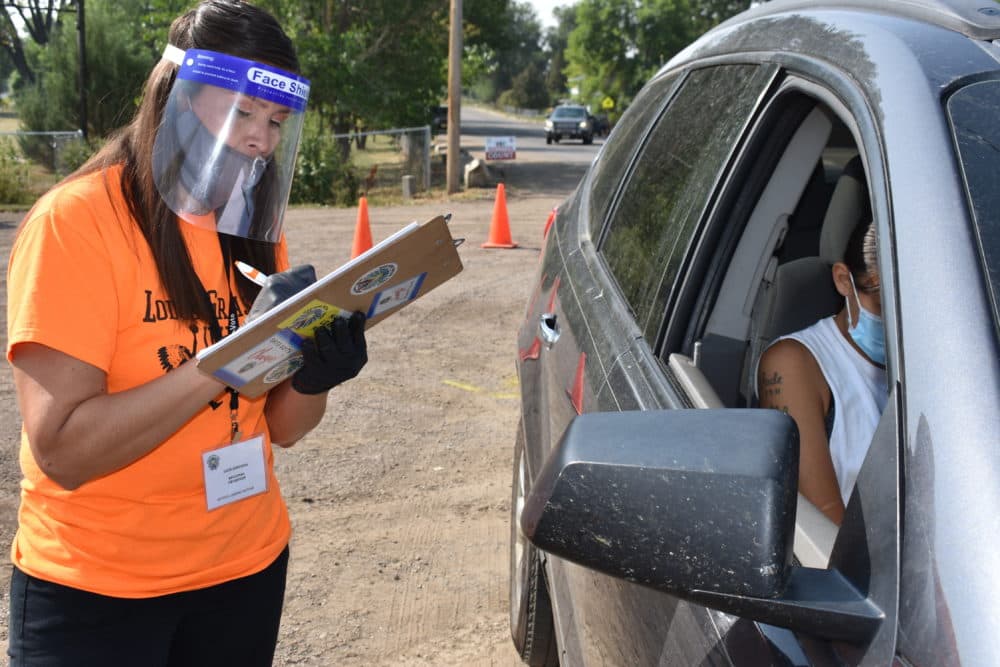 This article is more than 2 years old.
As many Native Americans honor a National Day of Mourning this Thanksgiving, Indigenous communities are among the hardest hit by COVID-19 in the U.S.
Native Americans are 3.5 times more likely to get COVID-19 than white people, according to the Centers for Disease Control and Prevention. The Navajo Nation is under lockdown as cases shoot up in the Great Plains, including the Dakotas. The Indian Health Service federal agency reported a 25% positivity rate among Native Americans in the region.
Native families in the Great Plains are losing their closest loved ones, especially in the last few weeks during the surge, says Jerilyn LeBeau Church, the CEO of the Great Plains Tribal Chairmen's Health Board.
"Despite the many efforts that our tribes have made to keep our population safe, we're in states where the state leadership has not taken the virus seriously," she says.
The governor of North Dakota only recently instituted a mask-wearing order. The governor of South Dakota has yet to issue a mask order.
On reservations, tribal leaders can take measures like closing the borders and instituting curfews, Church says. But there's no way to separate Native people working service jobs in more urban areas from the rest of the population.
A motorcycle rally in Sturgis, South Dakota, in August turned into a super spreader of the disease. Indigenous workers cleaned rooms and served food for people attending the rally to earn their paycheck, Church says.
After the rally, the health board saw a significant spike in infections and deaths, she says. But the organization also observed something encouraging: The numbers weren't as high as expected despite tribal leaders clashing with the governor.
The infection rate dropped from 25% down to 13% because of the rules the tribal leaders instituted on the reservations such as mask-wearing and warning people not to attend the motorcycle rally, Church says.
"What we saw was our people taking this virus so much more serious than the general population," she says. "And what we saw was our tribal leadership taking so much more responsibility to keep our people safe than our own governor was."
Among Church's family, her nephew recently died from COVID-19 in a Missouri prison. He wrote 17 letters asking to come home because he was on dialysis but wasn't released, she says. Her father's cousin, a Vietnam veteran, also died from the disease. And a number of her extended relatives have become sick or died during the pandemic, mostly during the recent surge.
Native people take the virus seriously because of the long history of their people being disproportionately affected by infectious diseases such as smallpox, tuberculosis and H1N1, Church says.
"My own mother was impacted by tuberculosis as a small child. She understood what was at stake and at no time ever for a moment thought that this was a hoax," she says. "They understood that when we were told that a disease is coming that we need to take measures to stay safe."
---
Alexander Tuerk produced and edited this story for broadcast with Jill Ryan. Allison Hagan adapted it for the web.
This segment aired on November 26, 2020.