Mass. Prisoners Among The First Set To Get COVID Vaccines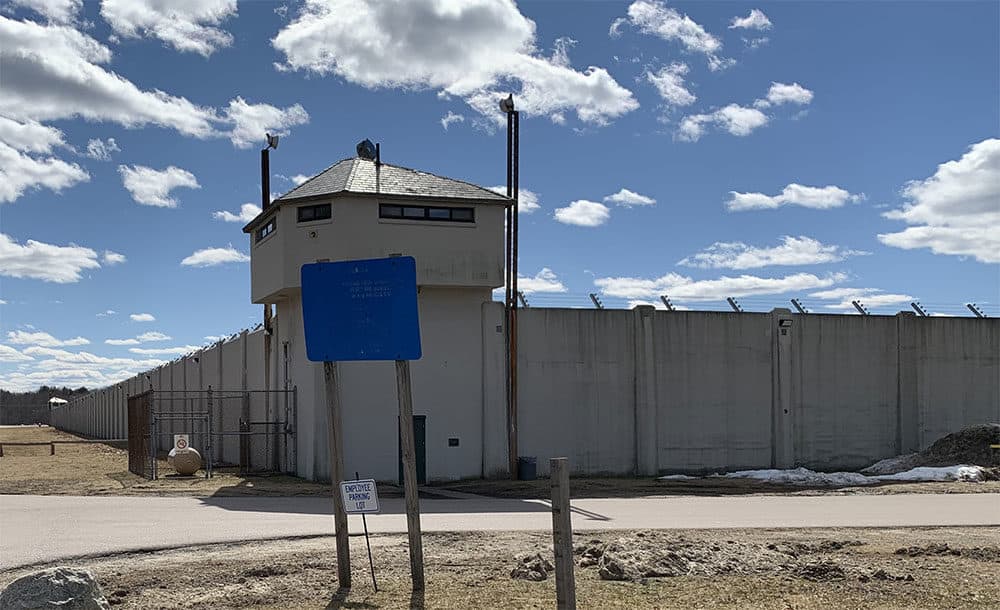 This article is more than 2 years old.
Among those first in line for the COVID-19 vaccine in Massachusetts are correction workers and the nearly 13,000 people incarcerated in jails and prisons in the state. The news comes as COVID cases continue to spike behind bars.
Gov. Charlie Baker included both groups in the first phase of his COVID vaccination plan, which he announced last week. The first phase also includes health care workers, police, fire and emergency responders and residents of long term care facilities and those living and working in homeless shelters. Massachusetts is one of six states to specifically include prisoners in the first phase of vaccinations, according to the Prison Policy Initiative.
The Department of Correction referred questions about the vaccine process to the state's COVID-19 Response Command Center. It says those working and living in congregate care settings, like homeless shelters and correctional facilities, are prioritized for phase one because of the high-risk, high-exposure setting. The state estimates that 22,000 vaccines will be needed for those living and working in correctional facilities, and officials expect the vaccines to be distributed between December and February. Details about how the vaccines will be given behind bars will be clearer once the state receives vaccine shipments.
"There are still so few details about distribution of the vaccine and many of our clients are afraid to take it due to a long history of using incarcerated people in medical experiments and trials," said Elizabeth Matos, Executive Director of Prisoners Legal Services of Massachusetts. "There will be work to do in ensuring the population that the vaccine is safe and that those administering it can be trusted. The bottom line is that incarcerated people are succumbing to COVID now and the vaccine, albeit and welcome development for those who live and work in these settings, will not get there in time to help them."
The Massachusetts Correction Officers Federation Union MCOFU, which represents almost 4,000 correction officers, says whether to get the vaccine is up to each correction officer.
"As vital first responders, MCOFU supports our Officers being included in the first round of vaccinations," said a statement from the MCOFU Executive Board. "We encourage our membership to get vaccinated, but also recognize vaccination is an individual right and decision, and should never be mandated or forced upon our membership."
The Massachusetts Sheriffs Association, which represents the 14 sheriffs who oversee 19 county jails, says the sheriffs are working on vaccine plans.
"The Sheriffs have been in constant contact with DPH regarding the planning for the COVID-19 vaccination distribution," the Association said in a statement. "We've also been meeting internally about implementation with individual sheriffs' offices, Health Service Administrators and our infectious disease specialist."
Coronavirus cases have been spiking in jails and prisons since October. As of Friday, there were more than 300 active coronavirus cases reported among DOC prisoners. The largest number, 159, were at MCI Concord. In Concord, 37 correction officers were positive as of Thursday, according to DOC reports. There are also reported outbreaks at MCI Norfolk, where there are 47 cases among prisoners, and MCI Shirley Medium, with 10 cases in prisoners. As of Friday, 13 DOC prisoners were hospitalized.
Positive cases were also reported at Massachusetts jails last week. As of Thursday, there were 78 positive cases among those in custody at the Plymouth County Jail — where before Thanksgiving, there had only been six. Plymouth County Sheriff Joseph McDonald said those who test positive are quarantined and medical care is provided. He said no one is hospitalized. McDonald said he ordered more testing in the first week of December because of the increasing number of cases throughout the state.
"I was concerned by the rapid increase of positive cases in our communities and requested the broad testing so we could be assured that any potential spread would be identified, contained and treated," McDonald said in a statement. "Obviously, I am disappointed to see the new number of positives but also relieved to know we could address each and every one and to limit spread."
McDonald also said there are about 600 prisoners in the Plymouth County jail, which is about half its capacity so those in custody are able to maintain a healthier distance.
At the Essex County Jail in Middleton, there were 42 active coronavirus cases among those held in custody as of last week. Jail officials say most of those affected are asymptomatic and no one has been hospitalized. There were also 27 correctional officers, 2 staffers and 9 contractors at the jail considered to have active cases of the virus.
Correctional facilities are required to report weekly to the state Supreme Judicial Court about how the virus is affecting staff and prisoners. Those reports indicate that two men held in county jails and nine DOC prisoners have died since the pandemic began. The reports do not list those prisoners who were granted medical parole. There were at least two COVID-related deaths of DOC prisoners in November who died within a day of being granted medical parole. Because they were no longer considered to be in state custody, they were not counted as a prisoner COVID deaths.
This article was originally published on December 13, 2020.