A Gift Guide For Beer Geeks That Helps Support Local Breweries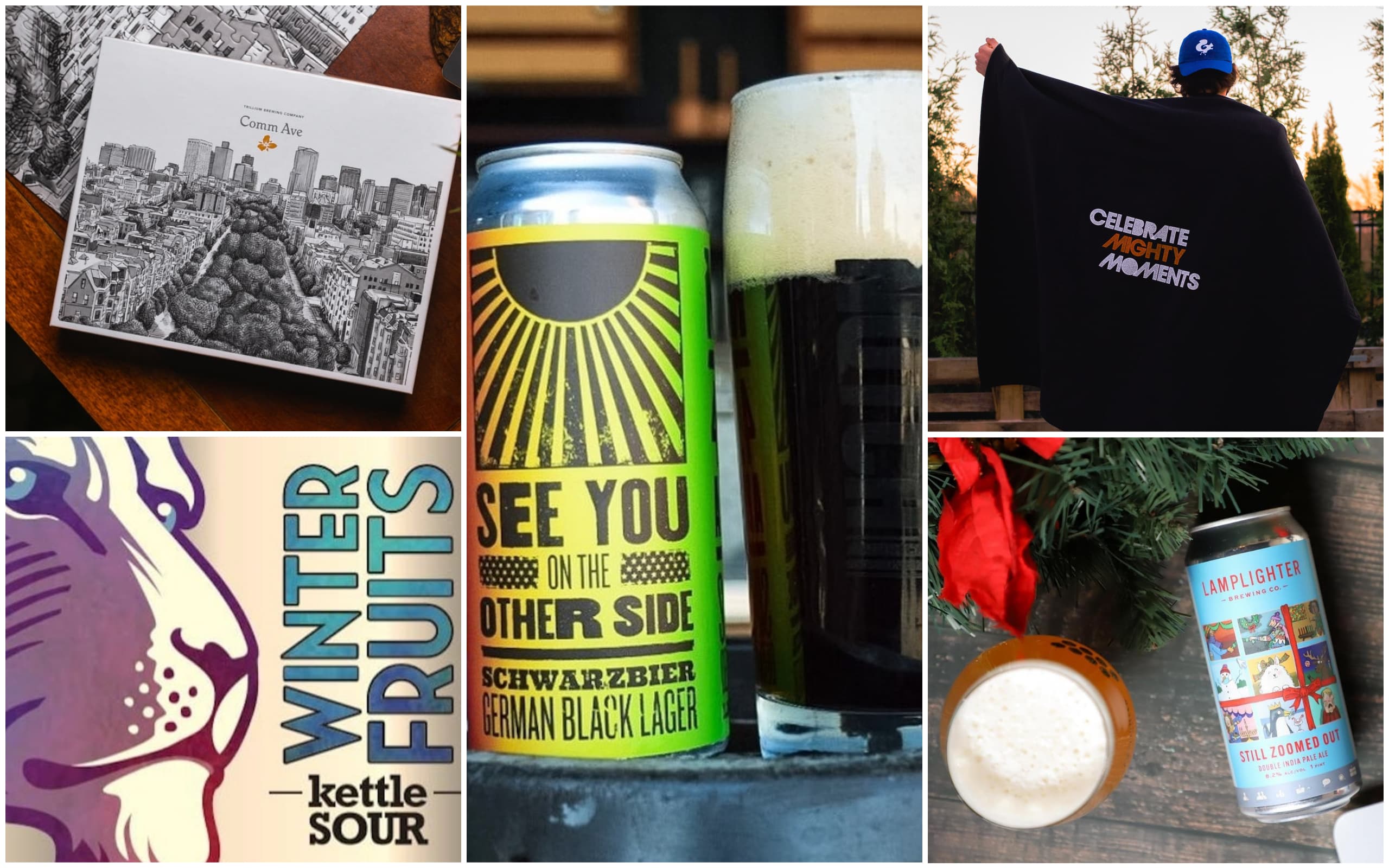 This article is more than 1 year old.
Beer geeks can be pretty easy to please around the holidays with the gift of a fresh four-pack (or two!) from a local brewery. But supporting the independent producers we love has become more important than ever in this most abominable year. The more than 200 breweries across Massachusetts weathered crushing shutdowns and lost taps at restaurants. They quickly adapted to offer curbside pickup and expanded their outdoor beer gardens. Now that winter is bearing down upon us, there are more ways to help keep these small businesses afloat through the seemingly bleak months that lie ahead. From quaffable to wearable, here are a few suggestions for gifts of clever cans, cozy swag and even jigsaw puzzles from some Massachusetts breweries.
Still Zoomed Out and Blitzen
The artwork on Lamplighter's cans of Still Zoomed Out is bound to bring a smile to your beer lover's lips. A gallery grid of nine adorable, holiday-themed illustrations includes a masked snowman, the Cambridge brewery's canine CEO Barley and even Macaulay Culkin from Home Alone, all wrapped up in a hand-drawn red bow by artist Chloe Feldman Emison. Still Zoomed Out is an American Double IPA with Australian hops that rings in at 8.2% ABV. As recommended on the label, "Keep cold, shut off your webcam, and enjoy fresh!"
Be warned though, I'm told this popular beer could be sold out soon. If so, Lamplighter recommends Blitzen, a Belgian Dark Strong Ale brewed with winter spices that's available in 375ml bottles.
---
Holiday Swag Set with Blanket
Brewery beanies and hoodies will help keep the beer geek in your life warm on the chilliest of winter days, but a fleece blanket takes the potential for maintaining body heat around a firepit to another level. Mighty Squirrel's version comes with the brewery's constant reminder to "Celebrate Mighty Moments." If your receiver hasn't been too naughty this year, you could upgrade to the Waltham brewery's Holiday Swag Set that includes the blanket, a hoodie, two stemmed beer glasses and a $25 gift card.
---
Pucker up with Winter Fruits Kettle Sour
Hoping for a gift that might elicit a smooch from your beer-loving companion? If you're located near Springfield, the Winter Fruits Kettle Sour from White Lion Brewing has the power to make them pucker up. The 5% ABV ale is made with blackberries, plum and vanilla. Founder Raymond Berry opened Springfield's first brewery in 2014 where you can pick up some beer, or if you're in range, they also offer delivery.
---
See You on the Other Side (in a Runner's Buff)
Salem's Notch Brewing has been making low-alcohol session beers since it opened in 2010. A fun gift idea could be a night in front of a fire with their 4% ABV Schwarzbier. The cleverly named See You on the Other Side is Notch's take on a traditional German dark and would pair nicely with some sharp local cheese and smoked almonds. Swag-wise the brewery's Runner's Buff — a snug, fabric tube (also known as a neck gaiter) — could come in handy for the athletes in your life who plan to play outdoors this winter. It could also come in handy while walking the dog.
---
Sipping beer while Comm Ave Jigsaw Puzzling
Jigsaw puzzles have been all the rage throughout the pandemic, so here's one that will pair well with a pint of hazy New England IPA. The Boston and Canton-based Trillium is famed for its myriad interpretations of that popular regional style, and now they're selling a 500-piece puzzle featuring Trillium's signature label art from their Comm Ave Double IPA cans. The illustration is by the Boston design company Fairfolk.
---
Burudika - Maize Lager with Rooibos
If you can get to Worcester, here's a unique collaboration beer that's available for pickup at Redemption Rock Brewery, which is also a Certified Benefit Corporation with a mission to give back to the community. Burudika — "cheers" in Swahili — is inspired by the flavors, cultures and climates found in Africa. The socially-driven brewery worked with neighboring nonprofit African Community Education to design a low ABV beer made with local Maize from Valley Malt in Hadley and rooibos tea from Worcester's Acoustic Java. It's said to be light-bodied with flavors of mint and corn tortilla. If you're looking for a more wintery-themed beer, Redemption Rock has two on tap this year: A gin-inspired holiday sour ale named Making Spirits Bright that's brewed with juniper berries, coriander and cardamom and also the Biere De Fête, their holiday lager with notes of ginger, allspice, fruit, caramel and toffee.
---
Supporting local breweries with T-shirts
The Massachusetts Brewers Guild works to support the more than 200 breweries in the state that have been struggling through 2020. This year, the organization is recommending a gift that lasts beyond the holidays. The Shirts On Tap T-shirt club delivers a "butter soft" top each month from breweries in cities around the country and receivers have the option to customize their installment to feature a New England brewery design by a local artist. Every box comes with a shirt, a sticker and a coupon for the brewery. Folks who sign up also get a free "Drink Local Craft Beer" tee. Heads up: The website says because of COVID-19 and the holidays, there's no guarantee the gift will arrive by Dec. 25.
---
Gifting Beer Gift Cards
Among the many small, community-oriented breweries that don't package their beer for distribution at liquor stores is CraftRoots. It's the first woman-owned brewery in Massachusetts. If you live near or will be passing through Milford, you could always swing by to pick up a crowler of founder and brewer Maureen Fabry's Cold Moon New England IPA. But a more convenient idea for a stocking stuffer would be a gift card. Fabry said CraftRoots' core following shared their love at the brewery over the summer but it's been slow since mid-November. She adds, "Yes, we fill beer to go and on demand, featuring eco-friendly 32-ounce squealer bottles that are reusable, so folks could visit CraftRoots to pick out and pick up their beer. Gift cards are available on our website 24/7 and are mailed out daily." Planning a trip to CraftRoots' taproom and beer garden in the spring could give your beer geek something to look forward to. Fabry said they'll be, "primed and ready to go when April rolls around."
It's safe to say every brewery is offering gift cards, which is a great, easy way to support the local breweries that have kept fermenting through a brutal year that's finally coming to an end. Three cheers to that!