Closing For The Holidays Brings Bad Tidings For Boston Art Museums
This article is more than 2 years old.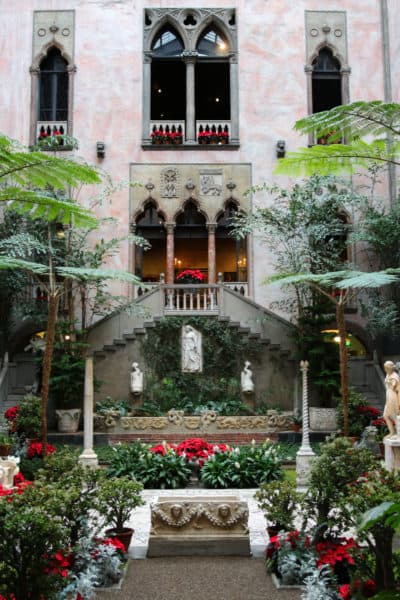 The lush display of festive reds, silvers and dark forest greens that fill the Isabella Stewart Gardner Museum's courtyard each holiday season was looking as beautiful as ever this year, director Peggy Fogelman recalled. But the masses of poinsettia, pine and blooming amaryllis had to be dismantled after Mayor Marty Walsh announced Tuesday that museums must close their doors again as part of the rollback to Boston's economic reopening plan.
Fogelman was surprised by the edict from the city, especially after Gov. Charlie Baker's mandate last week enabled the state's museums to remain operating under phase three, step one.
"We've invested a lot of money, time and effort in making our spaces safe. So I do hope that the public will feel very comfortable coming to the museum again once we're allowed to reopen," Fogelman explained, adding the museum has been stringent with its building-wide safety protocols, including masks at all times, social distancing, rigorous cleaning, ubiquitous sanitizer stations, timed ticketing and limited occupancy.
"Since we were able to reopen in July we've had zero instances of infections contracted on site, either by staff or by visitors," Fogelman said of the Gardner's track record, "So we weren't anticipating a second closure. But of course, we are complying with the mayor's mandate."
A second closure period is a set back after the stretch of being shuttered for months beginning in March, Fogelman said. The highly-anticipated, museum-wide exhibition of work by dancer, choreographer, painter and filmmaker Shen Wei had debuted just two weeks ago. The show is scheduled to run until June 20, Fogelman said, so visitors will hopefully still be able to experience it.

But the usual December crowds will not be able to spend school vacation days at the Gardner or at any of Boston's museums. "We're very disappointed not to be able to offer the kind of respite and solace and inspiration and sense of connectedness that museums provide," Fogelman said, "especially at such a stressful time for the community."
She acknowledged the money lost without the busy holiday period ticket sales will also be significant. "We may face some tough decisions due to the loss of revenue, both for the first closure and for this closure. And we're actively trying to problem solve that. We're very committed to maintaining our staff and keeping our Gardener community together. So we're going to have to do some very creative thinking in terms of how we can achieve that when we have zero earned revenue coming in."
Museums have seen millions of dollars in revenue disappear since the wave of closures crashed down on institutions across the nation in March, including the the Museum of Fine Arts, Boston. The MFA reopened in September, which was later than most others because of the size of its building and staff. It was finally able to debut the delayed "Writing the Future: Basquiat and the Hip-Hop Generation" exhibition in October, and then "Monet and Boston: Lasting Impression" in November.

Now the institution's galleries will be dark and quiet again beginning Wednesday, Dec. 16 to adhere with the new directives.
"We appreciate the mayor's efforts to keep Bostonians safe, and are committed to doing our part," MFA director Matthew Teitelbaum said in a statement. "Museums and cultural institutions understand the need to take significant action to curb increasing infection rates, and we have helped keep our communities safe by exceeding public health guidelines."
MFA spokesperson Karen Frascona responded to questions including one about the economic impact wrought by not having visitors during the holidays. "The MFA is dependent on audience-driven revenue," she said, "tickets sales, parking and dining – and we anticipate an estimated loss of $200,000 per week during the closure."
Frascona added that audience members have shared positive feedback while the museum was open, including that they felt safe and the opportunity to engage with art. "We'll miss being able to provide that kind of fulfillment for our visitors and hope to be able to welcome everyone back in January."
The MFA intends to maintain payroll during the closure, "however adjustments may need to be made if the closure is mandated for an extended period."
The museum was forced to layoff dozens of employees this summer and expects to reopen in early January.
A few museums voluntarily closed as the holidays approached, including the Institute of Contemporary Art on Dec. 8.
"We were paying close attention to the data as COVID cases continued to rise, watched colleagues across the country close both voluntarily and by government order," ICA director Jill Medvedow explained.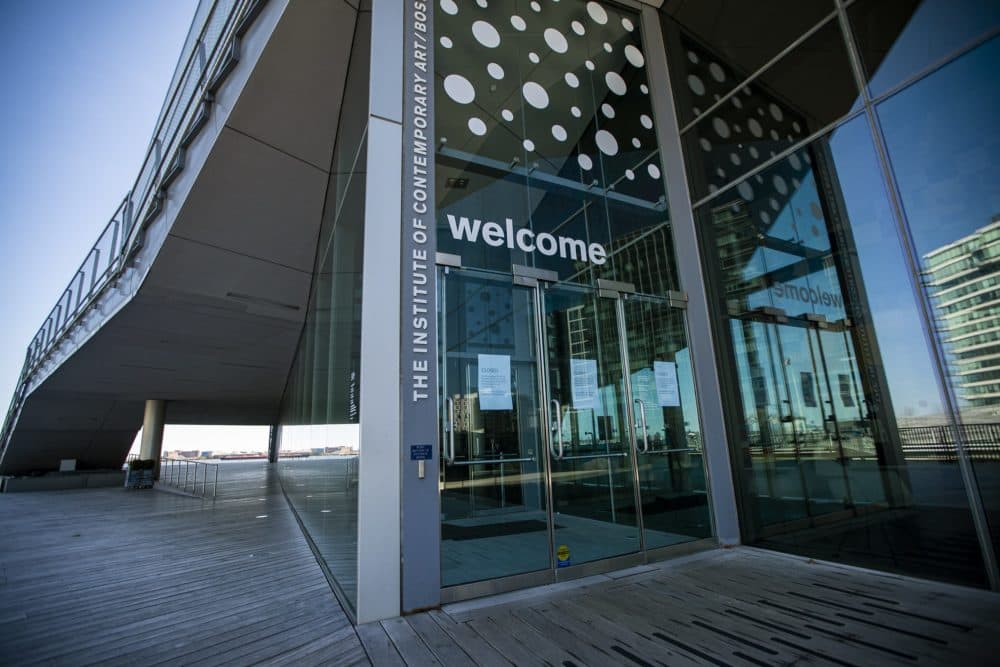 For Medvedow the writing was on the wall that shutdowns were highly likely. "Both the governor and the mayor indicated that there might be rollbacks," she said, "so the mayor's announcement was not a big surprise."
The ICA director said December is typically a very busy month for museums. The decision to self-opt for closure was made, she said, "for our shared and common good as a city and as a community." The ICA will continue to pay employees through the closure.
Looking ahead to winter Medvedow said she's most concerned about the shift to indoors and how that could increase COVID cases and be damaging to the community's physical and mental health, especially among teens, elders and parents with young children. "I am just so grateful that our community supports us and I can't wait for the vaccine and more daylight," she added.
The ICA's Watershed, which is the museum's outpost across the harbor in East Boston, will continue to support the community with fresh produce distribution and art kits for families. And like the MFA and Gardner the ICA will still offer virtual ways for visitors to engage with art online.
Outside of Boston, the Fitchburg Art Museum made an even earlier, still difficult decision to close at the end of November.
"We closed FAM to the public due to a severe superspreader event at a church in Fitchburg that spread COVID-19 to 22 towns, compromised over 90 businesses, and forced Fitchburg State University to send all on-campus students home and revert to full on-line learning," FAM director Nick Capasso said.
Over half of his staff of 26 people is over age 60, himself included, and he said many had become anxious about the risk.
"FAM is dedicated to supporting our community, our financial model does not rely on attendance, and no one will die if they can't come to FAM for a few months," he explained, adding, "People first, art second!"
Capasso projected an anticipated reopening date of Feb. 3.