Rollback: Baker Shrinks Capacity At Nearly All Businesses; Releases New Dining Rules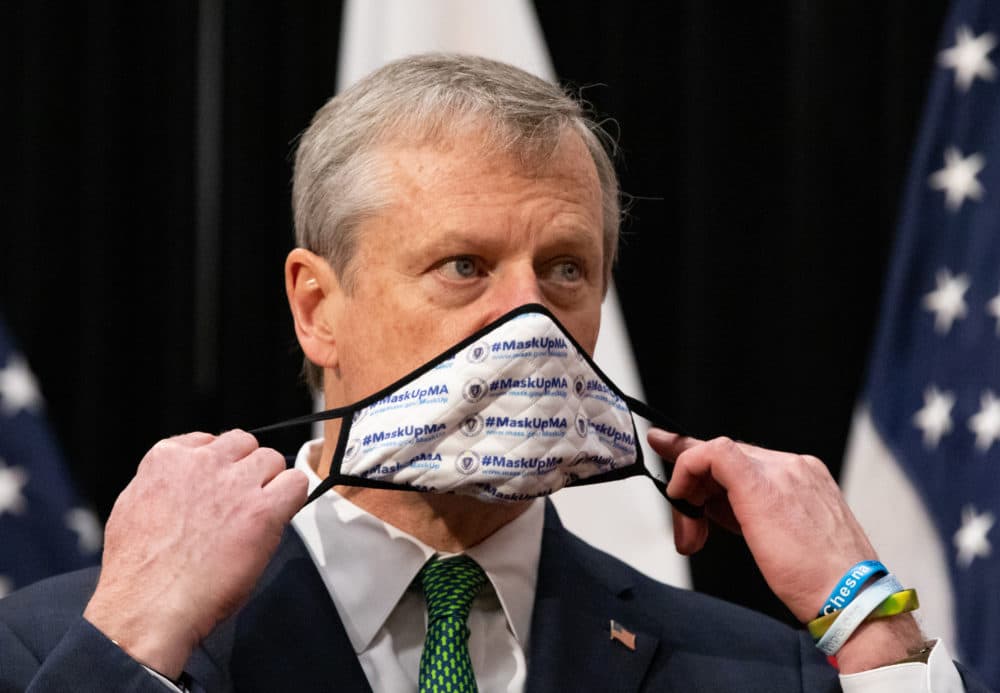 This article is more than 1 year old.
Gov. Charlie Baker declared Tuesday that Massachusetts will soon roll back a single step within the current phase of its economic reopening plans, as cases continue to spike across the state.
The changes — which officially begin on Sunday, Dec. 13 — broadly impact restrictions on the number of people allowed inside facilities and implement new rules related to masks and dining.
In the afternoon coronavirus briefing, the Republican governor outlined several of the changes. He explained that the move back to "step one, phase three" automatically reduces capacity at nearly all businesses — including gyms, museums, office spaces, restaurants and arcades — to 40%.
Beyond changes to rules on business occupancy, Baker also announced that masks must now be worn at all times inside workplaces unless a worker has a medical exemption or is in a private space. Additionally, outdoor events in every municipality no longer may host gatherings with more than 50 people.
The new orders called for restaurants to reduce the number of people who can be seated at any table to six, as well as to set 90-minute limits for diners. Patrons must wear masks as they order food and whenever they are not eating or drinking. Musical performances will no longer be allowed in restaurants. Food courts will close again.
The return of restrictions on some recreational activities related specifically to "step 2" of "phase three" will not necessarily change much for dozens of communities, as roughly 50 towns and cities did not, as of this week, hold transmission risk profiles low enough for the Baker administration to allow them to enter that stage.
For the communities that were, however, deemed "lower risk," and did move into "step 2," the state permitted the following:
Indoor performance venues to open with 50% capacity with a maximum of 250 people
Outdoor performance venues capacity to increase to 50%, with a maximum of 250 people
Trampolines, obstacles courses, roller rinks and laser tag to open, with capacity at 50%
Fitting rooms open at retail stores
Gyms, museums, libraries and driving and flight schools to increase capacity to 50%
Now, Baker's most recent order means all communities that adopted any of the above measures will need to shut those activities down by Sunday. The governor noted the changes were in large part a response to an alarming rise over the last month in the rate of hospitalizations for people with the virus.
"The state of Massachusetts is being tested once again," Baker said, reflecting on how the state has repeatedly asked businesses and individuals to make sacrifices and change behaviors to stave off the coronavirus threat since the first wave. "The days of most people doing most of the right things are probably not enough," he added.
Tuesday's announcement came just one day after the governor told reporters that starting Friday, hospitals would begin canceling some non-urgent, inpatient elective surgeries and appointments.
"Step one" of "Phase III" is still in place and allowed for businesses like casinos, gyms, museums, movie theaters, outdoor spaces and arcades to open. Those businesses will remain open but some of Baker's newest guidance affects how they operate.
The reaction to Baker's announcement on social media was swift, with many criticizing the governor and his decisions.
"This is completely insufficient," Elizabeth Weinbloom wrote.
The Massachusetts Democratic Party slammed what it called Baker's "play[ing] with the metrics in an effort to convince us we were on the right track, when we were not."
Miles Howard questioned how servers, already in vulnerable positions, would have to enforce the new requirement that masks must be on in restaurants at all times except eating or drinking.
"Restaurants are kind of the first line of defense when it comes to enforcing a lot of these restrictions," said Stepahnie Burke, co-owner of Lenny's Hideaway, a Mexican restaurant in Cohasset. "That's just an extra strain on our staff. I know we're going to have to have at least one extra person there to make sure we're enforcing those rules. "
But with more regulations she's also wondering: where's the help? Like financial aid for restaurants, state-sponsored sick-leave, and more accessible COVID-19 testing for hourly employees?
"We just want to make sure that our staff is supported and that we're doing what we can to help them get through the next few months," Burke said. It's not about making a profit, she said, it's about survival.
Industry groups also expressed frustration over the lack of targeted relief for restaurants. In a statement, advocacy group Massachusetts Restaurants United said it is "deeply disappointed that Governor Baker's announcement did not come with any emergency relief measures. Independent restaurants need extended winter patio use, liquor license fee reductions, temporary caps on predatory third party delivery fees, and direct financial support."
Meanwhile, Bob Luz, president of the Massachusetts Restaurant Association, cited the need for economic relief for restaurants, while also laying part of the blame for the new restrictions on residents who "continue to gather unregulated in homes."
The changes come during the holiday shopping season, which is a critical time for small businesses. Many stores weren't hitting the previous capacity limits of 50%, according to the Retailers Association of Massachusetts. But association president Jon Hurst said the new restrictions will be tough for many small businesses such as gift stores, jewelers, and clothing shops:
"It's those that rely upon the holiday season and have far greater traffic that may have a bigger crunch on those occupancy levels as opposed to larger stores that we might frequent year round," Hurst said.
Hurst added that some retailers earn around 30-40% of their sales this time of year.
Over the weekend, public health expert Ashish Jha criticized Baker's reluctance to roll back reopening guidelines, saying he was "aghast" at the lack of action taken by the state over the past six weeks.
Back in September, other public health experts criticized Baker for loosening pandemic restrictions for certain communities with the release of "step 2" in early October. The state entered the third phase of its economy reopening plans in early July.
This article was originally published on December 08, 2020.