Rollins, Boston Police Investigating Alleged Police Abuses At Protest After Body Cam Videos Published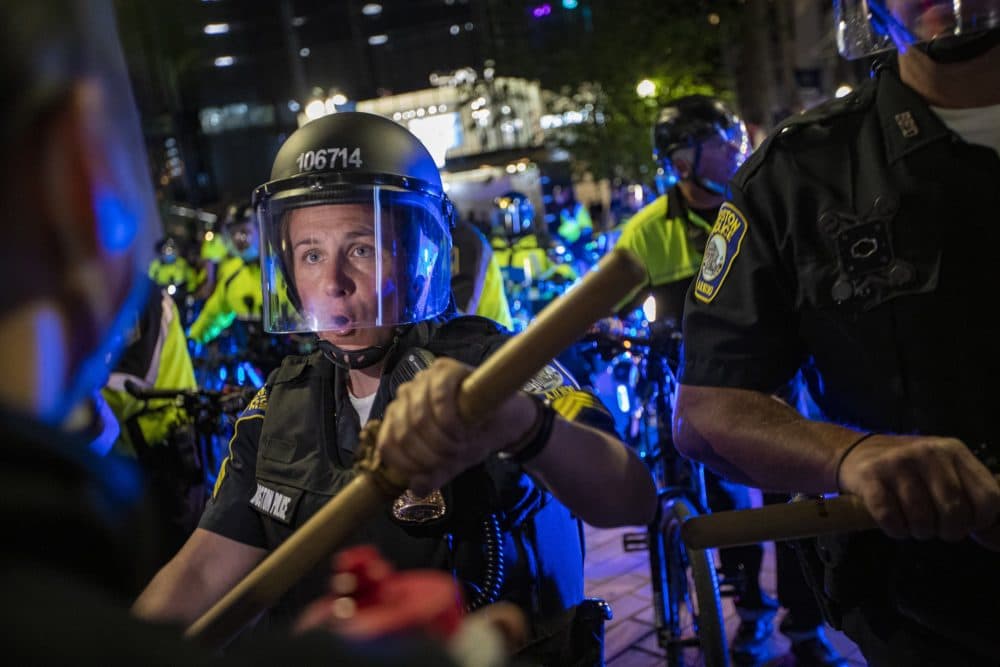 This article is more than 2 years old.
Suffolk County District Attorney Rachael Rollins and the Boston Police Department are investigating the actions of Boston police officers at the protest against police brutality in May that took a violent turn after the planned event ended.
The allegations are based on roughly 70 hours of body camera footage obtained by the National Lawyers Guild, which is representing four protesters charged with crimes stemming from the night of May 31 into the morning of June 1.
"Several of the videos present troubling scenes that merit further examination, which is what the office is doing," DA's office spokesman Matt Brelis said in a statement. "DA Rollins takes this very seriously."
The videos were first reported by the news site The Appeal, with clips seeming to show Boston officers targeting protesters with pepper spray and batons.
One clip appears to show a police officer saying he hit protesters with his car. When the officer wearing the camera notified his colleague that the body camera was recording, the officer changed his story, saying he didn't hit anybody.
Boston Police Commissioner William Gross released a statement about the footage, saying an officer has been placed on administrative leave as the department investigates further.
"As soon as these videos were brought to my attention, I immediately ordered my Bureau of Professional Standards to open and conduct a thorough and fair investigation into this matter, and the totality of circumstances involved," said Gross in a statement released Friday. "I have placed a Sergeant involved in this incident on administrative leave and I will take any additional action as necessary at the conclusion of the investigation. I want to encourage people to bring these matters to our attention so that we can investigate them appropriately."
Carl Williams, the local lawyer representing the four protesters, said his team obtained the body cam footage in the fall, and spent 10 weeks reviewing behind-the-scenes activity of the BPD response to the protest.
"It's terrifying," Williams told WBUR. "It's terrifying for people in Dorchester. It's terrifying for people in Roxbury. It's terrifying for Black men, women and other folks in our communities, that people who like to call themselves law enforcement are people who are enacting violence."
Late Friday night, Massachusetts Attorney General Maura Healey called for a full investigation into the incidents.
"The body camera footage we've seen so far is disturbing and inexcusable," said Healy in a statement. "This callous behavior further stresses the importance of advancing police reform in our state, particularly when it comes to use of force standards and accountability. We need a full investigation into what happened that night to hold accountable anyone who acted unlawfully."
Boston Mayor Marty Walsh said in a statement that the footage is "difficult to watch," and raises questions he expects to be answered in the department's Internal Affairs investigation of the officers.
"These types of situations are also exactly why we are implementing body-worn cameras for all police officers, and why we convened a police reform task force committed to bringing necessary reforms and accountability to the police department," Walsh said.
Many of the officers on duty the night of the protest were working overtime, and not wearing body cameras since city policy does not require them to. Walsh said last year he would change that policy, though that has yet to happen.
The body cam footage from the May 31 protest was the subject of a records request by WBUR shortly following the protest, a request that was denied by the BPD. The department withheld the videos on the grounds that they were part of an ongoing investigation.
The Boston Police Patrolmen's Association released a statement about the footage on Twitter, calling it "misleading media accounts falsely accusing #BPD Officers of police misconduct on May 31, 2020."
The ACLU of Massachusetts is suing to get its hands on the footage. ACLU Executive  Director Carol Rose said in a statement that the videos show that Boston police "repeatedly and with apparent relish battered demonstrators, including with batons and pepper spray. It's time for systemic change and an end to policing as usual."
This week, city councilors approved the creation of a new police watchdog agency, the Office of Police Accountability and Transparency. It was one of several recommendations made by the police reform task force convened by Walsh.
This article was originally published on December 18, 2020.