Some Mass. Charities Struggle, Others See Surge In Giving, As Need Increases
Resume
The coronavirus pandemic has had a profound impact on nonprofit organizations that serve people in need. Many have had to change the way they operate or the services they offer. Some are struggling to manage increased need with a drop in fundraising.
With 2020 drawing to a close, WBUR's Jack Lepiarz asked some charities — the Boys & Girls Club of Worcester, United Way of Massachusetts Bay and Merrimack Valley, and Habitat for Humanity Greater Boston — how this year has been for them.
Boys & Girls Club of Worcester Executive Director Liz Hamilton explained that the club has gone from being an after-school program where kids can take part in recreational and educational activities, to being an educational center providing support to 200 kids every day during school hours.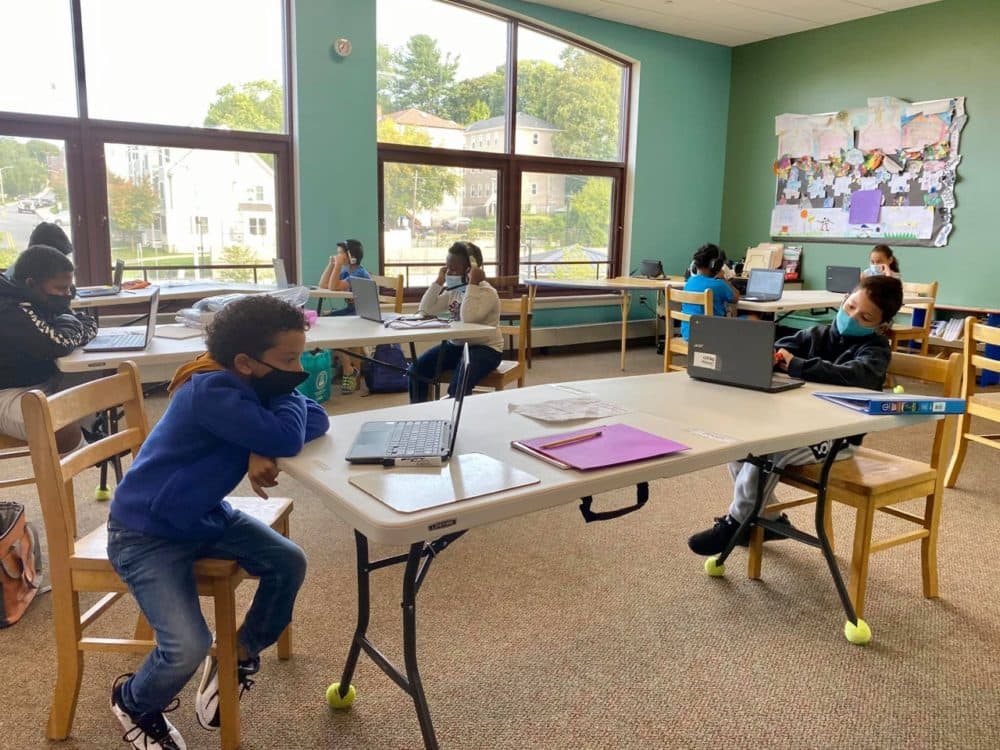 Interview Highlights:
Liz Hamilton: "We're serving as a learning hub, where our kids have a safe place to go and be able to connect remotely to their teachers, and at the same time also get support from our youth development staff. So if they have questions or if they're struggling in school, we can either provide them with support or contact their teacher and find out how we can better provide them with the support that they need."
"There's hundreds of kids throughout Worcester who are on a waitlist to get in. And that's why it's really important to us to have our case managers and social workers connect with our kids virtually so that we are able to still let them know that we're here for them, that we can help them. And that's how we find out when kids might need clothing or food ... We decided to really enhance and expand our food program. We used to serve about 250 families a year, and we are now serving about 250 families per week."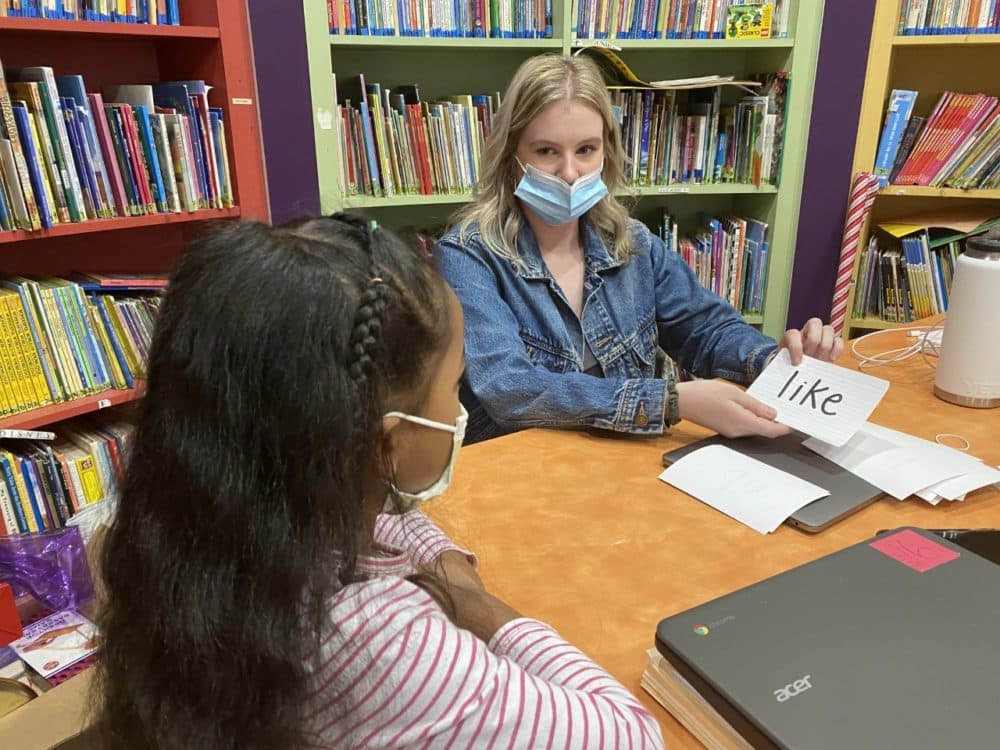 "I was really concerned that we would see a real drop in donations and that has not been the case ... I'm seeing some new donors ... I worry about us not being able to secure more resources so we could grow our learning hubs, because I worry about the kids who I know are left home alone; and I worry about the kids who not only are left home alone, but they're in charge of their younger siblings — and how isolating that must feel and how alone they must feel."
The United Way of Massachusetts Bay and Merrimack Valley supports more than 170 charitable organizations. President and CEO Bob Giannino says fundraising is up about 30% in the current fiscal year over the last.
Bob Giannino: "What we've seen is that folks that have resources — whether those are companies or whether those are individuals —  [they're] feeling as though it is part of their duty as citizens to support those around them that are not resourced or that are not in a position to be able to support their families as well as they were before the pandemic."
"We have heard from agencies that many of their donors are experiencing some level of COVID fatigue — that they've given already above and beyond what they normally might be giving, and they just don't have any more to give. And at the same time, I get hope from those folks that continue to step up and step up and step up, who have those resources. But if this continues on, we're going to need more than philanthropy to not only help get us to the point where we're on the other side, but then to rebuild. My concern, in addition to meeting these immediate needs, is what are we going to need to get people back to some degree of normal."
Habitat for Humanity Greater Boston has still been building homes for people in need during the pandemic, but at a slower pace. The organization's president, Jim Kostaras, says donations are down an estimated 25% this year. The people already living in Habitat homes need more help, and demand for the houses is surging.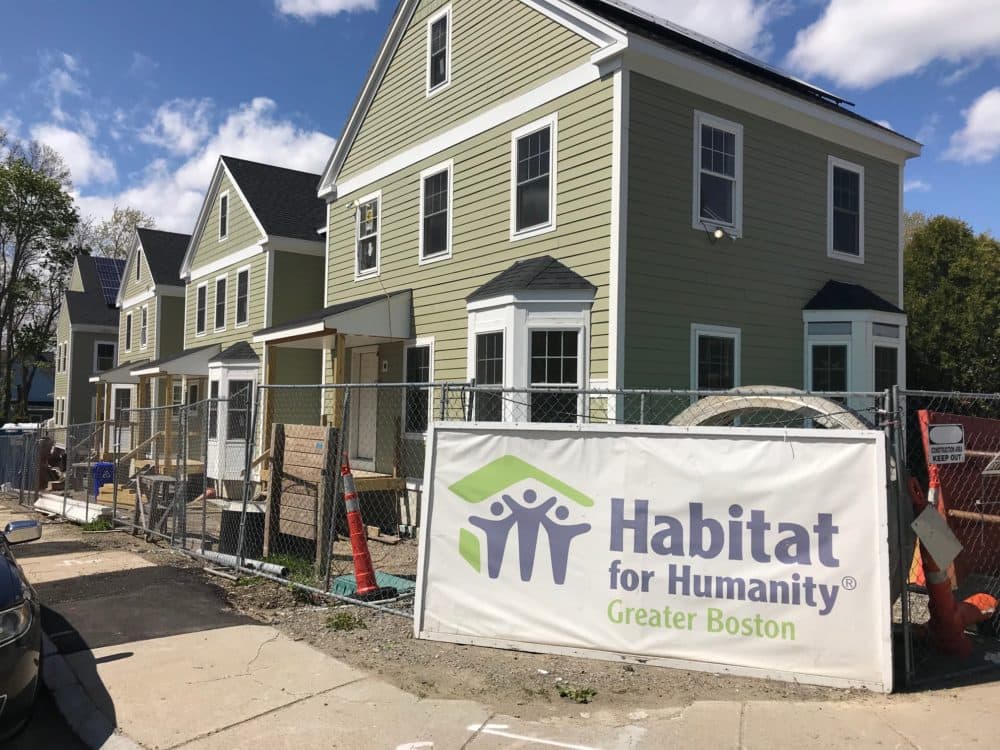 Jim Kostaras: "It's been difficult for our families that we serve. Many of them have lost their jobs. They are often people that work on the front lines in hospitals. And we've we've really worked hard to support them so they don't have to choose between paying their mortgage or feeding their kids. We're opening applications for some new homes we hope to build if we're able to get the funding ... Currently, I believe we have about 1,300 people on the list that would like to get an application. And this will be in the range of two to five new homes ... We just think the demand is going to be that much greater due to the economic fallout from COVID."
"[To try to make up the loss in fundraising], we are going to highlight the difficulties that our families are having currently and the fact that simply can't have a lot of volunteers on the [sites due to the pandemic]. With less volunteers, we just need, you know, that much more help financially going forward."
"We have our own construction team. We do have subcontractors, many of whom are providing in-kind services ... It just takes longer to finish the houses. At the same time that we have families that are waiting to move in, and they're often living in substandard conditions. They might be paying more than 50% of their income in rent. We desperately want to get them into their new homes."
This article was originally published on December 18, 2020.
This segment aired on December 18, 2020.