The Charles River's Report Card Is Good — Except For That One D-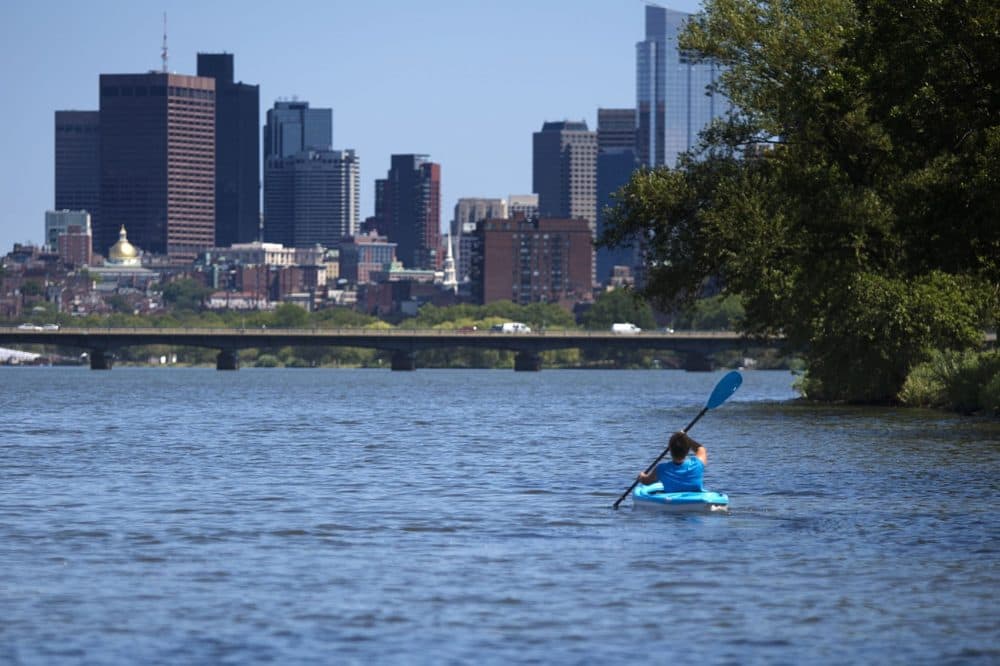 This article is more than 1 year old.
The Charles River's annual water quality report card from the Environmental Protection Agency looks pretty good: four A's, one B and — one D-.
But wait, mom! There's an explanation!
For the first time, the EPA graded each section of the Charles separately, and also included two tributaries: the Stop River and the Muddy River. It was the Muddy River, running through Boston and Brookline, that got the D- for high levels of toxic algae and E. coli. But it wasn't totally the river's fault, says Lisa Kumpf, an aquatic scientist with the Charles River Watershed Association.
"Basically it has all of the same pollutants as most of the lower basin of the Charles, but it has a much smaller water volume, and so that makes the concentration of the E. coli a lot higher," said Kumpf. She says an ongoing restoration project in the Muddy River should help improve water quality a bit, but surrounding towns need to do more to keep pollutants out.
"Anytime you have paved surfaces, and rain hits that paved surface and goes into the storm drain anywhere in the Charles River watershed, it's carrying a lot of really nasty stuff into the river," said Emily Norton, executive director of the Charles River Watershed Association. "So the more we can be doing to capture that water and have it infiltrate into the ground before it gets to the river, the better."
Other parts of the Charles River fared better on the report card. Based on 2019 data, the Upper Middle Watershed (Sherborn to Dedham), and the Lower Middle Watershed (Newton to Waltham) received A's; the Upper Watershed (Hopkinton to Medfield) and the Stop River in Medfield each received an A-; and the Lower Basin (Watertown to Boston) got a B.

Norton says the excellent water quality in the upper and middle sections of the Charles are due to conserved wetlands and forests around the river, which act as natural filters for pollutants.
The river was graded on E. Coli bacteria, cyanobacteria (also known as toxic blue-green algae) blooms and combined sewer overflows (CSOs), all of which are public health hazards. The lower basin of the Charles has been hard-hit by toxic algae blooms in recent years, which are fed by stormwater runoff and warm, sunny days. Norton says that the 2020 algae bloom was the longest the CRWA ever recorded, lasting from June through November with only a short break in July.
"The river has come a long way, but there is much more work to be done, especially in the Lower Basin," said Cambridge mayor Sumbul Siddiqui in a statement. "The City of Cambridge is making significant investments in our stormwater infrastructure that will not only protect Cambridge residents from flooding, we fully expect it to improve water quality in the Charles River as well."