From Vacant To Vibrant: Art Pop-Up Fills A Newbury Street Storefront
With Christmas right around the corner, Newbury Street is missing its usual crowds of holiday shoppers. For blocks, it's just roadwork and masked residents walking dogs in sweaters nicer than mine, and then, in what would otherwise be another grey window in a long line of quiet storefronts and empty patios, a vibrant scene of an artist squatting in a vacant space.
Well, sort of…
Sam Fish is a local painter and creator of EXIT Galleries, a series of pop-ups that take advantage of Boston's vacant real estate. He has permission to be there.
The building's owners, the Copley Group, have been letting Fish work and show at 254 Newbury Street rent-free for about a year.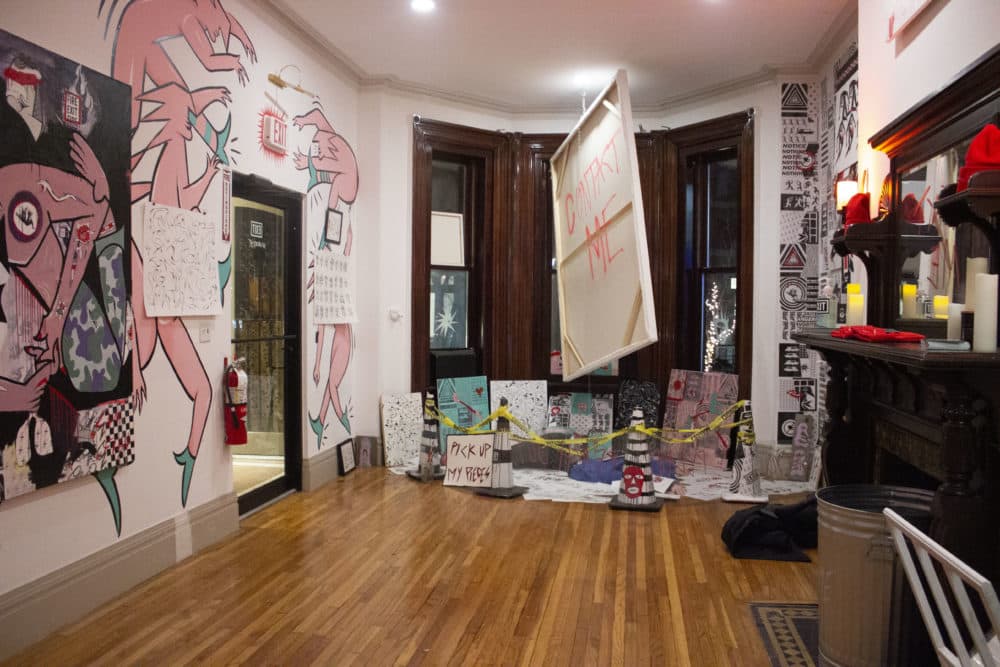 I first met Sam last March when the gallery was about to open. He was actually the last person I shook hands with before everything was canceled, including that show.  After his plans were derailed, he traveled for a bit with friends. When he returned late in the summer, he got right to work.
The space is transformed from when I last saw it. The walls are covered with signature bold, geometric paintings, 80% of which Fish has completed since the pandemic began.
"I'm here more than I am at home," says Fish. "I'm also able to have a dialogue with people who are curious and attracted to something off the street. That keeps me going because I watch people come in and out with a fresh perspective and more spring in their step as they leave."
Fish says that the name of the current show, "Contact Me," is a response to the division and isolation we're collectively experiencing. Fish is an artist who wants to build community. He wants other artists to stay in Boston, try new things, and be proud of their scene.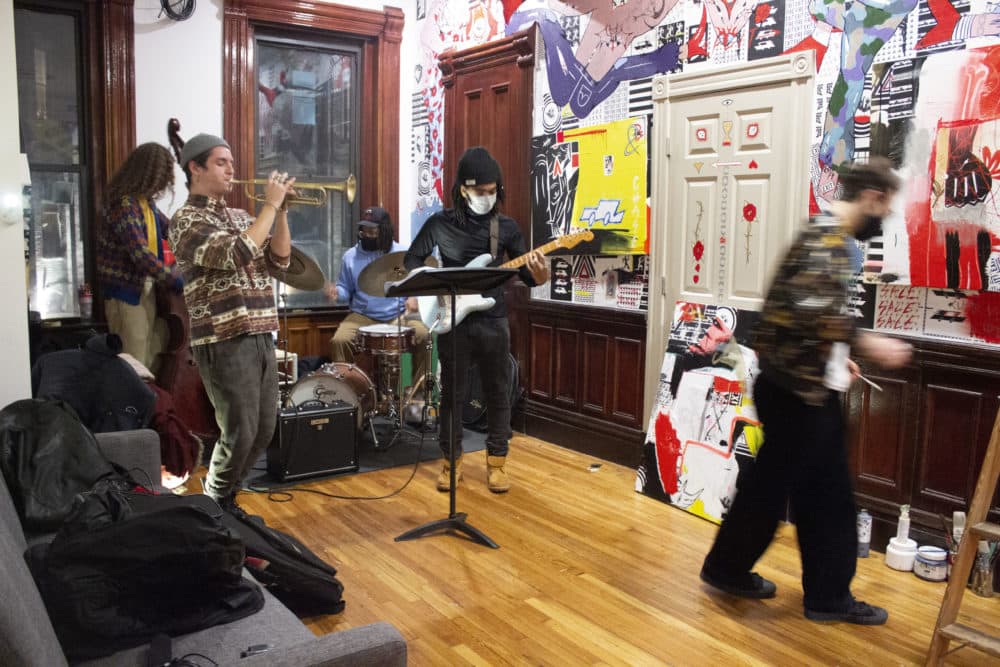 A band from Berklee College of Music starts setting up while Sam's showing me the space. They've been playing at the EXIT Gallery on Newbury Street while their typical venues like Wally's and even their rehearsal spaces have closed due to COVID-19 restrictions. It's the first live music I've experienced outside my home and away from a campfire in months.
Despite the restrictions on venues and museums, Fish is allowed to stay open as a retail space. No one else wanders off the street when I'm there; it's just me and the band while Fish paints. There are arrows on the floor directing the flow of visitors, and hand sanitizer strategically placed throughout the gallery.
"I think because it's an open art space it's just been very safe in that way. Nobody's touching anything, there's so much room, and people are coming in one at a time," says Fish.
A week after visiting the space, Fish tells me the Copley Group is kicking him out at the end of January, despite not having new tenants. (The Copley Group did not respond to a request for comment.) He says he'll stay open until January 1st, so this is the last chance to see EXIT Galleries in its current iteration.
Regarding the termination of his free, temporary lease, Fish maintains his lemonade out of lemons, glass half full kind of attitude. "It's free so I can't argue."
The Newbury Street space is his fourth time temporarily taking over a vacancy, and he's currently in talks about the next one. He hopes to create a network so he can help other artists find opportunities to create and show their work despite the high cost of living and working in Boston.
"If you want to get in there and do something,  just go for it," says Fish. "Paint something in the street, play music outside, go find an empty space that isn't being used."