Balladeer Lori McKenna On Her Roots, Writing And Song Inspiration
For years, no one heard a word Lori McKenna wrote.
Then one night around 1996, the then-28-year-old mother of three mustered up the courage to sing at Old Vienna Kaffeehaus in Westborough.
"That was my goal: If I had the guts to get up at the Old Vienna Kaffeehaus," says Lori McKenna, now 52 and a mother of five, from her Stoughton home.
"I thought, if music isn't my thing, I'm happy just continuing on the way I was, raising kids. But we have such a nurturing live music scene in Boston. Once I stepped into it, I just got the bug."
Today, millions have heard (and cried) to her words. A talented singer in her own right, McKenna found her niche writing hits for the stars: Tim McGraw took "Humble and Kind" to the top of the country charts. "Girl Crush" — which she wrote with writing partners Hillary Lindsey and Liz Rose — went quintuple platinum for Little Big Town. Heck, she worked with Lady Gaga on the soundtrack of Oscar-winner "A Star is Born."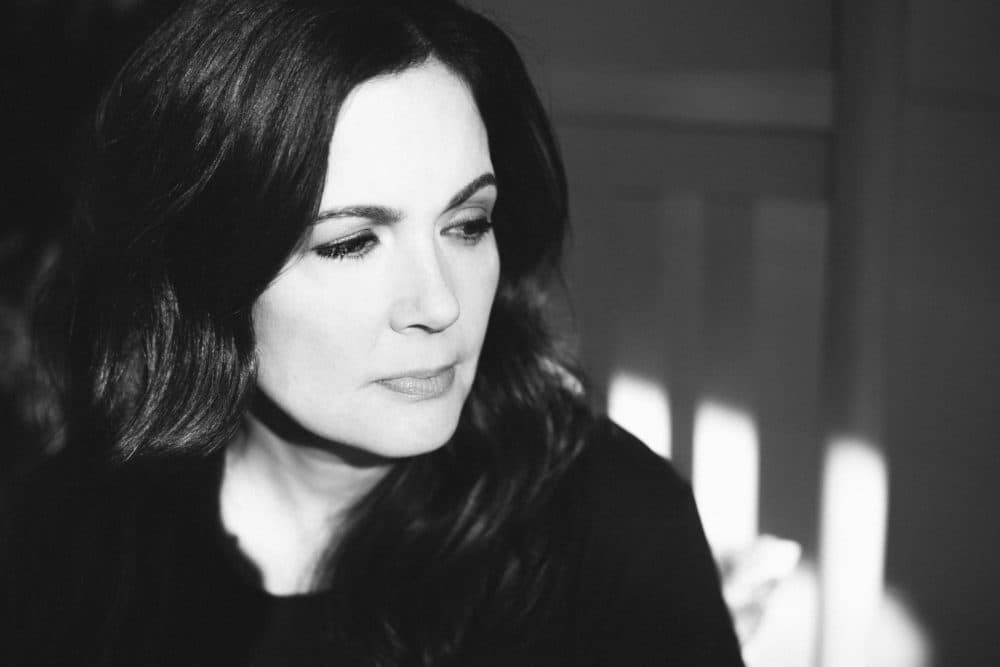 At this point, McKenna's songwriting resume reads like a Who's Who in Nashville: George Strait, Miranda Lambert, Faith Hill, Carrie Underwood, Holly Williams, Reba McEntire among them.
Now a two-time Grammy winner and 10-time nominee — she's up for a 2021 Best Country Song Grammy for "Crowded Table" — she often writes hits from her Stoughton basement.
On Dec. 18, she performed a livestream to benefit Cambridge's Club Passim, a venue she considers home.
"Every year since my kids were babies we've been playing a series of holiday shows at Club Passim," she posted on Facebook. "Pregnancies, blizzards, flat tires, hangovers, broken guitars…The audience. The BEST audience. THIS is the show I will miss most this year. We couldn't let it pass us by without some tribute to Passim…"
Despite 2020 being 2020, McKenna had a busy year: She released her 12th album, "The Balladeer," in July, and writes nearly every weekday in Zoom songwriting sessions. In fact, when I caught up with McKenna she was just about to head into a writing session with country artist Hardy.
"I know him, but we haven't written together yet," says McKenna. "I'm super excited about it. It's going to be fun."
Here's the thing about McKenna: her words can bring you to tears. But in conversation, she's bubbly, upbeat and laughs easily.
McKenna grew up in Stoughton, the youngest of six. Her mother died when she was 7. After graduating from Stoughton High School, she married her childhood sweetheart, Gene, at age 19.
Today, her kids range from 16 to 31, her father Francis Giroux lives nearby, and family is often a theme in her work — songs like "When You're My Age," for her kids, or "People Get Old," inspired by her father, will have you reaching for Kleenex.
I caught up with The Balladeer to talk roots, her 2020, and the unexpected places — from viral videos to late night TV — that spark her heartbreaker.
Lauren Daley: It's been a tough year for musicians. What was it like having "The Balladeer" come out in July?
Lori McKenna: It's funny, I was saying this the other day: I think all musicians know how important an audience is — the audience makes the show more than anything — but this year, missing that feedback, that energy, it's really hard to look at a computer screen and try to imagine it [laughs].
I bet.
I miss touring that record, but I couldn't imagine not putting it out.
You do have a knack for writing sad songs, so "The Balladeer" fits. I tear up at so many of your songs. And you're such a happy person.
I know, I love sad songs — I love listening to sad songs; I love writing them. They're just in my wheelhouse. I think it has to do with the tone of my voice; it sounds sad.
Faith Hill cut four of your songs pretty shortly after you first started.
From that point on, one step lead to the next — I wasn't chasing so much as trying to keep up with what was happening. I was really lucky that I had people around me to help me raise the kids and have this career. I just kept sticking my neck out a little further and each time, music rewarded me with something. I was just really lucky.
How did Faith Hill get those tracks?
So that record, "Bittertown," came out in 2004 and Mary Gauthier had moved to Nashville around that time; we were label-mates on Signature Sounds. She gave that record to a publisher [who] got the songs to Faith. It was really Mary [laughs.] She's my guardian angel.
[Until the pandemic hit], I've just been flying down to Nashville as much as I can ever since those Faith Hill cuts, being part of the community of songwriters in Nashville. It's my home away from home. It reminds me a lot of Boston — it's a nurturing environment.
My favorite part of this whole thing is the songwriting. Even this year, I've been Zoom-writing almost every weekday, and just loving it and I'm so thankful for it.
So how does that work? Cowriting songs seems so —
It does, it seems so strange: the idea of baring everything in your heart and brain to somebody else who's, a lot of times, a stranger. I think music is just a language we all know how to speak at some level. And also because I'm the youngest of six kids I don't mind saying something that might be dumb [laughs].
So many doors in my head opened when I started co-writing. You have to find your place: What's my place in this song today? I just love that.
Do you come up with the title first? I know with "Girl Crush" you came up with the title first.
"Girl Crush," I had the title but I didn't know what it meant. And I said it to my co-writer Hillary Lindsey, and she just instantly sang the first four lines.
So that's the magic of cowriting. If I had tried to write "Girl Crush" by myself it never would've been anything like it is.
I do save titles — I think most songwriters have titles saved. Sometimes I'll have a chorus saved, and if nobody likes it we'll move on. But if someone's like, "Oh, there's part of that I like," you just pick it apart.
For your record, "Massachusetts," the song "Salt" I know you came up with that title first.
I did, and that was so funny because we have snow on the ground now — and remember the whole joke with "Gotta get the milk and bread"?
I think it started with milk and bread, that desperation of "It's gonna snow, we're gonna be stuck in the house we have to have these things." And then I was like, no that's dumb. And I landed on salt, and started thinking salt in your tears, in your saliva. But that's where it started. Isn't that funny?
Also, "When You're My Age" — that sprung from a line you heard when David Letterman was interviewing Howard Stern. I think that's so funny because the song is so different from someone interviewing Howard Stern.
I know. But the way David Letterman said those words, he was talking about his son, and he said: My son's 14, what's the world going to be like when he's my age? And it was a very serious conversation. And it just broke my heart. I wrote that with Liz Rose and Hillary Lindsey and we all cried when we wrote that.
Will that happen? You'll be watching TV and hear a line and think: "That's a title."
Oh, yeah. I think songwriters, once we turn that antenna on, you see stuff everywhere. That's the beauty in it. It can start with something like salt that you're shaking on your eggs in the morning, and it will just get bigger and bigger and lead you to a weird thought that makes sense musically.
"People Get Old" makes me tear up. How did that come about? You were thinking of your dad?
Yeah, I don't remember exactly what the thought was, but I remember thinking, "Well, people get old, that's what they do." And thinking, "Oh, I should write a song about this," but never actually thinking the title will be "People Get Old." But I never found really a more poetic way to say it without sounding too songwriter-y. I like songs that sound like conversations. It's a terrible title, but it's just what it had to be.
No, it's great. It sounds like a John Prine title.
Oh, that's cool.
Do you have any songwriting heroes?
Many. John Prine right up there. I got to write with him earlier this year a couple times, and it was just such a blessing.
Jimmy Webb, Matraca Berg, Gretchen Peters. My cowriters, Hillary Lindsey and Liz Rose, they're geniuses. We use Tom Petty a lot: "What would Tom Petty say?" Just the way he [said] things so perfectly and beautifully but yet so ordinary.
[John Prine died in April at the age of 73 from complications related to COVID-19.]
That's so true. So have you always had a knack for writing songs?
I started when I was about 12. I was always writing poetry. I remember my brother Richie saying: "Once you know a couple chords on the guitar you can start putting [words to] that, just make up a melody." I started when I was about 12 and never left my house until I was, like, 28 [laughs].
You've said you fake a Southern accent when you sing.
Totally [laughs]. I don't know how to pronounce my "r's" unless I'm faking an accent. I wrote with someone yesterday, and he said, 'How do say your name, 'I said, "Law-ree" And he said, "It's not 'Law-ree.'" I said, "I know, I can't even pronounce my own name!"
"Humble and Kind," you wrote that for your kids.
That was really just a list of things that I wanted to make sure my kids knew. I sat down one day in the dining room and made this list of things that all rhyme with the word "kind" over this chord progression. It's a little prayer, and Tim McGraw saw it in such a bigger way. That one's close to my heart because I wrote it for these five kids, and Tim brought it to such a big audience.
You mention root beer popsicles in that song, which apparently are just a New England thing.
I didn't know that until after the song! And I also learned that people don't say "pocketbook" everywhere else. I didn't know "pocketbook" was a weird word.
It's unbelievable looking at the list of people you've written for. Are there times where you just can't believe where you are?
Everything surprises me. I'm super thankful that Tim and Faith have been such a part of my life. Little Big Town, we've just become great friends. But I wouldn't have imagined that I'd write with Lady Gaga.
I've had many opportunities where I'm pinching myself. You mentioned John Prine. We did his festival last year, and just sitting side-stage and watching people like John Prine and the Nitty Gritty Dirt Band — these legendary people you read about in books, and you're looking out on their audience singing every word. Music brings you lots of pinchable moments.
---
This interview has been edited and condensed for clarity.
Lauren Daley is a freelance arts and culture journalist. Her work appears frequently in The Boston Globe, and she has contributed to Paste Magazine, The Village Voice, Huffington Post and others. She writes a regular Sunday book column for the New Bedford Standard-Times. She tweets @laurendaley1.