11 Hip-Hop Songs That Kept Us Going This Year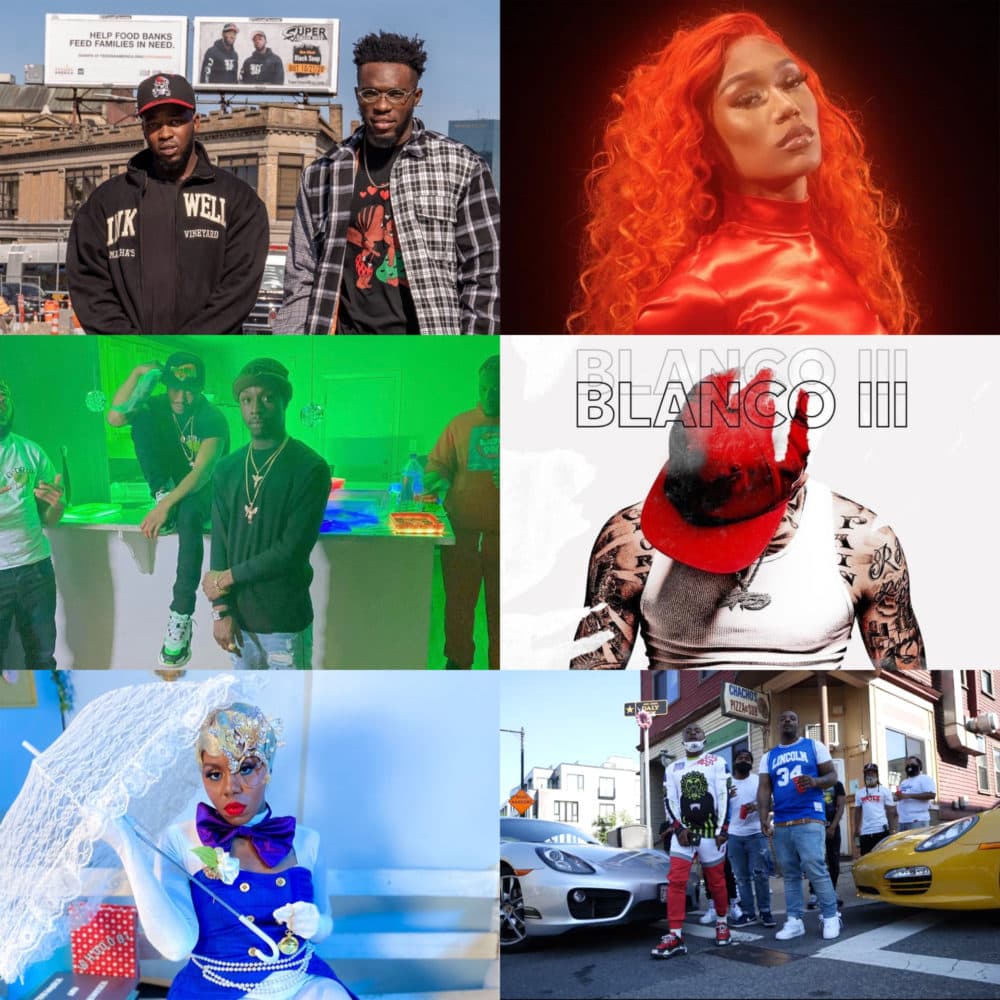 This article is more than 1 year old.
Even though 2020 was an undeniable year of turmoil, Boston music fans used local hip-hop as a source of fuel and inspiration. The city did what it always does: creatively stepped up to the plate and dished out some of the most notable anthems we've ever heard. Culture vlog The MuseumTV, which focuses primarily on Boston rap, has documented these artists for six years and is known for having its pulse on the next hottest trend. Its founder, Noble, sat down with me to share some of our favorite songs that kept us going this year.
SuperSmashBroz feat. Caliph and Siete, 'Link Up'
This song stood out to me because it actually features three different languages and it masterfully blends them together. The vibe is just so worldly. The beat is very eclectic and has that tropical island feel. I think they did a great job putting all of that together and making it sound so smooth. And it's dope to know that this fresh, unique sound came from Boston. Shout out to SuperSmashBroz.
— Noble
---
BIA has always been a supremely talented lyricist who is consistent, charismatic and bright. On "Cover Girl," she is still giving us classic boasts with ease ("Maybelline, CoverGirl for certain/And my body on point/They be like who's ya surgeon"); her tone is demure, and her delivery is effortless. BIA's EP "For Certain" was such a great moment in 2020 and I can't wait to see what next year brings for her.
— Candace McDuffie
---
This is such a feel-good song and it hit fans so hard because it was just so real. From the piano chords opening the song to his melodic storytelling, everyone is seeing a different side of his artistry — it's not just about gangbanging. He is being open, being honest, being real. "Better Now" shows us depth, and Sidestreet Capo is getting vulnerable and showing us how he's really feeling.
— Noble
---
Joyner Lucas, 'Will'
Joyner's biggest asset — besides his lethal lyrical prowess — is his imagination. When I interviewed him last year for a piece for Grammy.com, he told me he completely jumps out of the window when it comes to his creative process and that's exactly what he did on "Will." He's paying homage to Will Smith both visually and sonically — it reaffirms Lucas' talent in the best of ways.
— Candace McDuffie
---
This year showed a surge of Boston hip-hop coming out of the hood. Everything is looking good; everything is sounding good. Y Gizzle is a heavy representative of that growth within the genre. He's repping a certain side of the streets and is coming out with fire music. This freestyle specifically is the first that I've seen of him and when I posted it on The MuseumTV the numbers just went crazy. His flow is simple, but has very vivid descriptions — you can tell how hungry he is for this.
— Noble
---
I just love how playful Cakeswagg is in this song and accompanying video. She has always represented the multidimensionality that Black women contain but are often denied. She is sexy and smart; innovative and lighthearted. From her animated cadence to clever pop culture references, "Ferb & Phineas" embodies all of Cake's complexities and reminds us that she is the real thing.
— Candace McDuffie
---
This song is one you can play over and over again. Like Y Gizzle, the duo is also representing a different side of that surging street music from what I've seen so far. "The Press Conference" is a record that I had on repeat. The smooth vocal delivery and poignant lyrics make it worth the listen. The song and accompanying video garnered so much attention for these guys.
— Noble
---
Oompa's creative malleability has always been impressive. But when I heard "Closer," I was instantly blown away. She can sing! She can rap! She sounds good doing both! Watching her evolve as a songwriter is exciting and on this particular song, she is challenging herself with her impressive vocal range. The accompanying video is ethereal — Oompa has really outdone herself this time.
— Candace McDuffie
---
PoleBoy D Rose, 'ZaZa'
"ZaZa" is a heater. When The MuseumTV posted it, the reception was crazy. Everyone was commenting on how this song resonated with them in some way. They really felt the beat, the youthfulness of the song, the direct delivery of the lyrics. The video itself has over 145,000 views on YouTube. And what's wild is that PoleBoy D Rose, unfortunately, went behind the wall shortly after the song went live in late October. Despite this, his track still garnered all this attention, which speaks to how remarkable it is.
— Noble
---
Statik Selektah feat. Nas, Joey Bada$$ and Gary Clark Jr., 'Keep It Moving'
The most inspiring thing about Statik Selektah is his devotion to his artistry and ability to curate talent. I never would have anticipated how powerful a trio Nas, Joey Bada$$ and Gary Clark Jr. could be without Statik's discernment. The three artists are poets in their own right and on "Keep It Moving" they all manage to extract each other's brilliance. This track just cements how he has been — and always will be — a true visionary as a DJ and record producer.
— Candace McDuffie
---
Millyz feat. Sosa Geek, 'Frisbee'
"Frisbee" was a huge song this year, and a large part of its impact was the connections it promoted. One thing that I love about Millyz is that he is a very, very good example of what our artists need to be doing for the culture. Sosa Geek is an independent artist from New York, so Millyz is introducing up and comers from other states to those in Massachusetts. We saw it with how Jadakiss embraced Millyz, which only elevated his platform. It's a whole cycle of bigging each other up and showing each other love.
— Noble