12 Standout Nights At The Virtual Theater, Even If We Weren't In The Room Where They Happened
This article is more than 2 years old.
Theater gave up what many consider its essence in 2020 — the communality of gathering together to experience the benediction of artistic expression along with the challenge of confronting our inner demons and social transgressions together.
That didn't, however, stop artists from bringing us together in unique digitally-enhanced groupings, often through Zoom. ARTery critic at large Ed Siegel found himself sitting on a jury with Mikhail Baryshnikov and Jessica Hecht in "State vs. Natasha Banina" from the Arlekin Players while ARTery theater critic Jacquinn Sinclair had a one-on-one telephone experience curled under her dining room table in the dark in "Baby Jessica's Well-Made Play."
It was also a year notable for how well high-definition technology has evolved in making theater come alive on television. There were several outstanding examples this year including "American Utopia," "Hamilton" and "What the Constitution Means to Me." Live theater still beckons but if celebrants could not go to theatrical stages in 2020, the year was notable for how creatively theater artists popped up in our living rooms.
---
Ed Siegel
Ambassador Theatre Group | HBO
David Byrne has collaborated with a who's who of creative talent since the 1970s but what beautiful music he made with Spike Lee, whose 11 cameras seemed to be dancing along with him and his talented troupe of musicians and dancers. Byrne's message was that for all the depressing events we've had to endure in recent years that every day is a miracle in the words of one of the songs, a sermon he delivered with minimal trademark irony and without any sappiness. Celebrate what we can, resist what we should — and keep dancing. In gray suits and bare feet, it seemed more like passion play than road to nowhere. (Available to stream on HBO.)
Arlekin Players Theatre | Zoom
The Arlekin Players, a troupe of Russian and Ukraniian theater artists, were one of the great stories of 2019, with their award-winning productions of "The Stone" and "The Seagull" in a tiny performance space in Needham. Necessity was the mother of invention there and it played the same role during the pandemic as artistic director Igor Golyak and Darya Denisova fashioned a transcendent performance about a young ward of an Eastern European country charged with a crime and the Zoom audience sitting in as the jury. Golyak has become one of the area's top theater artists.
Arts Emerson and Huntington Theatre Company | GBH
Unlike Spike Lee, director Greg Shea didn't have 11 cameras at his disposal but he didn't need them to capture Melinda Lopez's magisterial performance of the one-woman show she wrote about tending to her ailing 92-year-old mother, a Cuban émigré, made all the more poignant because of the difficulty people have now of seeing their loved ones in similar situations today. "Mala," however, is much more than the journal of her mother's decline, it is autobiographical storytelling at its best and Shea matched it with nuanced, thoughtful and emotional camerawork of his own.
Public Theater | Zoom
Richard Nelson captured the pandemic moment with stunning clarity as he moved his saga of the Apple family from stage to screen, allowing us to sit in on a Zoom call among the four Apple siblings and a partner. As they talk about issues large (familial passings) and small (anxiety about pandemic shopping), their lives become our lives, their lack of physical connection our lack, their attempts to find connection anyway a stand-in for the way we live now. Like the writing, the acting — Jay O. Sanders, Maryann Plunkett, Laila Robins, Sally Murphy and Stephen Kunken — was both of the moment and out of this world.

Lin-Manuel Miranda | Disney+
As if he didn't have enough on his resumé,  Lin-Manuel Miranda also produced the superb visualization of his historical (in more ways than one) musical, which substituted actors of color for the Founding Fathers and hip-hop music for Broadway tunes. What was revolutionary six years ago was deemed close to reactionary by many critics today as the lack of attention Miranda gave to slavery became painfully problematic. I'm inclined to give Miranda the benefit of the historic doubt. This was not an obvious flaw even to prominent Black critics six years ago. Miranda broke so many barriers in terms of Broadway musical and cultural norms that, while we shouldn't lose sight of his — our — myopia on slavery, we shouldn't forget what Miranda and "Hamilton" accomplished, as captured so well by Thomas Kail's video production with the original cast.
Heidi Schreck | Amazon Prime Video
The Founding Fathers — and we do mean fathers — was very much on Heidi Schreck's mind when she forged this engaging, feminist take on the revered document that played to great acclaim on Broadway. The only dissent here came from the right-wing as Schreck's seriously comedic dissection of the Constitution, from the age of 15 onwards, leaves her firmly in the camp that if it is any value at all, then it is a living and breathing testament to freedom for all Americans. (Available to stream on Amazon Prime Video.)
---
Jacquinn Sinclair
August Wilson | Netflix
Ma Rainey, "The Mother of Blues," and her band head north to Chicago for a recording session in the summer of 1927, but the day doesn't go as planned. Rainey is late to the studio, one of her band members tries to stage a coup and Rainey's girlfriend has romantic plans of her own. The simmering internal conflict raging in one character erupts in an extraordinarily devastating way. The Netflix adaptation of Pulitzer Prize-winner August Wilson's play — screenplay by Ruben Santiago-Hudson and directed by George C. Wolfe — stars Viola Davis, Chadwick Boseman, Colman Domingo and Glynn Turman. In true Wilson style, the play takes a brief look into these people's complicated lives and highlights their fight to persist. The music and the remarkable performances by the entire cast make this brief film a standout. (Available to stream on Netflix.)
The Public Theater | YouTube
In July, Jessica Blank and Erik Jensen's "The Line" was the first full-length online play I viewed. The documentary theater piece with its celebrity cast centered New York City healthcare workers and tapped into all of the fear and dread at the onset of COVID-19 through an enthralling collection of seven stories. The influx of emergency calls, impromptu funerals in the back of ambulances and the lack of proper equipment — from PPE to ventilators — were just some of the stories shared. The throughline, though, was heroism. Created as an immediate response to the special role frontline workers have played during the pandemic, each narrative shined a light on the indomitable will of the human spirit. Despite the overwhelming sickness and death around them, the workers persevered and cared for their patients in ways that warmed the heart.

3. 'What a Carve Up!'
Barn Theatre, Lawrence Batley Theatre and New Wolsey Theatre | Streamed Online
U.K. actors Alfred Enoch of Harry Potter fame and Fiona Button of BBC's "The Split" star in murder mystery "What a Carve Up!" The show examines the evidence in the 1991 murder of the powerful Winshaw family, of which Josephine Winshaw-Eaves (Button) is a member. Raymond Owen (Enoch) sets out to prove his late father Michael Owen, a celebrated author, was framed for the murder of six Winshaws. As we get a closer look at the evidence, the victims seem more sinister. The play by Henry Filloux-Bennett is based on the award-winning Jonathan Coe novel of the same name. Button is brilliant as the callous and moneyed survivor who isn't interested in re-living this trauma. But what's fascinating about this offering is that it takes full control of the medium. Watching it feels like a movie premiere that's equal parts thriller and crime-documentary full of charged interviews from the past and present, newspaper snippets and sticky notes. The ambitious and highly produced show made me more interested in the evil-doing of the Winshaws than who murdered them.
PlayCo and Woolly Mammoth Theatre Company with American Repertory Theater, Guthrie Theater and Oregon Shakespeare Festival | Zoom
Familial misunderstandings and the toll of war are at the forefront of the new play "This Is Who I Am" by Amir Nizar Zuabi. Actors Ramsey Faragallah and Yousof Sultani portray a father and son who are separated by much more than geography. The father lives in Ramallah, Palestine, and the son now calls New York home. Though the two don't have a close relationship, they agree to cook together while on a video call. As they work to put together a dish from their past, they talk more about what haunts and hurts them. The writing is lyrical with both Faragallah and Sultani rendering outstanding performances that range from tender to explosive. By listening to one another's perspective, they each learn that things are not always what they seem. The message of the play is a universal one. It made me think about my relationship with my father. He used to always say, "perception is reality." But here, in Zuabi's thoughtful story, an open and honest conversation helps both of the characters see one another more clearly. (On view through Jan. 3.)


WalkUpArts | Phone
If open to it, participating in a performance like "Baby Jessica's Well-Made Play" could be more than just entertaining; it could be revealing. This play — a conversation over the phone — is inspired by the fall and rescue of toddler Jessica McClure from a well in Texas in 1987. The company asks the audience of one to place themselves at the scene and interact with a performer who is aided by compelling news-centered audio. Playwright and WalkUpArts co-founder Philip Santos Schaffer prompts interaction and introspection with his work. After the show, I talked to a stranger about the experience. We stayed on the phone longer than expected and found that we both felt similar about the production and many other things. The play is a two-day commitment (an hour or so on the phone each night) with an outcome that depends on the showgoer and who they're paired up with to compare notes. What's best about "Baby Jessica's Well-Made Play" is that it offered connection at a time when we were (and still are) so disconnected. (The show has extended its run through Feb. 2021.)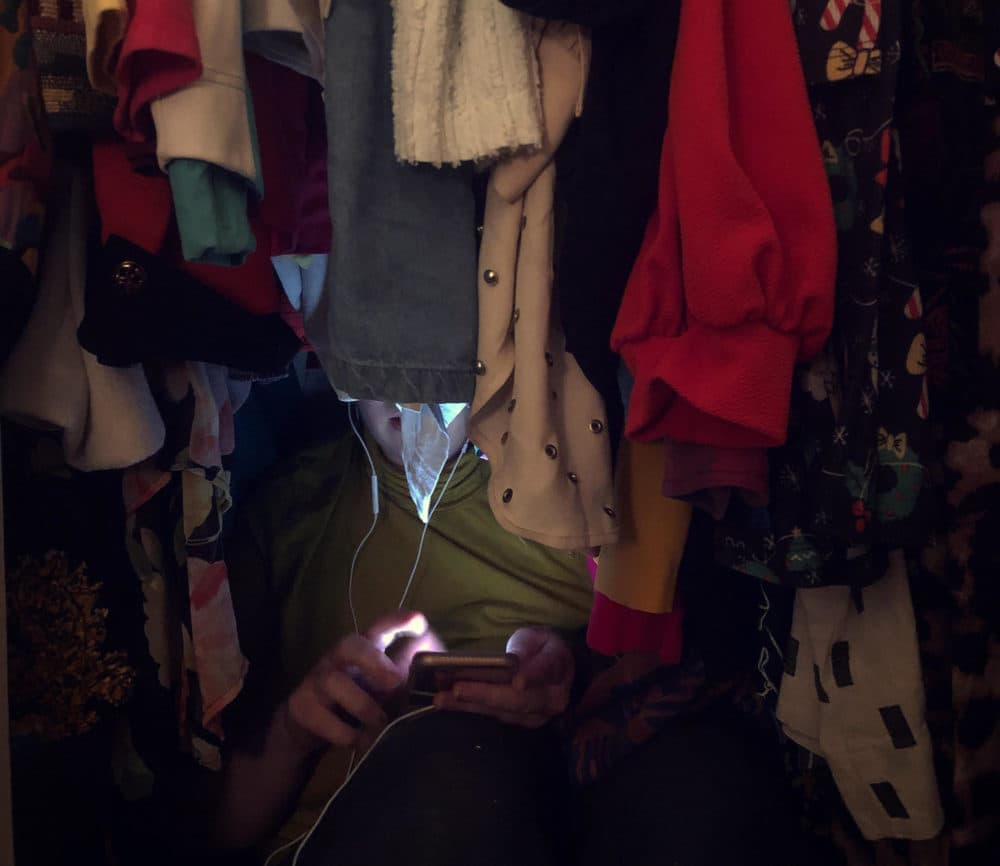 Huntington Theatre Company | Soundcloud
Melinda Lopez's thoughtful audio play "By the Rude Bridge" is set at the Minuteman National Historical Park on Patriots' Day, April 19, 2025. Through the personal narrative of a re-enactor who loves history and whose son is a veteran, Lopez pushes listeners to think more about history, its memorials, what they mean to us and how those meanings change over time. The approximately five-minute-long audio experience is part of the ongoing "Dream Boston" series featuring the area's leading playwrights. This story touched me. It made me think a lot about perspective in a non-preachy way. Memorials or monuments that many pass by without noticing have deep meaning for others. Some statues represent history for some and for others, they commemorate racism and pain. Even though my mind is made up about some of our nation's more controversial statues, the play did make me consider the questions posed "250 years from now, what memorials will we build? What statues? What will we tell our children's children about what we fought for?" And also, what will we say about those we erased?