Listen: On Her New Single, Cakeswagg Knows What To Do To Be Great
This is an exclusive song premiere, part of The ARTery's effort to highlight ascending New England musicians.
---
---
Cakeswagg is used to getting unsolicited advice. It's kind of unavoidable when you're a female rapper. People in the industry — mostly men — think they know the formula for success based on what's worked for the few women at the top.
"They think they know what to tell us to do to be successful or to thrive," Cakeswagg says. "But it's like, first of all, you don't even know why some of us do music. You don't know what motivates us."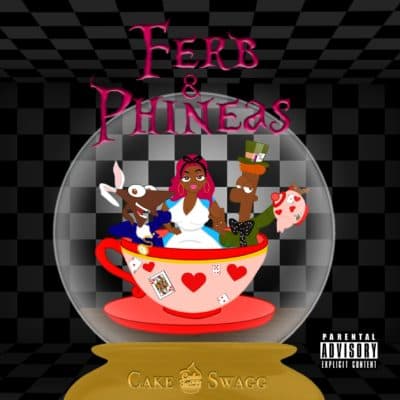 The Boston rapper's new single, "Ferb and Phineas," is a message to those uninvited advisors. "I'll play mine, play your part," Cakeswagg raps, voice pitched assertively over a spare beat. "All I know is my flow hard."
"I'm starting to feel extremely comfortable in my music, comfortable in myself," she says. "So the song is just me kind of saying, 'Listen, I got this. I'll play my part. Don't worry about me.'"
A strong sense of self is something the Roxbury native says she cultivated as a child. Growing up, her family bounced between shelters and public housing. "If you don't figure out who you are inside, who you want to be, really young, your environment can eat you up," she says. "It can define you."
Rapping was one of the things that anchored Cakeswagg when she was a kid. She'd freestyle on the bus, encouraged by her classmates. Now, at 27, she has released a mixtape and an EP, along with countless freestyles posted weekly on YouTube.
On "Ferb and Phineas," Cakeswagg pushes her voice in new directions. A downtempo beat with rumbly 808s becomes her jungle gym as she flits nimbly from playful to fierce, aggressive to warm.
The song's title is a reference to "Phineas and Ferb," an animated television show about the outrageous summer exploits of two stepbrothers. Cakeswagg transforms its catchphrase, "I know what we're gonna do today," into a creative mantra. "I know what to do to be great today, at this point in my life," she says. "I know what to do, right now, to be great."
---
Cakeswagg's "Ferb and Phineas" is out Oct. 23.
Note: The audio for The ARTery's music premieres comes down after the track is released. You could still listen to the track via the streaming service embed above.