Listen To Jenna Moynihan's Melancholy Folk Cover Of An Immigration Ballad
This is an exclusive song premiere, part of The ARTery's effort to highlight ascending New England musicians.
---
---
Jenna Moynihan's version of the folk song "Across the Western Ocean" is slow. So slow, it threatens to swallow you up. This rendition is vast and murky, which may seem a little obvious for a song about the ocean, but in Moynihan's hands, the simplest ideas can feel profound.
"Across the Western Ocean" is a ballad about the arduous and sometimes deadly trans-Atlantic journey undertaken by Irish immigrants in the wake of the potato famine. "The times were hard and the wages low," Moynihan sings over spare piano chords. "The Rocky Mountains are my home/ Across the western ocean."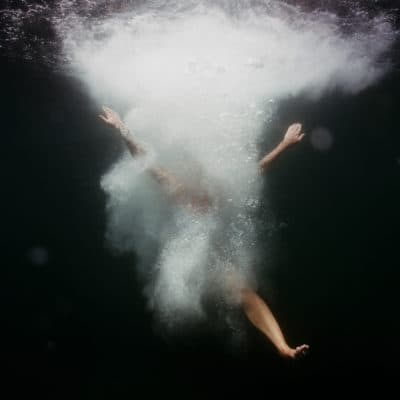 The song has clear resonances with the politics of the day, as mass migration stokes xenophobic hostility across the globe. This was a factor in Moynihan's decision to release the song as a single, she says. But the subject has broader implications, too. "The longer I've been singing it, it just feels like a song about moving through the unknown," Moynihan says. "And yet you have to believe that there's something better at the other end."
"Across the Western Ocean" is the first single off of Moynihan's upcoming EP "Five Songs." A Scottish fiddler by training, the Berklee-educated musician has established herself as a nimble and chameleonic player across genres; notable gigs include a stint with the Americana duo The Milk Carton Kids and a turn as a soloist with the Boston Pops. Of all Moynihan's projects, "Five Songs" is perhaps most similar to her deep collaboration with the Scottish harpist Màiri Chaimbeul, which finds its power in the delicate, minimalist interplay of fiddle and harp.
"Five Songs" is Moynihan's first foray into singing. By her own account, she never would have attempted it were it not for the encouragement of producer Sam Kassirer (Josh Ritter, Lake Street Dive), who also plays piano on the EP. That piano — bare, yet somehow expansive — forms the backbone of Moynihan's songs, which are hushed and melancholic, their melodies stripped of any frills and stretched into long, cyclical ruminations.
For the cover art, Moynihan chose a photo, by the underwater film photographer Megan Barrett, of a woman jumping into a body of water. Actually, it's a photo of the moment after she lands. The turbulence engulfs her; only her arms and one outstretched leg are visible. It's a picture of stillness amid chaos, following that first leap into the unknown.
---
"Across the Western Ocean," a single from her upcoming EP "Five Songs," is out Sept. 1.
Note: The audio for The ARTery's music premieres comes down after the track is released. You could still listen to the track via the streaming service embed above.
This article was originally published on August 26, 2020.