Listen To Dream-Pop Duo Myrtle Mine Beauty From Dissonance
This is an exclusive song premiere, part of The ARTery's effort to highlight ascending New England musicians.
---
---
Claire Dickson and Camila Ortiz met as freshmen at Harvard in a class where they were assigned the task of recording their dreams. (A "dreams seminar," Dickson recalls.) It wasn't until later that the pair connected musically, in a songwriting workshop taught by Esperanza Spalding. But in retrospect, the dreams seminar proved to be rather prescient. The music the two women make as the duo Myrtle is dreamy and strange, leaving a transfixing, uncanny impression.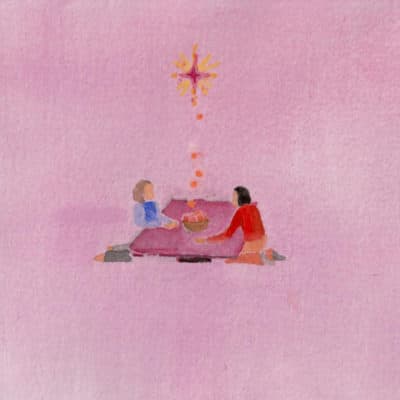 "There was something that clicked right away, and felt really interesting and new," Dickson says of the pair's early musical experiments. "The ideas that I was coming up with felt like different ideas than I had come up with before."
"Shifted" is Myrtle's first single, off its self-titled debut EP, out Aug. 25. The song contains many of Myrtle's signature tropes: hypnotic talk-singing; shared lead vocals; a taste for dissonance and explosive dynamics. These are precisely the qualities that stood out about the band's entry to last year's Tiny Desk Contest, a hushed, emotive performance of "Shifted." The song begins with a whispered mantra: "Something always shifted in the morning." Ortiz and Dickson sing in unison over a minimalist piano riff, before unfurling delicate and increasingly tangled harmonies as they describe the transportive experience of swimming through water. "I feel warm and loved and far away," they sing, drawing out a clashing harmony just a little longer than is comfortable.
That penchant for tension, they say, is guided by the songs' lyrics. "A lot of the dissonant things that happen musically are because there's a lot of tension in the lyrical content and in the story that we feel can only really blossom with, like, a really strange harmony," Dickson says.
Myrtle's music can be challenging, but it's never cerebral, and relies as much on warm melodies and dancy rhythms as anything else. This may be a feature of the singers' respective backgrounds: As a teen, Dickson was on track for a career as a jazz vocalist (she has also written for The ARTery), while Ortiz makes appealing bedroom pop-rock under her own name.
Initially, the pair envisioned Myrtle as a more straightforward pop act. "It just didn't work at all," Ortiz says. "We were just working with [lyrical] content that made us kind of uneasy, but that we were drawn to. And I think a lot of that uneasiness only ended up working because we could bring … that eerie, dream quality to it with the sound."
In Myrtle's hands, that uneasiness is transformed into something beautiful — a quiet tribute to life's dissonances, and the worthiness of honoring them.
---
Myrtle's self-titled debut EP is out Aug. 25.
Note: The audio for The ARTery's music premieres comes down after the track is released. You could still listen to the track via the streaming service embed above.
This article was originally published on August 21, 2020.