Vaccination Plan For First Responders In Massachusetts Hits Opposition
The state has a draft plan to vaccinate police, firefighters and EMTs in Massachusetts, but firefighters and EMTs are pushing back, saying they are ready to deliver shots themselves. The Baker administration is scheduled to meet with first responders on Thursday.
The tentative start date for vaccinating first responders in Massachusetts is Jan. 11, depending on availability of the Moderna vaccine, which does not require ultra-cold storage.
First responders are the third group in phase one of the state's vaccine distribution plan. They follow front-line health care workers who went first and the staff and residents of long term care facilities where vaccinations began this week.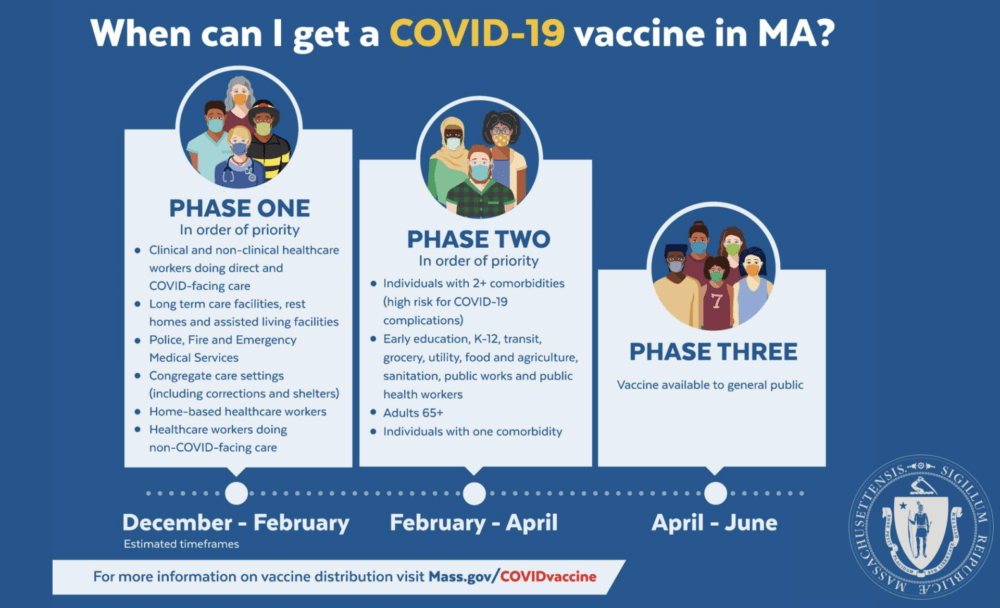 The draft plan would give EMTs, police officers and firefighters two options: going to a regional state-run clinic or receiving vaccines from local health department nurses. Some municipal health departments say they'll deliver coronavirus vaccines the same way they do the flu — at the beginning and end of shifts at police and fire departments.
"The benefit of doing it on, sort of, the local level is that we can really tailor the clinics to meet the needs of our public safety partners," said Sigalle Reiss, president of the Massachusetts Health Officers Association and Norwood public health director.
Reiss estimates all first responders in Norwood and the nurses delivering vaccines would have their first dose within two weeks.
Norwood and nine other communities will work as a group to receive and distribute vaccine shipments. The state is encouraging smaller towns to collaborate so they have enough first responders to warrant the minimum Moderna shipment of 200 doses. Reiss says roughly 30 groups that include more than 100 municipalities have formed so far.
The president of the state's firefighter's union says he's not convinced smaller local health departments can manage vaccinations. Richard MacKinnon Jr. says the Professional Firefighters of Massachusetts (PFFM) represent more than 700 paramedics and EMTs who could, with a little training, vaccinate fellow firefighters.
"We have the infrastructure and the capabilities and the staffing," MacKinnon said. "We could have coordinated some type of plan ourselves rather than, you know, put this on our local boards of health."
EMTs don't generally deliver vaccines, but the state department of public health issued an order in mid-December authorizing them to do so during the pandemic.
Some of the state's largest ambulance companies say if they receive and deliver vaccinations to their own employees, it will be easier to schedule the shots in a way that doesn't disrupt shifts.  About 10% or people vaccinated may have a fever or other mild COVID symptoms that require them to miss a day of work.
"Without being able to dictate the cadence ourselves of when staff are going to get vaccinated, that just makes it a little more difficult for us to ensure that staff are appropriately timed to make sure all our ambulances can remain on the road," said Cataldo Ambulance Service VP Daniel Hoffenberg.
If the current plans remain, Hoffenberg says Cataldo employees will be vaccinated by local health department nurses in five of the communities where the company operates. Hoffenberg says there are conversations about EMTs assisting with larger-scale vaccination campaigns in the coming year but nothing is final yet.
The union is urging members to call their local boards of health and ask for details about the state's first responder vaccination plan. Leaders say they are frustrated that firefighters in other states are already receiving vaccines while members here are not, even though cases among firefighters are surging.
With additional reporting by WBUR's Hannah Chanatry