Kim Janey Poised To Become Boston's First Woman And First Black Mayor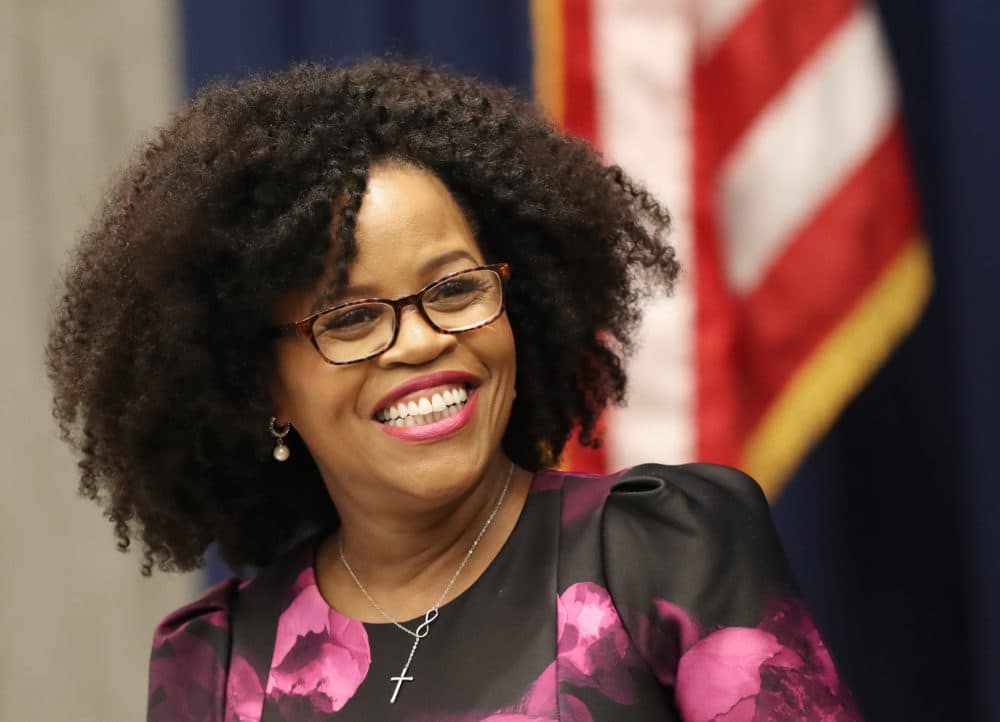 This article is more than 2 years old.
City Council President Kim Janey is poised to become the first Black and first female mayor of Boston, after word came on Thursday that Mayor Marty Walsh is President-elect Joe Biden's pick for labor secretary.
Janey was elected to the city council in 2017 and represents Roxbury and parts of the South End, Dorchester and Fenway. She was chosen as the city council president last year.
The Boston city charter specifies that the city council president steps in as acting mayor should the role become vacant.
It's a mayoral election year, with the regular election set for November. Whether there will be a special election depends on the timing of Walsh's departure. If he resigns before March 5, that would trigger a special election that would need to happen 120 to 140 days from when his resignation is issued, City Clerk Maureen Feeney said.
If he leaves after March 5, then the city will proceed with the regular election already scheduled. And whoever wins that election would take office right away — no waiting for a January inauguration.
Walsh's nomination will need to be approved by the U.S. Senate.
Councilor Ricardo Arroyo announced Friday that he is seeking to eliminate the need for a special election, no matter when Walsh resigns. That so-called home rule petition would need to be approved by the state legislature.
He said having multiple elections in a year would be costly, unnecessary and dangerous during the ongoing pandemic.
Boston NAACP President Tanisha Sullivan said that, particularly in the last several years, Black women have demonstrated they can lead. She pointed to Georgia's Stacey Abrams and Massachusetts Congresswoman Ayanna Pressley as notable examples.
"While we will certainly celebrate City Councilor Janey, what will be most important is that our eyes are squarely focused on the [mayoral] race," Sullivan said. "That we have a campaign that really does speak to the needs of the people of Boston. That we have a campaign that affords us all to get an understanding of the vision that candidates have for our city — a vision that I believe should include an a focus on economic, social and racial justice."
Two other women of color and council members are already running for mayor — Michelle Wu and Andrea Campbell. While others could still join the race, Sullivan said it is "an exciting prospect" for Boston to have a woman, particularly a woman of color, in the city's executive office.
---
With additional reporting from WBUR's Ally Jarmanning and Quincy Walters
Correction: A previous version of this story incorrectly said there would be no special election for mayor. 
This article was originally published on January 07, 2021.