Boston City Councilor Andrea Campbell On Why She's Running For Mayor
Play
This article is more than 2 years old.
Boston City Councilor Andrea Campbell is running for mayor.
After hinting at the decision last week, Councilor Campbell — whose district includes parts of Dorchester, Mattapan, Roslindale and Jamaica Plain — made it official in a video released Thursday morning.
We catch up with Campbell on the campaign trail, and discuss the mayoral race with Boston Globe columnist Adrian Walker.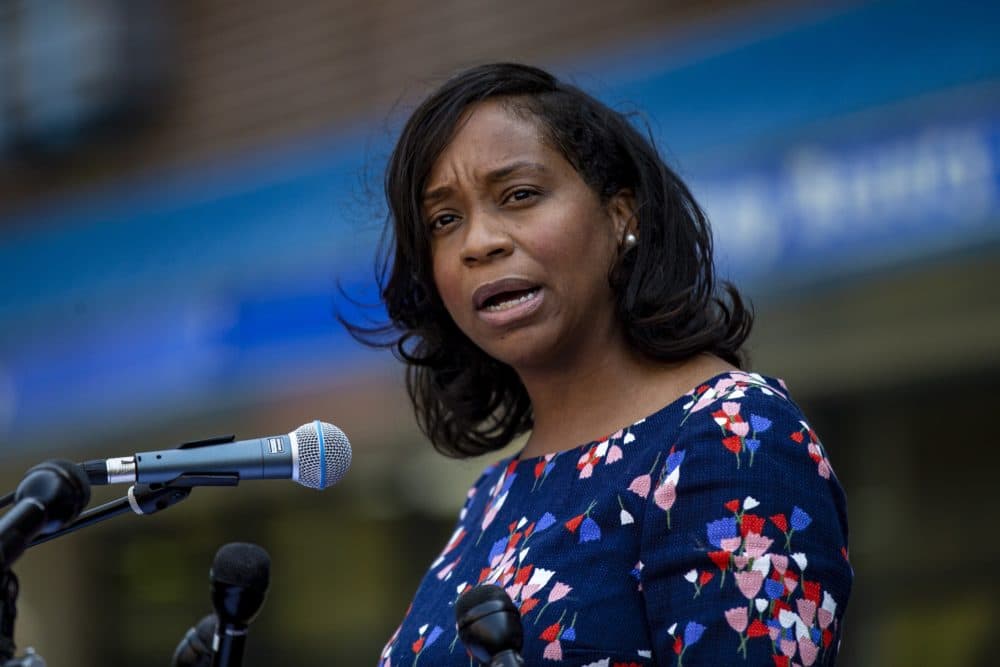 Interview Highlights
On the importance of who Campbell is and why her life path makes her the right fit to be Boston's next mayor:
Councilor Andrea Campbell: "I think it's extremely important. You know, when I first ran for office, I talked about losing my twin brother Andre, who passed away at the age of 29 while in the custody of the Department of Correction, which oversees our prisons here in Massachusetts. He had scleroderma and as a result of receiving inadequate health care, passed away. And I asked one question, which is how did two twins born and raised in the city of Boston have such different life outcomes?"
"That was the question that fueled my run for council in the first place. It continues to inform the work. But I also know it was a story that many folks can relate to, that inspired many. And being born and raised in the city of Boston and a product of Boston Public Schools, I find that when I continue to share it, share more pieces of my story it inspires others to do the same. So now I look forward to running for mayor, not only to share a story, of course, and listen to others share theirs, but to work on dismantling systems that perpetuate inequities in the city of Boston."
On ways to eradicate inequities in the city of Boston:
Councilor Andrea Campbell: "Oh, there are so [many ways]. I mean, when I first got to the council, I focused on criminal justice reform and reentry programing. I focused on improving access to our education system and expanding number of quality schools in the city of Boston — [I] put out action plans on that. Expanding diversity with respect to public safety agencies. Looking at every single issue in the city of Boston through a racial equity lens - I got funding to bring the city council to do that when I was council president."
"So there's so much, but I think much of what I tend to see in constituents as well is plans for rhetoric, but not enough action. And we need action immediately to dismantle systems that continue to create inequities in health care, in education, access to green space, good housing, good jobs and so much more."
On how Mayor Marty Walsh has handled the coronavirus pandemic in Boston:
Councilor Andrea Campbell: "I know the mayor loves the city of Boston just as much as I do. We have been very intentional in working in partnership — especially when it comes to the pandemic — the council working in partnership with the administration and vice versa. This pandemic is new for all of us."
"I think the part that is missing or often lost in the conversation is how communities of color are doing. They are disproportionately being hit by this pandemic in ways that are unimaginable. Dying at higher rates, the infection rates are higher in communities of color all across the city of Boston. I represent a district that is predominately a district of color. And so there needs to be greater intentionality with respect to those communities of color in every conversation with respect to the pandemic. And that's what I've been pushing."
On whether Marty Walsh will run for mayor again, and how challengers may affect each other's chances: 
Adrian Walker: "I firmly believe he's running. I don't figure it means anything that he has, quote, unquote, declared it. I don't think he's waiting on a job in the Biden administration. I don't think that's true. I would bet serious money that the mayor will be on the ballot next September."
"I think you've got to remember the structure of the race, which is that it's not a partizan primary where they will hurt each other. One of them will end up probably in the final against the mayor. Because it's highly unlikely that he'll finish third. So, you know, I think the idea is is that one of them will get a chance to run against him one-on-one and we'll see what happens."
On if the race feels more energized than the last mayoral race and why that is:
Adrian Walker: "Yeah [the energy feels higher], it's higher because we're in the middle of all of so much. We're in the middle of a huge social justice movement and the pandemic. You know, there wasn't anything like that when Councilor [Tito] Jackson was running against Mayor Walsh. So certainly we're in a much more intense political period."
This segment aired on September 24, 2020.