Warmer Waters May Spell Trouble For Baby Sharks, Study At New England Aquarium Finds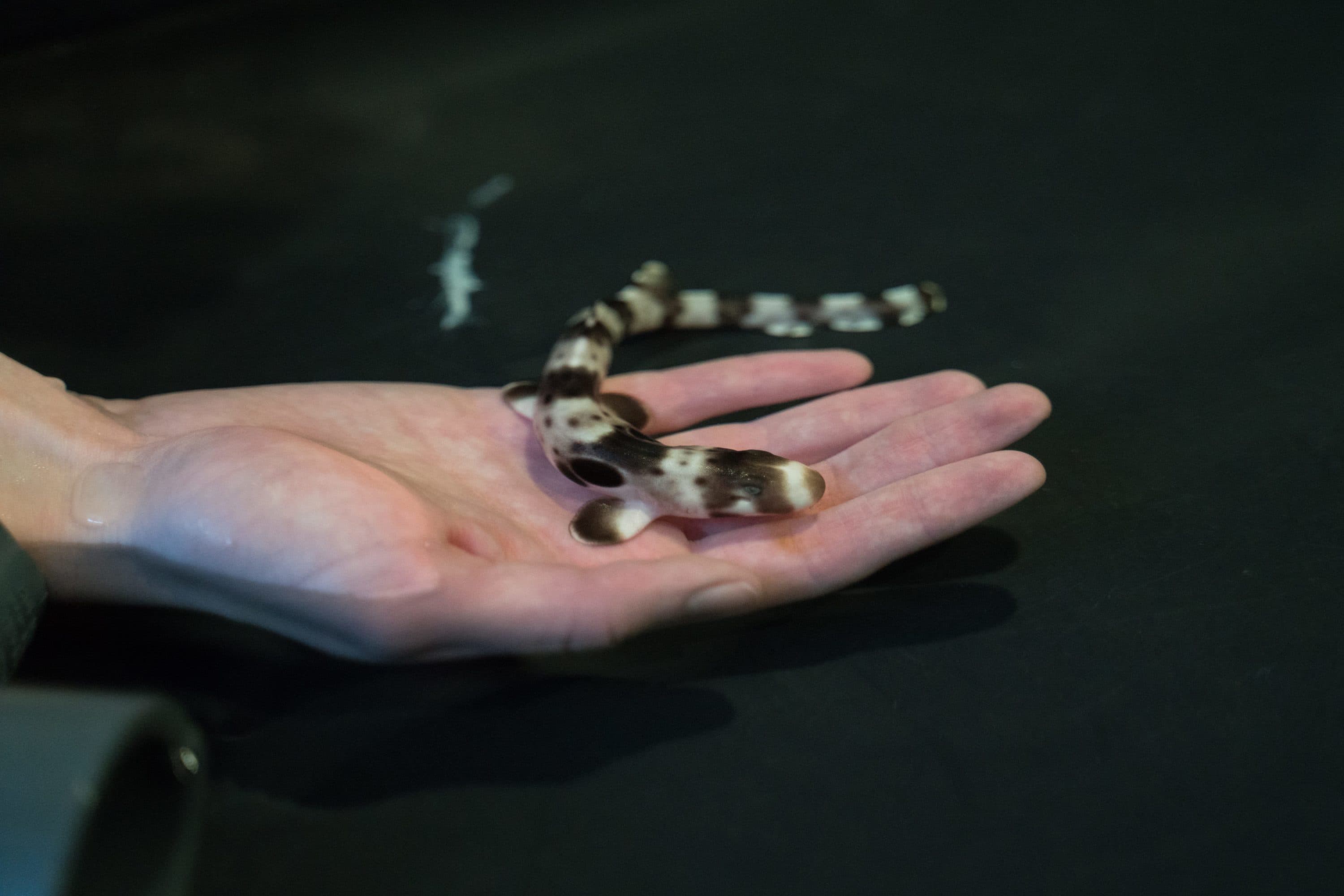 This article is more than 1 year old.
The epaulette shark is a pretty tough customer. A native of Australia's Great Barrier Reef, it's resistant to ocean acidification and can survive out of water for hours.
But a new study shows that this resilient species has an Achilles' heel: warmer water. Research conducted at the New England Aquarium found that baby sharks hatched in warmer-than-usual water — at about the temperature predicted for the end of this century — are born small, hungry and tired, dimming their prospects for life in the wild.
"We found that the warmer the conditions around these developing embryos, basically, the faster everything happened," says John Mandelman, chief scientist of the Anderson Cabot Center for Ocean Life at the New England Aquarium. Mandelman, who oversaw the research for the Aquarium, says the baby sharks grew faster, ate their yolks quicker and hatched earlier.
"They're basically coming out undernourished, smaller and exhausted," he says. "That makes them more vulnerable in the wild."
In the wild, epaulette shark moms lay their eggs and then leave, so the egg sacs must survive on their own for about four months. To conduct the experiment, the team used 27 egg sacs from the Aquarium's breeding program, and reared the eggs in tanks with water of varying temperatures. The temps ranged from average summer conditions on the shark's native waters (27 °C) to degrees predicted for the middle and end of this century, if climate change continues on its current course (i.e., 29 and 31 °C).
The researchers measured how fast the sharks grew inside the sacs, how quickly they consumed their food source — the yolk — and how soon they hatched.
The sharks reared in the warmest water hatched much quicker than average. One hatched in just 90 days, probably the fastest-recorded hatching time for this much-studied species, says lead author Carolyn Wheeler, a Ph.D. candidate at the University of Massachusetts Boston and at the ARC Centre of Excellence for Coral Reef Studies at James Cook University in Australia.
"They usually hatch with a small reserve of that yolk still in their intestine. We think it helps them transition from being in this protected egg case to being out in the environment — it gives them a little bit of a head start," says Wheeler. "We found, though, in the warmest temperature that my pups — right after they hatch — were eating within a day. They were coming out hungry."
The pups' struggles continued after birth, says Wheeler. When she put them through "chase trials" — analogous to running athletes on a treadmill and measuring their oxygen consumption — the baby sharks underperformed. "At the warmest temperature, they were definitely struggling a little bit more," she says.
The research, published in the journal Scientific Reports, could have implications for egg-laying sharks and skates that form an important part of New England's ocean ecosystem. Earlier research has shown that skate eggs are also vulnerable to warmer water. And the rapid warming in the Gulf of Maine is already altering the marine environment.
"We're seeing major changes in how animals live, whether they have available food, where are they moving, and at what times of year they are moving. We're seeing species we've never seen before coming into the Gulf of Maine," says Mandelman. "This is yet another study showing that the fitness of a particular species is compromised in changing environmental conditions."