Sheriff's Survey: Many Mass. Prisoners May Be Reluctant To Receive COVID-19 Vaccine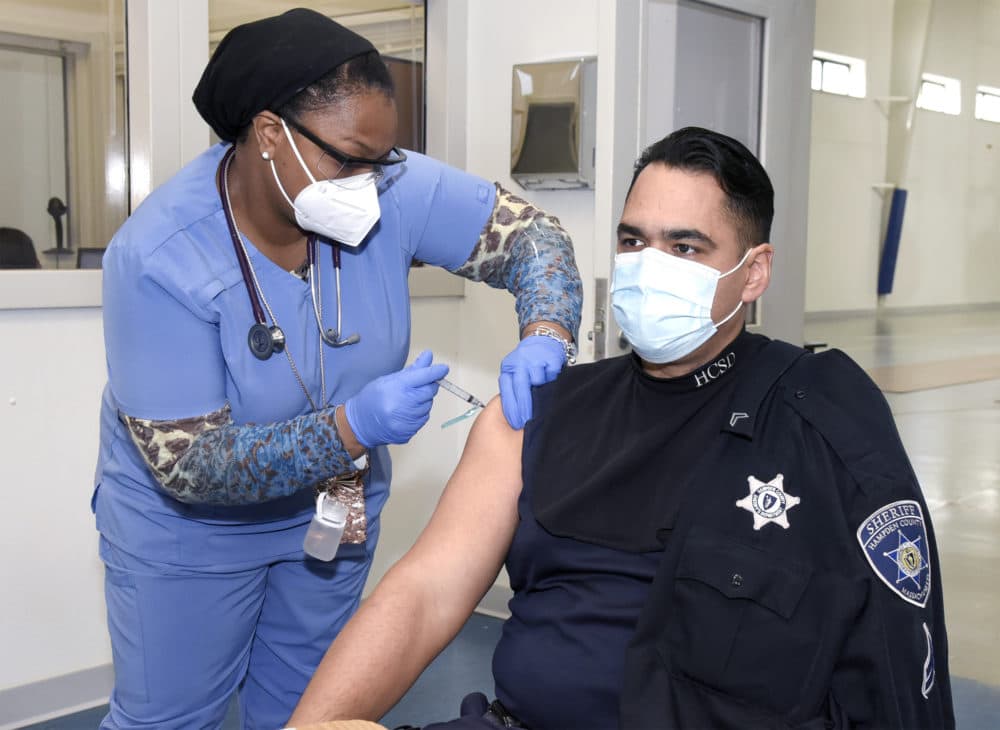 This article is more than 1 year old.
With Massachusetts planning to begin vaccinating prisoners against the coronavirus next week, the Middlsesex County sheriff says a survey of those incarcerated at the county jail indicates that many detainees are apprehensive about the vaccine.
Sheriff Peter Koutoujian says he conducted a baseline survey of more than 400 prisoners. Almost 60% of the respondents said they would refuse an FDA-approved vaccine if it was offered now at no cost, Koutoujian says. The biggest reasons why were concerns about safety and effectiveness and mistrust of vaccines generally.
"At the Middlesex Sheriff's Office, we use data every day to guide our decision-making and craft the best approaches to a host of critical issues," Koutoujian said. "With these baseline surveys, we can not only understand how many people are initially interested in receiving vaccinations, but how we can encourage more people to receive them through educational and informational efforts."
The survey was done ahead of vaccine education sessions scheduled at the jail next week. The sheriff says another survey will be done after those sessions to determine if there were changes. So far, more than 100 workers at the Middlesex jail have been vaccinated.
The Hampden County Sheriff's Office is also running into apprehension about the vaccine among prisoners. The department says it also conducted a survey and found that about a quarter of the 878 people in custody said they want the vaccine. The sheriff's office is also working to further educate those incarcerated about the vaccine.
"I think it's important that correctional staff and the people in our care and custody are offered the COVID vaccine at the same time, not only from a medical standpoint to maximize immunity, but to build trust," said Hampden County Sheriff Nick Cocchi, vice president of the Massachusetts Sheriffs' Association. "The vaccine is the subject of some skepticism, but I am encouraged by the science. And I'm hopeful that our staff and the people whose health and safety we are responsible for will continue to be accepting of it through education and seeing others around them be inoculated."
Staff and those held at prisons and jails in Massachusetts will receive the Moderna vaccine. It will be administered by correctional medical staff with help from local ambulance services. The vaccinations are voluntary, and state officials say it will take about three weeks to provide the first doses to all who want to receive the shots.
Correctional facilities are in the first phase of the state's vaccine rollout plan, which includes all congregate care settings. Gov. Charlie Baker said Wednesday that starting next week more than 13,000 prisoners will start receiving the vaccine, along with about 80,000 residents and staff at homeless shelters, substance use treatment programs and group homes.
"We made the decision early on that we were going to focus on what we considered to be populations that were most at risk," Baker said. "And all the data and all the evidence makes pretty clear that congregate care settings are at-risk communities, no matter how you define them."
Nineteen Department of Correction prisoners have died of COVID-19, which includes two men who are not in the state's official count as they died shortly after they were granted medical parole. Two men held in county jails have died of the disease as well. The latest data suggest that there are more than 300 active cases of the virus in state prisons and 19 DOC detainees are receiving care at local hospitals.