On Martin Luther King Jr. Day, Local Faith Leaders Say His Dream Is Still Far Away
On the eve of Martin Luther King Jr. Day, local faith leaders cited the recent attack on the U.S. Capitol as proof that racial prejudice still thrives in America.
Among the predominantly white mob that stormed the Capitol on Jan. 6, photographs and video from the mayhem show some people holding Confederate flags or baring other symbols of racism and white supremacy.
"As far as we've gone, we also see that we have so much further to go," said the Rev. Willie Bodrick II, senior pastor at the Twelfth Baptist Church in Roxbury. King was an assistant minister there during his years of studying theology at Boston University in the 1950s.
White backlash to Black progress is "as American as apple pie," he told WBUR on Sunday morning. In reflecting on King's philosophy, Bodrick wondered, "How do we continue to show love, but ensuring that we show love in a way that speaks truth to power?"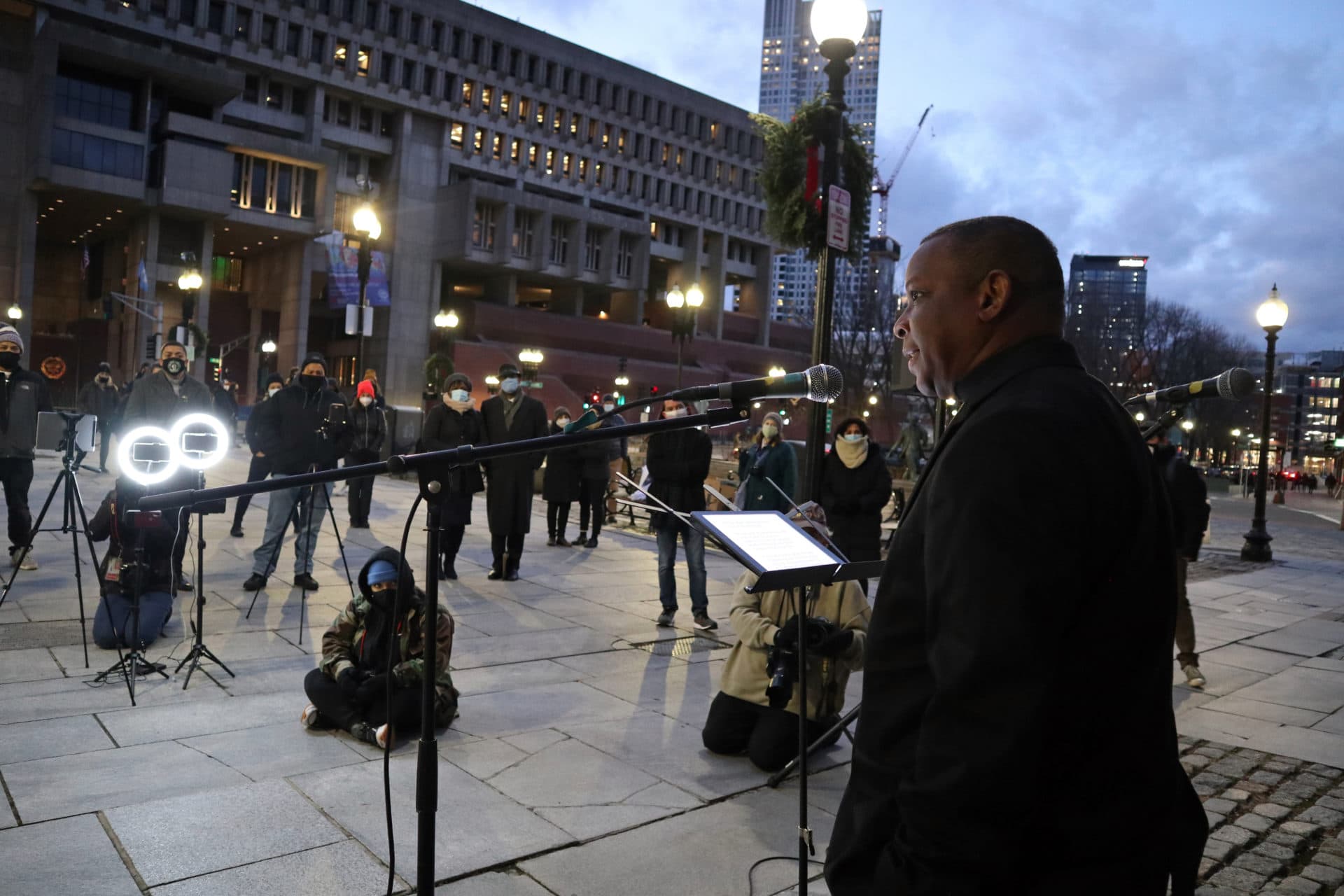 Later in the day, just before sunset, several faith leaders gathered in front of Faneuil Hall in Boston, and took turns speaking to a group of about 50 people. They talked about King's legacy of fighting racial and economic injustice, and lamented how far away his dream of a society free of racial prejudice seems today.
The Rev. Steven Neville, of the Metropolitan ‌Baptist Church in Dorchester, suggested the swarming of the Capitol by far-right extremists and zealous supporters of President Trump, should have been foreseeable.
"But too many of us were asleep," Neville said, "under the influence of eight years of an elegant, dignified man of color as president, we believed America could never return to what it had been 50 years earlier."
The Rev. Josh Wilson, pastor at The Table, shared this sentiment.
"So much work remains ahead of us," he said. "The evil of white supremacy remains on proud display in our nation's Capital, only this last week — and if we have eyes to see, each and every day."
Subsequent speakers turned their focus to what they said was an enduring reminder that Boston has yet more reckoning to do with its racial history. The structure behind them, Faneuil Hall, was donated to Boston by Peter Faneuil, a merchant who enslaved several people and made money trading enslaved people.
Faneuil was a "purveyor of human flesh. He sought to reduce Black life to the status of thing," said Kevin Peterson, a minister who heads up the nonprofit New Democracy Coalition and has long pushed for the building to be renamed. 
"Faneuil Hall represents symbolic violence," Peterson said. "No building in Boston would be named Hitler Hall. Our collective moral sensibilities as Bostonians, as residents of this city, demand that we rename this hall."
Peterson then returned to King's legacy, saying that continuing the work that he championed means pushing for social and economic justice in Boston.
"Faneuil Hall represents symbolic violence. No building in Boston would be named Hitler Hall. Our collective moral sensibilities as Bostonians, as residents of this city, demand that we rename this hall."

Kevin Peterson, minister and founder of New Democracy Coalition
For the Rev. Jacob Urena, of The Order of St. Martin de Porres, the drive for justice is especially urgent following a year when the COVID-19 pandemic has disproportionately affected the health and economic wellbeing of the state's Black and Latino residents. Although protests in Boston and across the nation have brought fresh attention to various forms of racial injustice, he said, "We must go from hearing to doing."
That sentiment was also shared by Neville, who recalled a sermon that King gave on March 31, 1968 — just a few days before his assassination. In that sermon, King said that "one of the great liabilities of life is that all too many people find themselves living amid a great period of social change, and yet they fail to develop the new attitudes, the new mental responses, that the new situation demands. They end up sleeping through a revolution."
"Dr. King's sermon admonished us to stay awake," Neville said. He urged those listening to stay awake by paying attention to politics, getting involved, and voting.
"When we stay awake, we can recover what was lost in prior elections," Neville said. "When we stay awake, we can turn deeply-red states blue! When we stay awake, we see transformation!"
---
Correction: Due to an editing error, a statement by the Rev. Steven Neville was misattributed. The post has been updated. We regret the error.