Directed With Strong Visual Style, Comedy 'The Climb' Traverses The Ups And Downs Of Friendship
The two cyclists are about halfway up a steep incline when Mike confesses to his best friend Kyle that he's been sleeping with his fiancée. Doughy Kyle starts huffing and puffing, trying to catch up with his buddy/betrayer so he can beat the crap out of him, but the more athletic Mike comfortably remains a safe distance ahead, spilling details about the illicit affair while coaching his pal to "pedal at a higher cadence." This screamingly funny scene began as a short film by writer-director Michael Angelo Covino that screened at Sundance in 2018, and has now been reconfigured into the eight-minute Steadicam shot that opens "The Climb," an audacious announcement of an original comic sensibility as amusing as it is formally accomplished.
Most movie comedies these days are pictorially inert recordings of funny people standing around improvising, garishly overlit and immobile so it will be easier to edit their ad-libs after the fact into yet another unstructured 132-minute opus by Judd Apatow or Adam McKay. To watch "The Climb" is to remember that comedy can indeed still be directed. The camera works as a partner here with the performers and the dramatic unveiling of visual information provides some of the very best punchlines of them all. Director Covino and his co-writer Kyle Marvin have conceptualized these scenes as complex physical experiences purposely playing around with the audience's POV to sometimes sublime ends. It is, for lack of a better word, cinema.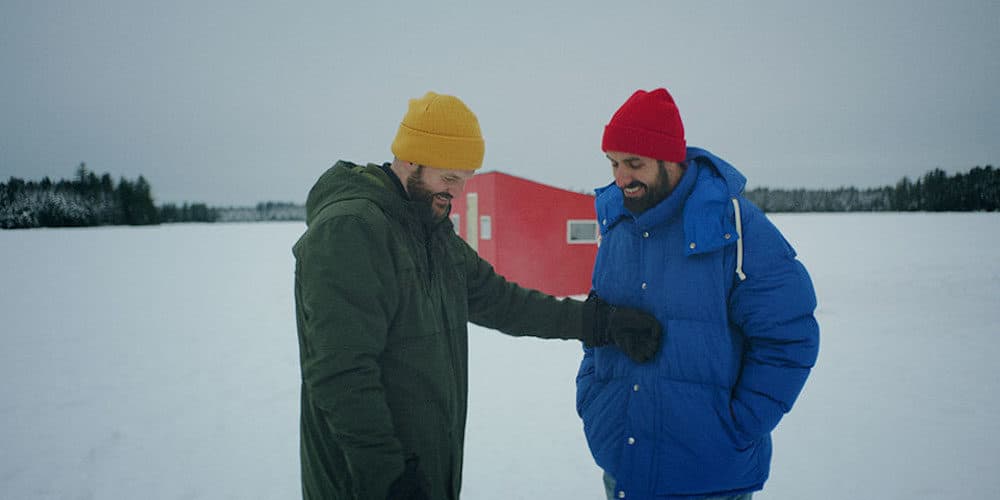 The two real-life best buds also star as Mike and Kyle, an aging jock gone to seed and his dutiful doormat pal. Split into seven chapters with numbered title cards and punctuated by musical interludes, the film charts the ups and downs of their friendship following the opening admission of betrayal. (When Kyle calls him a Judas, the always-encouraging Mike counters "On the plus side, that makes you Jesus.") The actors gain and lose startling amounts of weight, and after every abrupt blackout and deliberately misleading re-introduction taking place sometimes weeks or years later, the viewer briefly becomes a detective trying to suss out all that's occurred during the ellipses. Watching "The Climb" requires active participation, and what a pleasure it is when a movie respects you enough to assume you can keep up.
Mike finds himself once again coming between Kyle and his fiancée — a different one this time — his high school sweetheart played with a nicely serrated edge by Gayle Rankin. This is where a lot of reviewers will lazily whip out the dreaded, not-really-a-word "bromance" or grumble about "toxic masculinity" as an excuse not to think too hard about the complicated, often competitive push-pull of male friendships, especially in cases of unreflective guys who grew up together and have come to take their presence in one another's lives as a given. "The Climb" conjures memories of John Magary's corrosive 2014 cult classic "The Mend," or Jon Favreau's 2001 "Made," an underappreciated riff on Elaine May's "Mikey and Nicky" that scared away audiences by serving up the underside of its stars' arch, aspirational "Swingers."
I spend a lot of time here complaining about hotshot filmmakers showing off with elaborately choreographed long takes, which often have no purpose beyond calling attention to their own virtuosity. "The Climb" is an argument for how such ostentatious technique can also serve the story, with some of the film's biggest laughs scored by sudden reveals as the camera circles around so we can finally see something we've been missing. Other times we have to just sit with the characters and stew in their resentment for the entirety of an uncomfortable chairlift ride, pregnant pauses and all. Most scenes take place in single shots, but when there are cuts they really count. (This might be the first time I've ever gasp-laughed at the sight of a funeral.) Stacking the soundtrack with mostly French music, Covino and Marvin appear less influenced by contemporary comedies as they are enamored of mid-century Gallic farces, especially in one bit where Mike ducks into an arthouse showing Pierre Étaix's 1969 "Le Grand Amour" and sees his own life projected up on the screen.
"The Climb" premiered at the 2019 Cannes Film Festival and screened at Sundance last January. It was scheduled to open in Boston back in March before theaters were closed due to the coronavirus. I'm told that it did in fact play to little fanfare on a few local screens around Thanksgiving, in keeping with distributor Sony Pictures Classics' reckless and irresponsible theatrical-only release policy during a deadly pandemic. Had there been any way for me to have watched it without possibly killing my elderly relatives, "The Climb" would've made my list of last year's best movies. Luckily, it's now available for home viewing, where you rest assured that the only reason you're having trouble breathing is because you're laughing so hard.
---
"The Climb" is available on DVD, Blu-ray and video on demand.