Boston Lyric Opera's 'The Fall Of The House Of Usher' Tackles The Unraveling American Dream
In black and white, like an old TV show, Boston Lyric Opera's new commission of "The Fall of the House of Usher" opens on a polished pair of men's dress shoes. But when the camera creeps up a boxy suit to the face of our "Twilight Zone"-like host, we find that she's a woman who welcomes us with a wry smile. "Not what you expected?" she asks. "Well, there's nothing to be scared of just yet."
Sure, she's introducing a new cinematic version of Philip Glass's opera, based on Edgar Allan Poe's short story, which premieres on BLO's operabox.tv streaming service on Jan. 29 and infuses hand-drawn and stop-motion animation with archival footage. But that phrase, "not what you expected," could just as easily refer to our current world. From the first snippet of the screenplay to the film's final frames, the work was created entirely during quarantine. And it's the crushing forces of the pandemic, political strife and dueling realities seemingly shaped by the news media that sculpt this film into something like a diamond. Beautiful, though with cutting edges.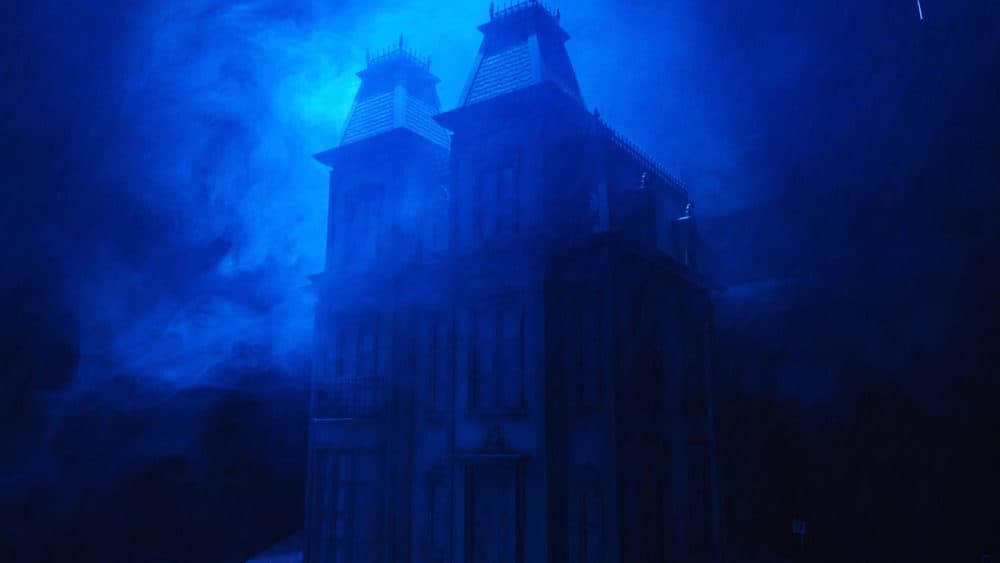 The reimagining — envisioned by film and opera director James Darrah and with a new treatment by Spanish director, producer and screenwriter Raúl Santos — is essentially three intertwined art films. Like Poe's short story, the work features reclusive twin siblings (here, portrayed by painstakingly crafted Victorian dolls) living in a decrepit house who are the last members of their once-grand dynasty. But to anchor the 1988 opera and its 1839 source material in the present, the "Usher" story is told through the eyes of a young Guatemalan girl named Luna who is mute and is being held in a detainment camp at the United States-Mexico border. And a third narrative, painted by footage ranging from vintage ads to contemporary news coverage, tells of American exceptionalism and the idealized American dream.
But this film is not the in-person affair that the BLO originally intended, long before the COVID-19 pandemic. Rather than cancel the production, director Darrah proposed a bold shift. "I just increasingly felt like, OK, there's a way for us to take opera out of only being something that's expensive to produce and that gets seen by a couple hundred people or at most 2,000 people, and put it in front of like 60,000 people on YouTube," Darrah says.
Drawing from his background in both film and theater, and with digital projects already under his belt, he proposed an animated production. This way, the singers and musicians could safely record and other creatives could still keep their jobs. "We can use this period of time to push opera into a direction that it hasn't quite gone," he continues. "And that narrative was exciting to a lot of people."
Without a solid idea of just how to usher in a new "Usher," BLO tapped Raúl Santos to pen a screenplay that would be more than just a Poe retelling. "[Darrah] said something that was revelatory to me," Santos says. "He said we should try to activate the dream space." So Santos toyed with the idea of weaving a narrative around the feelings that the moody, opaque short story evokes.
"It's the sickening of the heart," he says of the work's themes. "It's depression. It's also talking about America and the decay of aristocracy and who should be considered an American."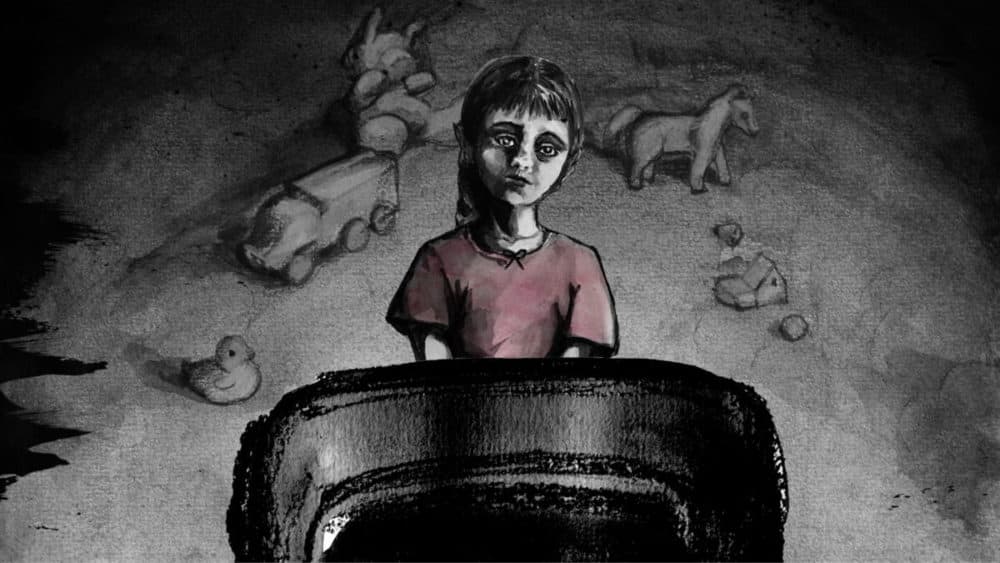 Originally from Spain and currently based in Brooklyn, Santos's own immigration story — not nearly as harrowing thanks to the student visa that opened the door for him — influenced the tale of Luna's early life back home in Guatemala. "She would stay in front of the TV for a long time every day, which is something that also happened to me," he says. "And she would get fed all of these narratives about America from American television. And you know, that's something that many people that come from abroad have — this idolized image, which is about the dream of America. And the promise of it, which is a very nice promise. And it's a very nice image, but sometimes it's not as beautiful as it sounds."
Among those less beautiful images that surface in the film are news clips of migrant children in cages in Immigration and Customs Enforcement detention centers. "It was presented as something normal, that it had to be done," Santos says. "It's insane how we can get to this point."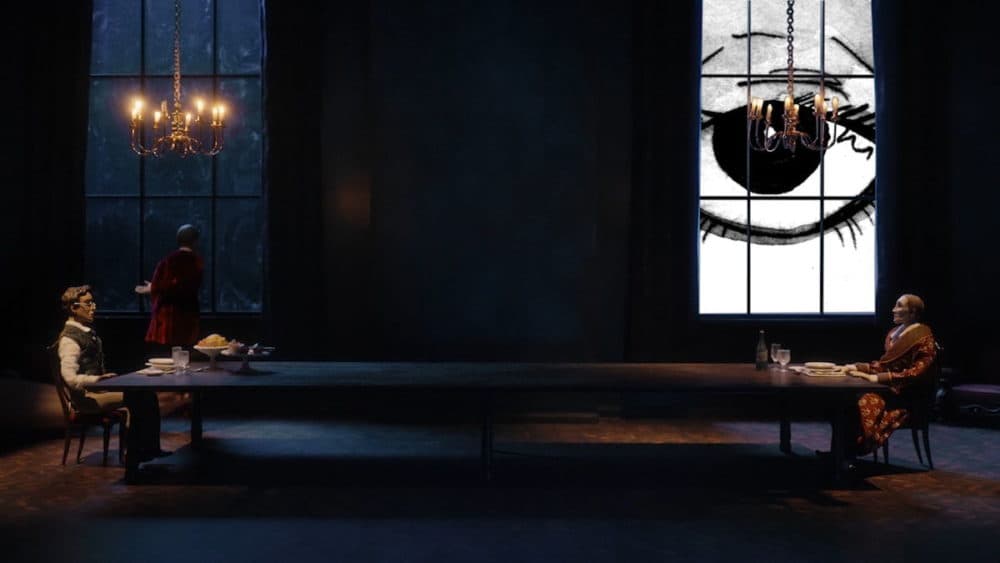 Others involved in the production felt the tug of that thread and shared their immigration stories with Santos, which helped him round out the screenplay. And it's no accident that a story about the American dream features dolls as characters, moved by unseen hands, as we watch from our screens at home. The same screens that, depending on your news outlet of choice, feature anchors pulling invisible strings. Patriot or domestic terrorist? Stolen election or historic victory?
"We're acknowledging that the dolls are also being puppeted in the way that television has puppeted everyone into an alternate reality in the U.S. right now, right?" Darrah says. "Like, there's people that have watched Fox News for four years that completely, truly believe in an alternate fictional reality. And I was really interested in 'Usher' being an elegant metaphor for that."
---
Boston Lyric Opera's production of "The Fall of the House of Usher" premieres on operabox.tv on Jan. 29.