New Boston Police Commissioner Put On Leave After Domestic Violence Allegations Surface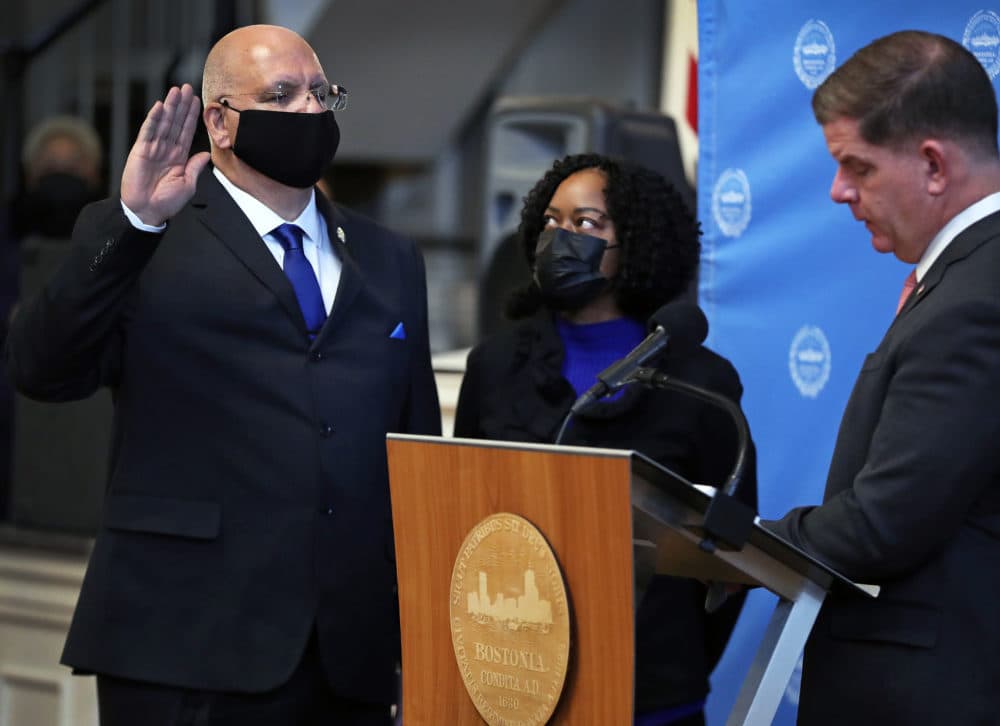 This article is more than 1 year old.
Boston's newly installed police Commissioner Dennis White is now on leave after allegations of domestic violence surfaced.
The Boston Globe reported late Wednesday night that a judge in May 1999 issued a restraining order against White after he allegedly pushed and threatened to shoot his then-wife.
The Globe reported that there is no evidence White was charged with a crime. At the time, he denied the allegations in court filings.
Walsh named White to the post just a week ago, to replace outgoing Commissioner William Gross starting Friday, and swore White in on Monday.
His office said in a statement Wednesday that after learning of the allegations, he placed White on administrative leave while an outside lawyer conducts an investigation.
"In an attempt to create a smooth transition and honor former Commissioner Gross's desire to spend time with his family, Dennis White was asked to quickly step into the role of police commissioner, beginning last Friday," Walsh said. "These disturbing issues were not known to me or my staff, but should have been at the forefront."
On Thursday, the city said it hired attorney Tamsin Kaplan of Davis Malm to conduct the independent investigation. A Walsh spokesperson said they "expect that process to be full, impartial and expedient."
Superintendent-in-Chief Gregory Long will serve as acting commissioner, Walsh said.
City Council President Kim Janey said in a statement, "I take any allegation of this nature very seriously. I fully support an independent investigation, and I defer any further comment until it is completed."
Mayoral candidate and city councilor Annissa Essaibi George said Wednesday that she supports Walsh's call for an investigation.
In a statement, Councilor Andrea Campbell, who is also running for mayor, said in part that she will push the city to investigate and simultaneously called for greater transparency at the department:
"This is bigger than the Administration's failure to properly vet a candidate to lead our police department. The systemic lack of accountability for wrongdoing and transparency in BPD is a trend, from serious domestic violence allegations that are swept under the rug, to BPD officers' potential participation in the attack on the U.S. Capitol, and complaints about the repeated use of excessive force against Black and brown people and peaceful protesters. This pattern also includes deep and disturbing racial inequities in how officers are disciplined or held accountable."
Councilor Michelle Wu, also a mayoral candidate, also supported the investigation and said the next commissioner will have to do more.
"The city must investigate these very serious allegations, and I urge our next commissioner to lead a complete overhaul of the culture and lack of transparency at BPD," she said.
White has spent 32 years with the department, and most recently was a superintendent and Gross' chief of staff. Walsh picked White to serve on his police reform task force last summer, charged with recommending reforms to increase transparency and accountability at the department.
Among the recommendations: an Office of Police Transparency and Accountability that would investigate officer misconduct and oversee internal police investigations.
This article was originally published on February 04, 2021.