Listen: In 'Stuck,' A Rising TikTok Star Mines Social Media Sadness
This is an exclusive song premiere, part of The ARTery's effort to highlight ascending New England musicians.
---
---
The singable hook to Kwaku's "Stuck" conjures an image familiar to anyone with a smartphone. "You love posting all your pictures when you're down and feel alone," he sings over a bright acoustic guitar sample. "And I think sometimes you hate yourself cause you're stuck to your phone/ I miss when all of your thoughts were your own."
From the sibling who scrolls through TikTok over dinner to the friend who presents an idyllic life online but is secretly depressed: we all know someone with an unhealthy addiction to social media. "Stuck" could easily be addressed to one of them. But Kwaku says that, in fact, he wrote the song about himself.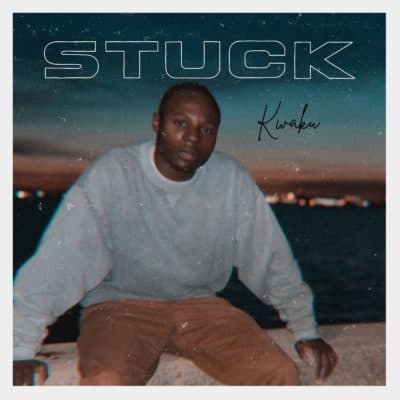 It all started when the 26-year-old started using TikTok during quarantine. His manager had been bugging him to try the video-sharing app for years, but it was the boredom of pandemic life that propelled him to the platform. He quickly discovered a knack for it. Soon, he had more followers on TikTok than anywhere else. (The latest count: 58,800 and growing.)
But the newfound success had its downsides.
"I started to feel this pressure and anxiety that every video had to blow up, and if it didn't blow up, I'm not a good artist or content creator and people don't like me, and I should just give up," Kwaku says.
One of his friends noticed the toll it was taking on him. "She was like, 'You didn't get on TikTok to be a TikToker,'" he says. "And I was like, 'You're right. I got on here to do music.'"
So, he decided to put his experience into a song. With the help of his friend Spenser Edmund, a producer in LA, he transformed a mostly acoustic creation by Zbeatz into the foundation of "Stuck," a shimmery, downtempo vibe that sits in the sweet spot between euphoric and yearning.
The way Kwaku tells it, he has always had a knack for writing songs that stick in your head. The Massachusetts musician credits his mother with this discovery. "Originally, I was just a dancer," he says. "And then, I think it was like halfway through high school, my mother pointed out to me, she was like, 'You know, although you love dancing, one of the strongest things that you're good at in school is creative writing assignments. … Maybe you would possibly be good at songwriting.'"
The focus on writing has stayed with him. He thinks deeply about how his songs will be received. "Stuck" emerged from the realization that his personal experience with TikTok could easily translate to a much more universal feeling of alienation among young social media users. All he had to do was change "I" to "you," and suddenly, the song seemed to be speaking directly to its audience.
The gambit paid off. Weeks before the song's official release date, teasers for "Stuck" garnered millions of views on TikTok. The irony is not lost on Kwaku. He knows it's a little strange to find success on social media with a song about the problems with social media. But that's precisely why it works. No one knows better than a TikTok addict how much its users long for authentic human connection — on the app, or off.
---
Note: The audio for The ARTery's music premieres comes down after the track is released. You could still listen to the track via the streaming service embed above.